July 10, 2018
7/10/18
The fifth installment of NMWA's Women to Watch exhibition series, Heavy Metal, is presented by the museum and participating national and international outreach committees. The exhibition showcases contemporary artists working in metal, including those who create sculpture, jewelry, and conceptual forms. Heavy Metal engages with the fluidity between "fine" art, design, and craft, whose traditional definitions are rooted in gender discrimination.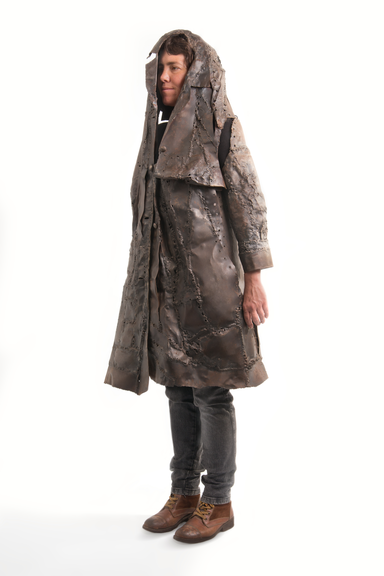 Heavy Metal—Women to Watch 2018
Artist: Carolina Rieckhof Brommer
Nominating committee: Peru Committee / Consulting curator: Sharon Lerner, Museo de Arte de Lima
1. What do you like best about working with metal?
Working with metal allows me to make changes. I can just cut it and weld it again. Because I make wearable sculptures, I like to think about what the material can add to the work. What can a metal apron or jacket say about the body that wears it? There is power in sewing, embroidery, and stitching, and I add a twist by using hard materials.
2. How do your works on view in Heavy Metal fit into your larger body of work?
I always wear my sculptures. My themes are related to a feminine world. For example, I am currently working with maternal themes. I made an alabaster belly, which I attached to my body with a leather harness. I asked women questions about maternity and it became a shared experience. I am interested in portraying my own ideas, but also seeing how my ideas connect to other people.
3. As an artist, what is your most essential tool? Why?
I don't think I have one essential tool, but a pencil and a camera are useful. With a pencil I can draw and write down my ideas. The camera allows me to compare my ideas with reality. I take pictures of myself wearing my sculptures and I know if something is working or not. I print those pictures, draw on them, and imagine how to finish the work.
[URISP id=13874]
4. Who or what are your sources of inspiration and influence?
I need to create something when I am frustrated by reality. There is the sense of impotence that makes me want to make something in order to cope with it. I absolutely love the work of Louise Bourgeois, and how she addresses her subjects with an amazing amount of honesty, intensity, and power.
5. What is the last exhibition you saw that you had a strong reaction to?
Rachel Whiteread's exhibition at Tate Britain was great. The idea of casting a space and materializing the void is amazing. While I was there I was surprised by a visitor guide for blind people. How do you explain art, especially Whiteread's work, to someone who cannot see? I love how art can open new connections and engage people in dialogue, and in equality.
I also saw an exhibition in Lima called JEDEQUE: el retorno del Cordero. Artist Miguel Cordero uses dark humor to confront reality and to talk about political issues. Cordero considers his work visual poetry, and I love this idea.
Visit the museum to see Heavy Metal, on view through September 16, 2018. Hear from more of the featured artists through the online Heavy Metal Audio Guide.