June 29, 2018
6/29/18
The fifth installment of NMWA's Women to Watch exhibition series, Heavy Metal, is presented by the museum and participating national and international outreach committees. The exhibition showcases contemporary artists working in metal, including those who create sculpture, jewelry, and conceptual forms. Heavy Metal engages with the fluidity between "fine" art, design, and craft, whose traditional definitions are rooted in gender discrimination.
Heavy Metal—Women to Watch 2018
Artist: Cheryl Eve Acosta
Nominating committee: Greater Kansas City Area Committee / Consulting curator: Barbara O'Brien, formerly of the Kemper Museum of Contemporary Art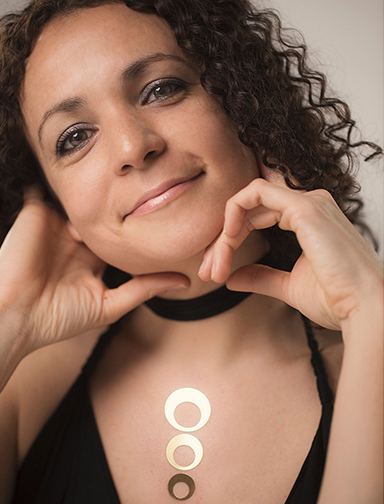 1. What do you like best about working with metal?
There is something unique about working with a naturally occurring material such as metal and being able to endlessly transform its raw nature from its original state. Metals have distinct qualities, such as their conductivity, malleability, resiliency, and strength, providing a variety of processes for me to explore.
2. How do your works on view in Heavy Metal fit into your larger body of work?
The intention behind the title Heavy Metal can be perceived in a variety of ways. My selected sculptural adornments reflect the material, but some also allude to the visual weight they could have. My work's unique copper–fabric process and combination of materials represent the cycle of life. Brightly colored enamel represents birth, copper captures decay, and fabric-and-metal combinations suggest fossils.
3. As an artist, what is your most essential tool? Why?
Besides my hands, fire and electricity play important roles in my work. One allows me to carve, shape, and color metal, while the other permits the fusing of disparate materials.
4. Who or what are your sources of inspiration and influence?
Marine life, couture fashion, and architecture continue to be my sources of inspiration. I'm also very driven by the use of technology and how it transforms and redefines art.
5. What is the last exhibition you saw that you had a strong reaction to?
One of my favorite exhibitions was Manus x Machina at the Metropolitan Museum of Art, which included Dutch artist Iris Van Herpen and her cutting-edge fashion designs.
Visit the museum to see Heavy Metal, on view through September 16, 2018. Hear from more of the featured artists through the online Heavy Metal Audio Guide.
Posted In
Artist Spotlight
NMWA Exhibitions