June 28, 2018
6/28/18
As a medium for artistic production, metal goes back to early human history. Some of the oldest surviving pieces of art include functional and decorative metal objects from cultures around the world. The use of metal has even defined eras of history (such as the Bronze Age and the Iron Age). The 20 artists featured in NMWA's exhibition Heavy Metal—Women to Watch 2018 employ metal in a myriad of ways to highlight the material's brilliance, texture, and color.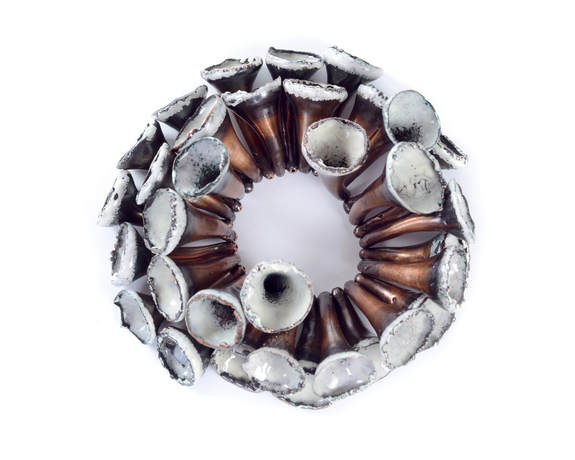 The fifth installment of NMWA's Women to Watch series, Heavy Metal showcases the ways that women artists have creatively carried this medium into the contemporary era, and how their works belie the traditionally masculine reputation of metalwork. Presented by the museum and participating national and international outreach committees, the exhibition showcases contemporary artists working in metal, including those who create sculpture, jewelry, and conceptual forms.
Metals can be strong enough to hold up a bridge or a skyscraper, while at the same time intricate enough for fine jewelry. Some catch the eye with gilt and polish, while others are heavy and weathered, speaking to their source—the earth. Featured works by Heavy Metal artists showcase these qualities. Cheryl Eve Acosta's lightweight cuff bracelets echo the organic shapes of barnacles and coral, but they are made from copper, a malleable metal. In contrast, Summer House (2015) by Leila Khoury contains steel and concrete, traditional metals used in heavy construction. These different uses of metal speak to the innovative methods of artists today.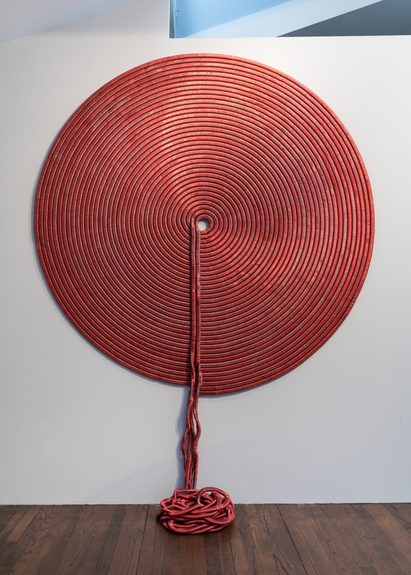 Although the word "metal" often conjures images of gray or bronze-colored works, some artists in Heavy Metal use striking colors in their sculptures. Blanca Muñoz's Bujía (2013) is an iridescent stainless steel work that incorporates jewel-toned metal mesh planes. An intricate untitled work from 2016 by Alice Hope appears made out of a metal rope, but is actually made of thousands of used beer can tabs, and shines in a vivid vermillion. Lola Brooks's sacredheartknot (2015) combines steel and gold with bright, smooth Mediterranean coral in a striking textural and color contrast.
Each work in the exhibition explores the transformable, tactile, and expressive qualities of metal. The largest Women to Watch show to date, Heavy Metal proves the continuing dynamism of this age-old material, and the surprising ways that today's women artists give it life.
Visit the museum to see Heavy Metal, on view through September 16, 2018. Hear from some of the featured artists through the online Heavy Metal Audio Guide.