July 6, 2018
7/6/18
The fifth installment of NMWA's Women to Watch exhibition series, Heavy Metal, is presented by the museum and participating national and international outreach committees. The exhibition showcases contemporary artists working in metal, including those who create sculpture, jewelry, and conceptual forms. Heavy Metal engages with the fluidity between "fine" art, design, and craft, whose traditional definitions are rooted in gender discrimination.
Heavy Metal—Women to Watch 2018
Artist: Paula Castillo
Nominating committee: New Mexico State Committee / Consulting curator: Laura Addison, Museum of International Folk Art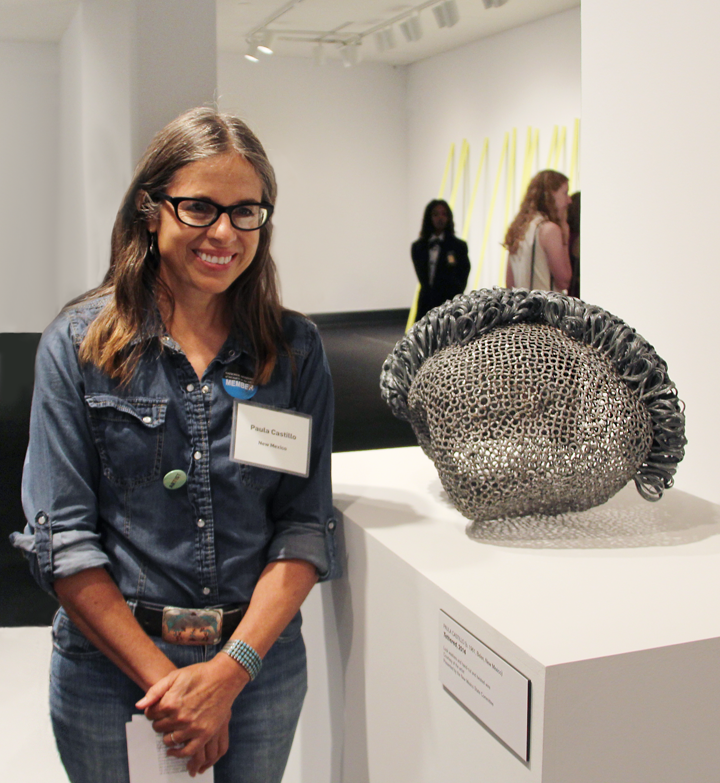 1. What do you like best about working with metal?
You can always come back to it and it is generally still much like it was when you left it. It's both still and fluid.
2. How do your works on view in Heavy Metal fit into your larger body of work?
They are similar. These works are generative pieces marked by hyper desire to arrange and weld modest forms to mimic the manic intensity with which we structure our world, like the human agency to arrange and work with nature and culture.
3. As an artist, what is your most essential tool? Why?
Suffering. It breaks me down so I that don't try to contain every experience.
4. Who or what are your sources of inspiration and influence?
Poetry, history, literature, the natural world, and human geography influence me. All are complex and malleable with their hundreds of intersections between the physical and the cultural landscape. The manmade microcosms combined with the expansive natural environment have been the catalyst for my interest in the systems and spaces we inhabit.
[URISP id=13848]
5. What is the last exhibition you saw that you had a strong reaction to?
It would be Javier Téllez's Letter on the Blind, For the Use of Those Who See (2008).
Visit the museum to see Heavy Metal, on view through September 16, 2018. Hear from more of the featured artists through the online Heavy Metal Audio Guide.
Posted In
Artist Spotlight
NMWA Exhibitions