February 26, 2019
2/26/19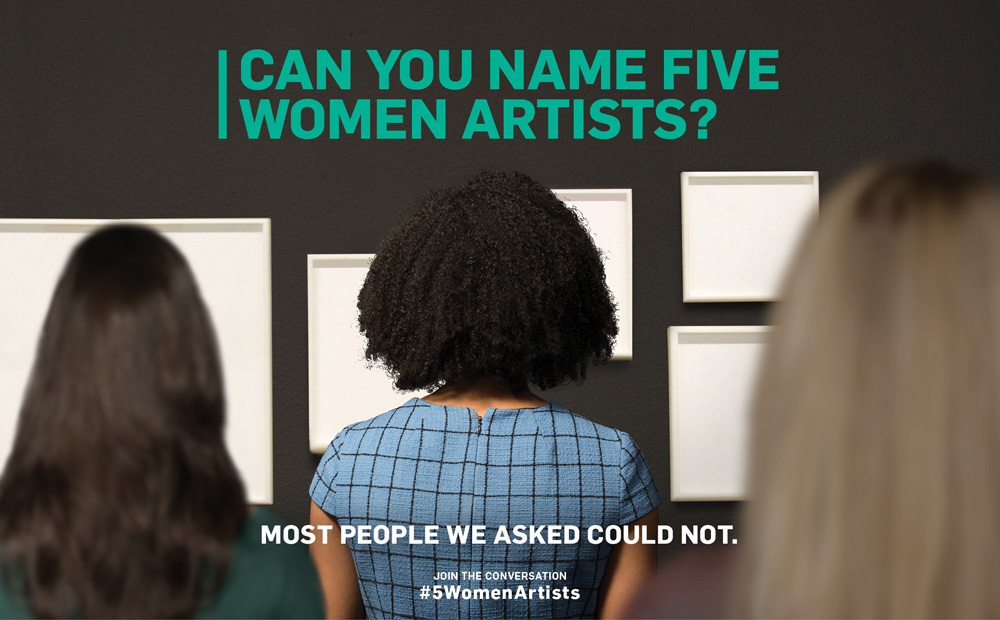 Each March since 2016, the National Museum of Women in the Arts has posed a simple question on social media for Women's History Month: Can you name five women artists? Using the hashtag #5WomenArtists, the campaign spotlights the lives and work of women artists, historical and contemporary. It also calls attention to the fact that women artists remain dramatically underrepresented—and their work undervalued—in galleries, museums, and auction houses around the world.
To date, more than 11,000 individuals and 1,000 organizations from 47 countries and seven continents have participated in the campaign. This year, we move from awareness to action as we invite museums, galleries, and other cultural institutions to take tangible steps toward advancing gender equity in the arts. Whether you are an individual or part of an institution, there are many ways to play a part in supporting women artists throughout March—and beyond.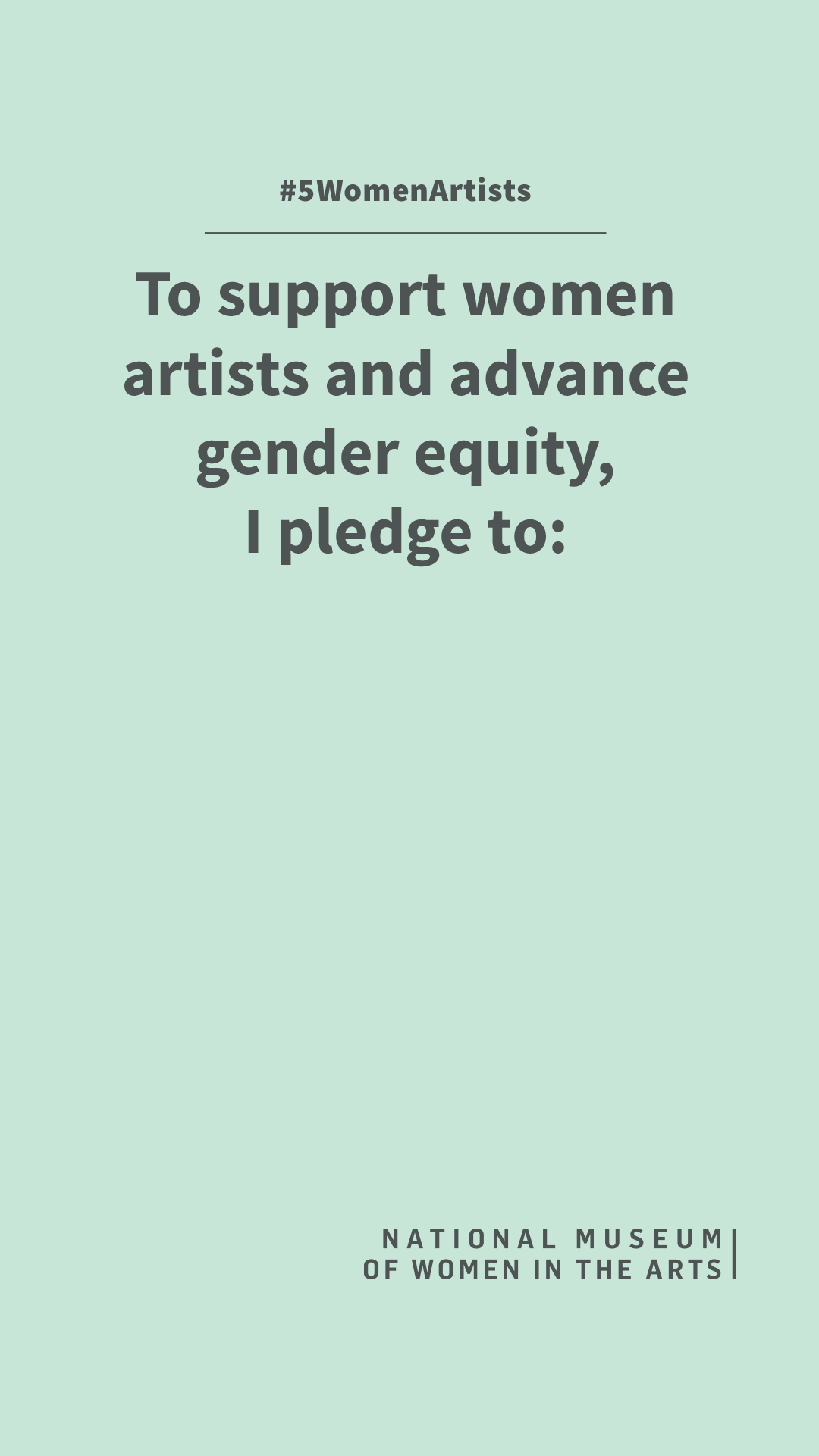 Check out our list of ideas about how to get started, including these highlights:
For individuals:

Learn about gender inequity in the arts through some shocking statistics
Download and share ready-made #5WomenArtists graphics on your social media feeds
When you see an exhibition/museum/gallery that features few or no women artists, tell the institution that you would like to see more women represented
Buy a work of art by a woman artist
Start a support group or skill share with other women artists
For institutions:
Get inspired by pledges taken by the Tate, the Jewish Museum, the Museo Guggenheim Bilbao, and others. Other ideas for action include:
Determine the ratio of women artists in your collection by conducting a survey
Establish a program for women artists in your community (like a networking event, workshop, panel discussion, or scholarship)
Acquire a new work by a woman artist for your collection in the next year
To kick off the month, learn more about five women artists featured in NMWA's programs, exhibitions, and collection: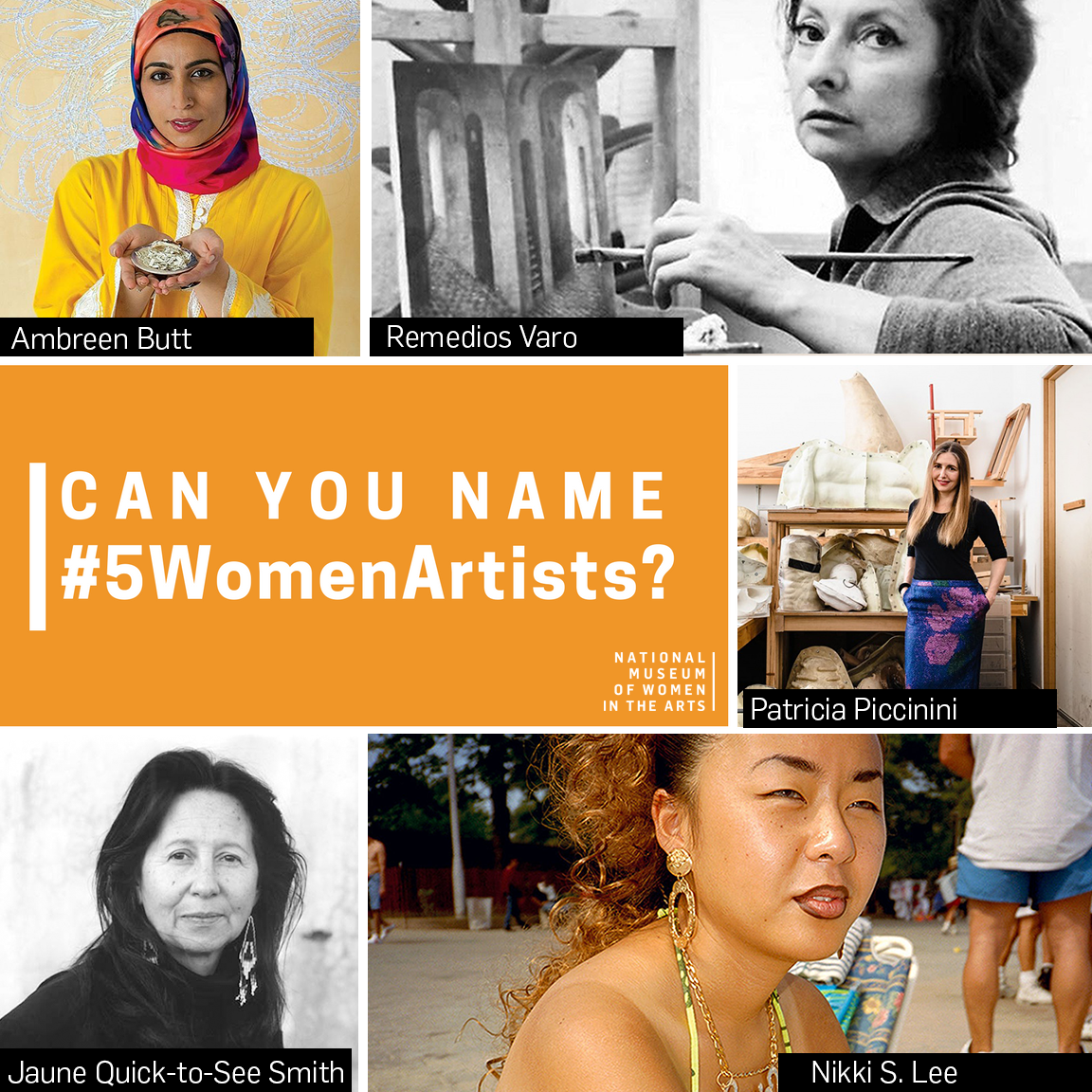 Ambreen Butt (b. 1969, Lahore, Pakistan) reimagines traditional Indian and Persian miniature painting to feature contemporary female protagonists and political subject matter.
A refugee two times over, Remedios Varo (b. 1908, Anglès, Spain, d. 1963, Mexico City) settled in Mexico, where she painted fantastical Surrealist works that explored magic, alchemy, and analytical psychology.
Patricia Piccinini (b. 1965, Freetown, Sierra Leone) creates sculptures of hybrid creatures that question the implications of biotechnologies and humanity's encroachment into "natural" processes.
Nikki S. Lee (b. 1970, Kye-Chang, South Korea) interrogates identity in her photographic works, exploring whether it is possible to move fluidly between cultures.
Jaune Quick-to-See Smith (b. 1940, St. Ignatius, Montana) works with paint, collage, and appropriated imagery to comment on the destruction of the environment, governmental oppression of native cultures, and the myths of Euro-American cultural hegemony.
Starting March 1, take the challenge and post about #5WomenArtists on Instagram, Twitter, and Facebook, and tag us @WomenInTheArts. Follow along with the month's highlights.