February 26, 2020
2/26/20
Since 2016, the National Museum of Women in the Arts has posed a simple question on social media for Women's History Month: Can you name five women artists? Using the hashtag #5WomenArtists, the campaign spotlights the lives and work of women artists, historical and contemporary. It also calls attention to the fact that women artists remain dramatically underrepresented—and their work undervalued—in galleries, museums, and auction houses around the world.
From 2016 to 2019, more than 1,500 cultural institutions from seven continents and 54 countries have participated. Last year, the campaign moved from awareness to action, challenging cultural organizations and individuals to pledge tangible actions to help right the art world's gender imbalance. Over 750 institutions and 8,000 individuals answered the call.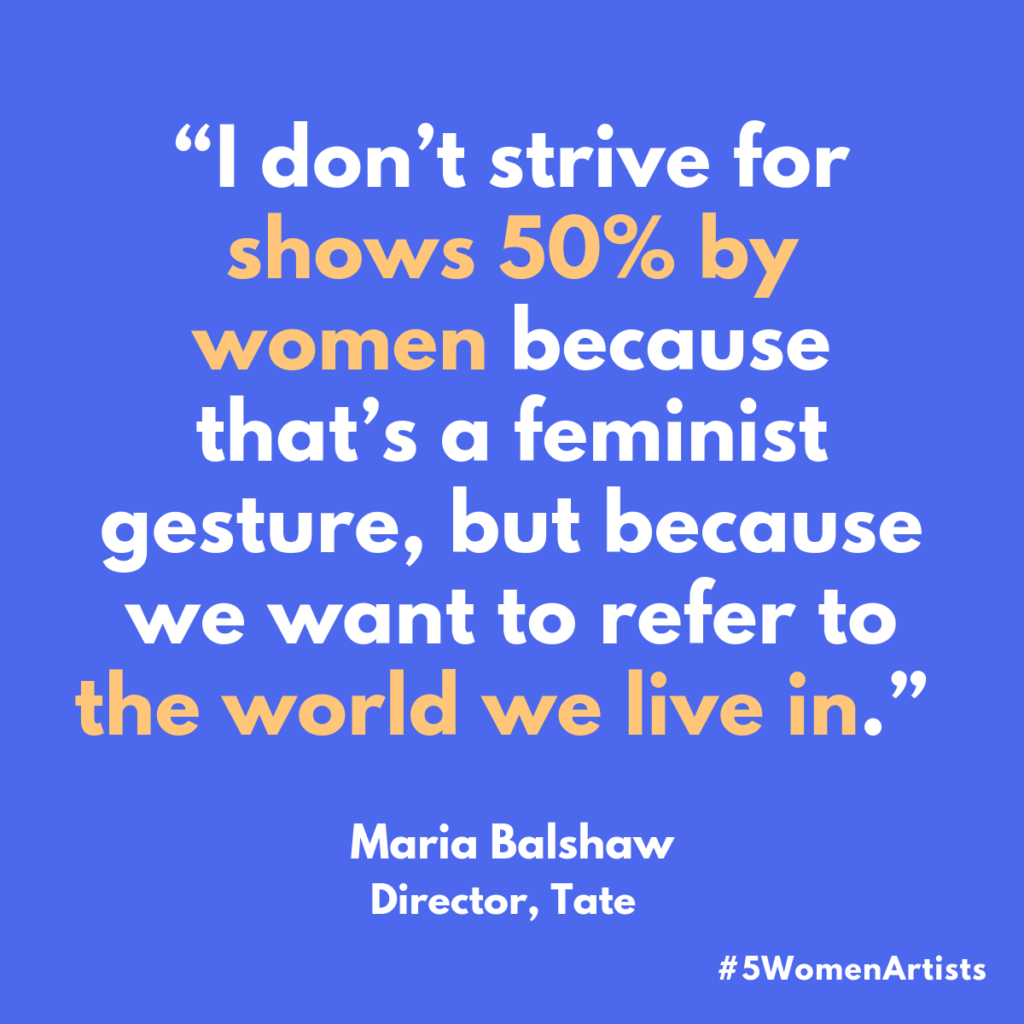 This year, in the campaign's fifth year, #5WomenArtists recognizes women who are using art to make change and drive awareness about globally relevant issues and topics. NMWA asks museums, galleries, and other cultural institutions to share art and information about artists who explore key social issues, including gender equity, immigration, LGBTQ rights, racial justice, climate change, and more.
To get started, learn about a few of these artists addressing social issues below. We'll highlight more here on the blog throughout the month. Share your own favorites on Instagram, Twitter, and Facebook using the hashtag #5WomenArtists and tagging @WomenInTheArts.
Chicago is an influential feminist artist, author, and educator. Her pioneering work helped establish and grow the Feminist Art Movement of the 1960s and '70s. Though best known for her installation The Dinner Party (1974–79), her full body of work—spanning more than five decades—addresses themes from women's lives, interrogates masculinity, and aims to center the experience of women in history.
For NMWA's New York Avenue Sculpture Project, Betsabeé Romero created four sculptures of carved and painted tires that speak to the theme of human migration. The particular experience of migration in Mexico directly informs Romero's art, and her sculptures symbolize humankind's profound connection to cultural traditions, as well as a yearning to keep families safe and thriving.
Hammond has dedicated her career to ensuring queer feminist artists are not erased from the history books. Her book Lesbian Art in America: A Contemporary History (2000) remains the only text of its kind to date. Her own artwork, though abstract, reflects her personal experiences and political consciousness.
Sherald modifies historical portrait formats to upend the dominant narrative of African American history. She notes, "I create playful yet sober portraits of black Americans within an imaginative history where I do black my way, in the European tradition of painted portraiture." By painting her subjects' skin in grayscale, she metaphorically removes their "color."
Ecological concerns are a frequent theme in the work of artist duo Mwangi Hutter, who often consider the interconnection of humankind and nature. For the Last Tree (2012) expresses this interconnection by depicting Ingrid Mwangi kneeling in deference to a solitary tree on a desolate beach.