December 13, 2019
12/13/19
Feminist artist May Stevens died on Monday at age 95. An active figure in the Feminist Art Movement and the Civil Rights Movement, Stevens believed that art must be used for social commentary, not just personal expression.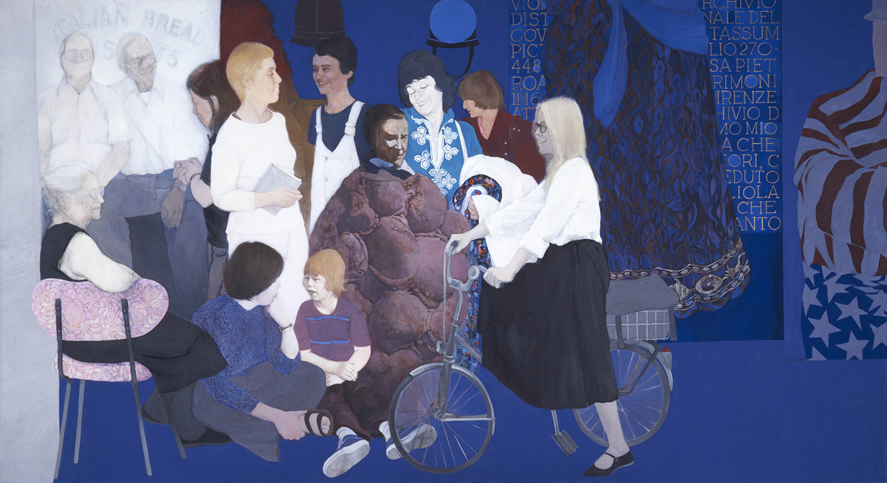 Stevens celebrated the lives of women artists in individual and group portraits, including SoHo Women Artists (1978) on view in NMWA's collection galleries. She co-founded the feminist magazine Heresies: A Feminist Publication on Art and Politics, published from 1977 to 1992.
Front-Page Femmes
Parker Curry, the young girl dazzled by Amy Sherald's portrait of Michelle Obama, has written a children's book about the experience with her mother called Parker Looks Up.
Eun Sun Kim, recently named San Francisco Opera's next music director, will be the first Asian woman to lead an American opera company.
Guernica interviews essayist and feminist Lilly Dancyger, editor of the new book Burn It Down: Women Writing About Anger.
Rebecca Salter has been elected president of London's Royal Academy of Arts; she is the first woman in the position in its 251-year history.
Artnet News profiles Haitian artist Myrlande Constant, who "paints" with beads in her intricate embroideries.
Mexican conceptual artist and curator Carla Herrera-Prats has died at age 46 from complications due to breast cancer.
Hyperallergic reviews Céline Sciamma's film Portrait of a Lady on Fire, paying homage to the labor of women artists.
The Chicago Tribune profiles Re-Tool 21, a collaboration between the Joyce Foundation and the School of the Art Institute of Chicago that will train traditionally underrepresented groups in the art world for art preparation and handling.
Thirty-four-year-old Sanna Marin, the new Prime Minister of Finland, became the youngest head of government in the world when she took office on Tuesday.
The Hill interviews lawyer-turned-photographer Cindy Trinh, who documents activism, protests, and social justice movements to "show the positive outcomes of people exercising their rights to freedom of speech and protest."
The BBC reports on the women revolutionizing Middle-Eastern film, a larger proportion than in Hollywood; a recent study found that 26% of independent Arab filmmakers are women.
Exhibitions We Want to See
Vija Celmins: To Fix the Image in Memory is open at The Met Breuer in New York. It is the artist's first major retrospective in more than 25 years. The Nation writes, "it's possible to look at any object in the show for a long time: There is so much to be seen, and each object yields so much on deeper investigation."
Mickalene Thomas: Better Nights is open at The Bass in Miami. The immersive installation reconstructs an apartment environment from the 1970s according to the domestic aesthetic of the period. Artsy interviews Thomas and Bass director Silvia Cubiñá about the exhibition, which "promotes a vision of art making that relishes in solidarity and collaboration instead of tired notions of the single lone genius, toiling away in the studio to his sole benefit."