January 10, 2020
1/10/20
At the 77th Annual Golden Globe Awards, Awkwafina made history by becoming the first performer of Asian descent to win the best actress award for her performance in The Farewell. Angela Bassett is the only other woman of color to win the same award—almost three decades ago in 1993.

Embed from Getty Images
Despite growing diversity in Hollywood, this award season's nominations have been notably white and male. The Golden Globes, Directors Guild of America, and BAFTA all excluded women from their top directing prize despite a successful year for women behind the camera, including Lulu Wang (The Farewell), Lorene Scafaria (Hustlers), Céline Sciamma (Portrait of a Lady on Fire), and Greta Gerwig (Little Women). In a recent interview Scafaria said, "The female experience is often considered the female experience, not the human experience. For people of color it's twice as hard. I'd love to see change."
Front-Page Femmes
The Atlantic interviews director Melina Matsoukas about her debut feature film, Queen & Slim, and her eye for capturing "the inextricable beauty and brutality of life for black Americans."
The New York Times looks at Greta Gerwig's new adaptation of Little Women and the ways it "feels positively radical."
Artnet ranks Frida Kahlo's most under-the-radar paintings.
Writer Elizabeth Wurtzel has died at age 52. Her memoir, Prozac Nation, introduced an influential style of confessional writing and opened a public dialogue about mental health.
Women in Public, a miniseries of multidisciplinary programs presented as part of Brooklyn Falls for France, will explore themes of place and wandering with a focus on the female experience.
The Boston Review interviews celebrated scholar of African American history and race Nell Irvin Painter, who retired and enrolled in art school; Painter observes, "In art, I can delve into what I can't know as an historian."
Artnet interviews Claire L. Lanier, the new social media manager at the Metropolitan Museum of Art, about "how she landed one of the most prestigious gigs in the New York art world."
The latest episode of NPR's LifeKit explores how to start an art habit; DMV Color artist Malaka Gharib leads the conversation with artist Trinidad Escobar and art therapist Girija Kaimal.
The New York Times reviews Miranda Popkey's debut novel Topics of Conversation, which "poses unanswerable questions of female autonomy and consent."
Shows We Want to See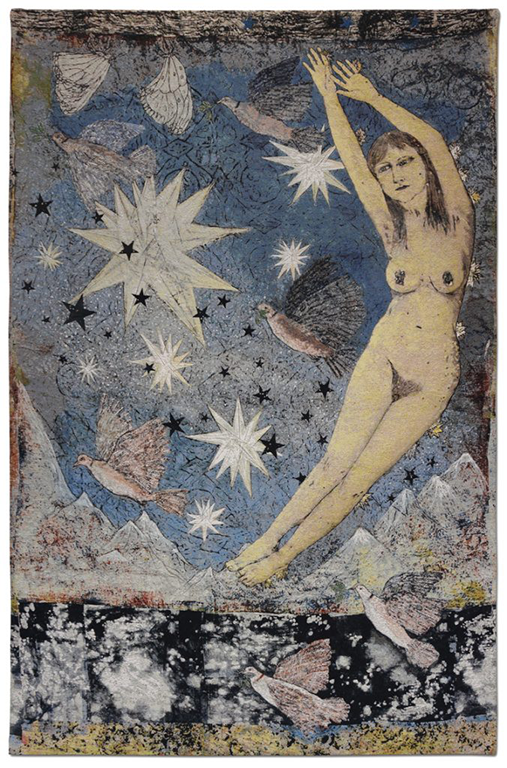 Kiki Smith: I Am a Wanderer is on view at Modern Art Oxford through January 19. The retrospective focuses on three distinctive areas of Smith's practice: small sculptures created from the mid-1980s to the present day, a selection from her printmaking, and the intricate Jacquard tapestries she has produced since 2012.
At New York City's Museum of Arts and Design, Vera Paints a Scarf celebrates the work of Vera Neumann, one of the most successful female design entrepreneurs of the 20th century. From 1942 to her death in 1993, Neumann produced an iconic line of women's scarves, as well as thousands of textile patterns based on her drawings, paintings, and collages. On view through January 26.