July 17, 2015
7/17/15
Women photographers captured media attention this week. "Women have distinguished themselves covering stories that not too long ago were dominated by men," wrote The New York Times photographer Ruth Fremson. In an article earlier this month, Fremson explored the field of photojournalism from her female colleagues' perspectives.
Photographer Annie Ling captures portraits of six single mothers in Iceland.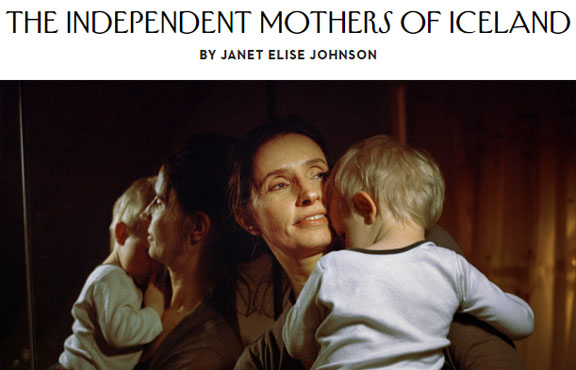 Ling says, "These women aren't getting judgment from the outside. So, because they're accepted, they're much more at ease in their situations." New Yorker writer Janet Elise Johnson says Ling's portraits also reveal the tensions faced by the sitters. "Single mothering may be less fraught in Iceland, but the women [Ling] photographed are not what we Americans would see as comfortably well off."
Soldiers and Suffragettes: The Photography of Christina Broom highlights history through the lens of the United Kingdom's first female photojournalist.
Unquiet Images by contemporary French artist Valérie Belin are on view at the Centre Pompidou in Paris.
Two portraits of AIDS researcher Dr. Mathilde Kim will go on display in the National Portrait Gallery—one by Annie Leibovitz and one by Joyce Tenneson.
Leibovitz will also receive the inaugural SFMOMA Contemporary Vision Award.
Juxtapoz explores photographs by NMWA artist Francesca Woodman.
Dana Stirling published a book featuring rejection letters she has received in her efforts to succeed as a photographer.
Front-Page Femmes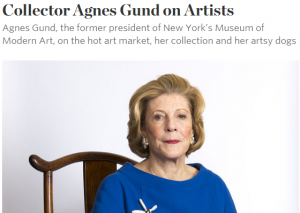 Former president of MoMA Agnes Gund wants to increase the visibility of women artists in museums. "Women artists, no matter how well recognized they are, are seldom given solo exhibitions or featured in significant group shows."
German painter George Baselitz is well-known for his inflammatory remarks that "Women don't paint very well" and "The market doesn't lie." Artnet lists four women artists whose work has topped Baselitz's at auction.
In honor of Bastille Day, Artnet compiled a list of their favorite revolutionary artists—including Tania Bruguera, Yoko Ono, Guerrilla Girls, Shirin Neshat, Kara Walker, and Jenny Holzer.
Cuban artist and activist Tania Bruguera is the first artist-in-residence for New York City's Office of Immigrant Affairs.
The Georgia O'Keeffe Museum's Research Center received a donation of historic correspondence between O'Keeffe and her close friend Frances O'Brien.
Lena Dunham creates a weekly newsletter for young women.
SPARK Movement teams up with Google Maps to create Women on the Map—a new app to help bring visibility to women's achievements.
Women artists share their stories about sexism in the music industry.
The new Board of Governors for the Academy of Motion Pictures Arts and Sciences added three more women. The 51-person board now has 17 women.
Female film directors put together a list of must-see movies made by women
Over the past three seasons, one-fifth of plays at theaters nationwide were written by women.
Shows We Want to See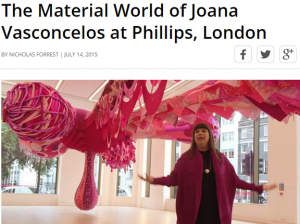 An exhibition at the London location of Phillips auctioneers includes 40 works by Portuguese artist Joana Vasconcelos.
Fiber artist Lynn Bennett-Carpenter's new works are on view at 9338 Campau. Hyperallergic reports that "objects that initially appear rigid, are in fact elastic, forcing us to reconcile our perceptions with reality."
BALTIC Centre for Contemporary Art has a survey of Dutch artist and filmmaker Fiona Tan. Tan reimagines "Jonah the Giant Whale" as a 71-foot long cabinet of curiosities.
Conceptual artist Agnes Denes re-created her installation Wheatfield in the center of Milan.