March 20, 2020
3/20/20
Observer profiles artist Zoë Sheehan Saldaña, whose conceptual work has taken on new meaning during the Coronavirus pandemic. For years, Saldaña has made hand sanitizer and other commonplace objects as an "investigation into the everyday craftsmanship we take for granted." The artist's most recent batch was created for her exhibition There Must Be Some Way Out of Here at the Aldrich Contemporary Art Museum, which recently closed due to the virus.  
"The work has changed meaning from experimentation to urgency—people were initially disinfecting out of curiosity, but lately it was a result of need," said Cybele Maylone, executive director of the Aldrich.  
Front-Page Femmes
London's National Gallery has postponed its Artemisia Gentileschi exhibition, scheduled to open April 4, because of the coronavirus pandemic.
Artsy profiles Ilana Harris-Babou, who turns cultural preoccupations with cooking shows, self-improvement, design, and the beauty industry into surreal videos and sculptures.
The New Yorker profiles  Fiona Apple on the cusp of releasing a new album. "It felt more like a sculpture being built than an album being made," said Apple's bandmate.
Tate Modern announced that Anicka Yi, whose works address migration, gender, and class, has been selected for the next Hyundai Commission for Turbine Hall. 
Juxtapoz interviews sculptor Rose Neslter about the ways people communicate their identities through fashion.  
Colossal profiles baker Hannah P., who works at the intersection of art and food transforming loaves into edible canvases.
British performance artist Genesis Breyer P-Orridge has died at age seventy; Artnews celebrates the artist's legacy by examining six of their works.
Artsy profiles Lygia Clark in the 100th anniversary year of her birth; three international solo exhibitions are planned in celebration of her legacy this year.   
Artnet interviews artist-couple Carrie Moyer and Sheila Pepe about their joint show at the Portland Museum of Art in Maine. 
French-American actress and director Tonie Marshall has died at age 68; she was only female director to win a César award, France's equivalent of an Oscar.
Shows We Want To See—Online Edition
As galleries and museums around the world close over the spread of the Coronavirus, writer-curators Barbara Pollack and Anne Verhallen have organized an online group show responding to the crisis. How Can We Think of Art in a Time Like This features work by Lynn Hershman Leeson, Judith Bernstein, Janet Biggs, Miao Ying, and more. "There is always something going on in the world that seems to overshadow creative effort, and yet it's so important for creative effort to continue," said Pollack. New artists will be added weekly.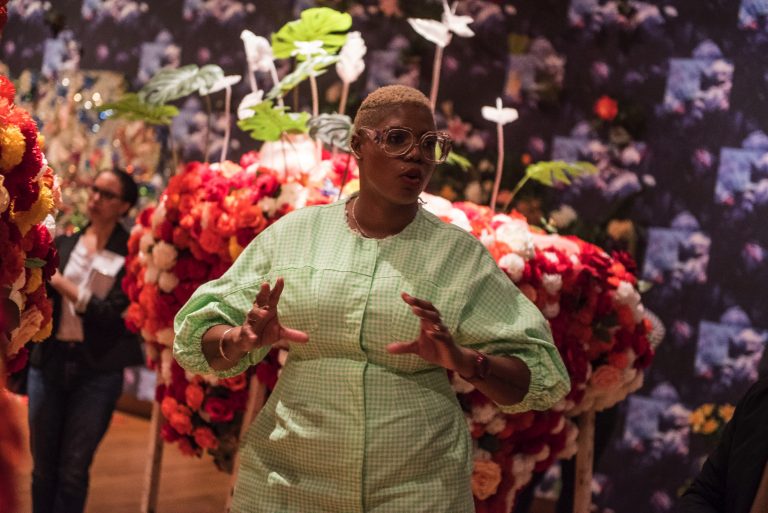 Artnet offers a virtual look at Ebony G. Patterson…while the dew is still on the roses…, which was on view at the Nasher Museum of Art at Duke University in North Carolina. Patterson's neo-baroque works "address violence, masculinity, 'bling,' visibility, and invisibility within the post-colonial context of her native Kingston and within black youth culture globally." The lush installation explores the role gardens have played in Patterson's practice as sites of growth and burial, beauty and decay.