August 7, 2015
8/7/15
"To me, they are art world royalty," said a Whitney Museum curator about the famous feminist art collective.
The Guerrilla Girls posted a video of themselves celebrating their 30th year. Several members, including those with the pseudonyms "Frida Kahlo" and "Käthe Kollwitz," talk to The New York Times about the continuing gender inequities in the art world.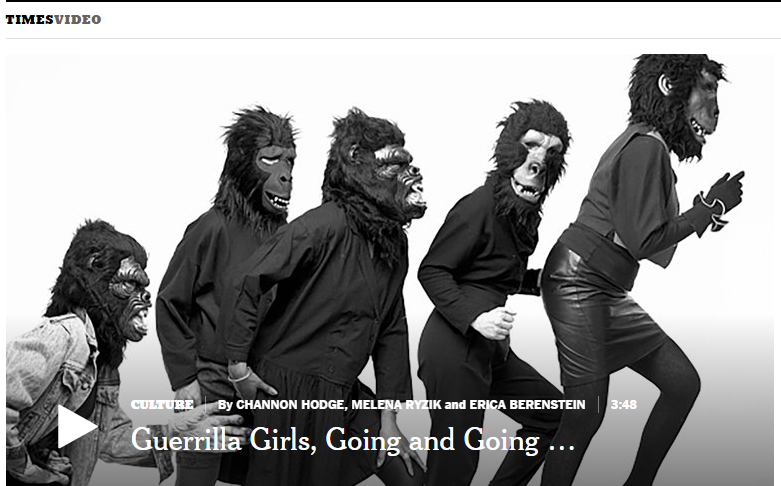 The New York Times charts the Guerrilla Girls' evolution. After three decades, their mission for equality is far from over. The group first collaborated in 1985 in response to a MoMA exhibition featuring 165 artists—less than ten percent of whom were women.
Joyce Kozloff recaps her meeting with Georgia O'Keeffe in the artist's home in 1972.
Artnews visits sculptor Ursula von Rydingsvard in her Brooklyn studio.
Hyperallergic finds only five public statues of historical women in New York City.
In honor of the Tate Modern retrospective of Agnes Martin, Artnews posts a throwback article about the artist's minimalist grid paintings.
A new anti-street harassment mural is unveiled outside a Brooklyn grocery store.
The New Yorker article "A Ghost in the Family" shares how artists Clare Rojas and Barry McGee formed a family around McGee's daughter by his first wife, artist Margaret Kilgallen, after Kilgallen's tragic death.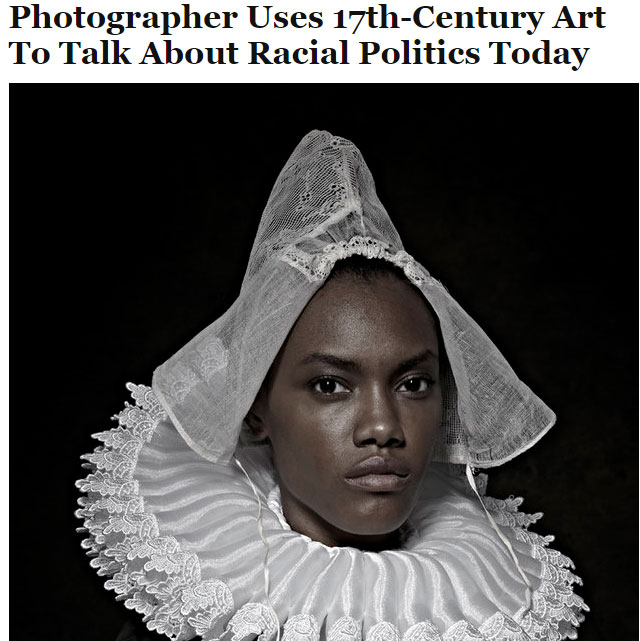 Artist Maxine Helfman's "Historical Correction" series re-creates old Flemish portraits by replacing the posed subjects with men and women of color.
A new study says women make up 60% of museum staffs, but minorities only account for 28% of positions.
"Word to The Woman"—Solange Knowles's newest collaboration with Puma—features 14 innovative women from different backgrounds.
Artnet celebrates artist Hedda Sterne's birthday with six of her most famous quotes.
The Independent analyzes the role and prevalence of female comics in Hollywood.
Here She Comes Now: Women in Music Who Have Changed Our Lives features essays by 22 writers, most of them women.
The Guardian reviews five female-friendly comic book film adaptations.
"Covered in Ink surveys numerous ways women in [tattoo] culture are marginalized."
The Guardian posts an obituary for film noir star Coleen Gray.
Shows We Want to See
Curators Day + Gluckman features 24 women artists that provide "a snapshot of the evolving conversations that continue to contribute to the mapping of a women's place in British society."
One of the newest contemporary art galleries in Los Angeles exhibits works by eight women artists.
Swedish artist Hannah Liden's bagel sculptures are installed at three New York locations.