August 5, 2015
8/5/15
Daisy Makeig-Jones, whose work is on view at NMWA through August 16 in Casting a Spell, created Fairyland Lusterware for the Wedgwood pottery company in the early 20th century.
These ceramics feature elaborate motifs adorning decorative vases, bowls, and other works, demonstrating her fascination with fantastical imagery and folk tales from around the world. Goblins, imps, fairies, and insects are combined with detailed landscapes and abstract patterns.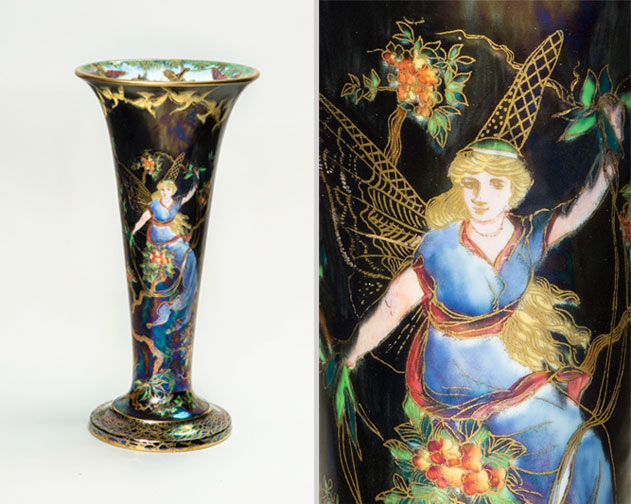 Makeig-Jones adapted designs from contemporary illustrated fairy-tale books such as the "color" fairy books by Andrew Lang, as well as Art Nouveau patterns.
This influence can be seen in works such as a trumpet vase decorated with the pattern "Butterfly Women," displaying a young woman with butterfly wings perched on a branch against a deep background. The vase's neck features a pattern called "Flight of the Birds," while the interior depicts swirling "Floating Fairies."
Beyond her bold work, Makeig-Jones had a distinctive history with Wedgwood. Her designs bolstered sales for the company in the years following World War I. She was savvy about choosing motifs that sold well to fashionable customers of the period.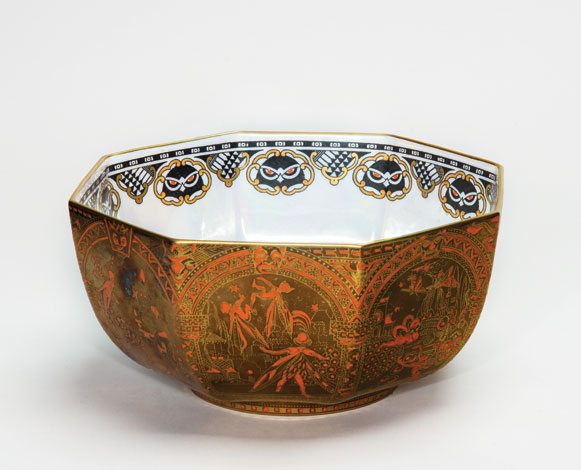 She also took influence from Asian aesthetics and pottery shapes that were popular at the time. Asian-inspired adornments appear in a heavily gilded coral-and-bronze octagonal bowl. Although it was the simplest color scheme in Fairyland Lusterware, the combination of coral and bronze produced a lush effect.