December 18, 2015
12/18/15
artnet shares a list of the top ten most expensive works by living women artists at auction.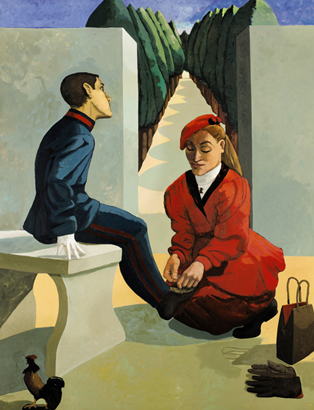 Using aggregated sales from 2015 auctions, artnet created a value ranking of the artists' works. Yayoi Kusama tops the charts with a total of over $58 million. Scan the list for some familiar NMWA artists:
Yayoi Kusama: $58,348,118
Cady Noland: $9,803,603
Cindy Sherman: $9,602,247
Julie Mehretu: $8,649,965
Tauba Auerbach: $5,930,613
Paula Rego: $3,407,592
Chen Peiqiu: $2,981,394
Tracey Emin: $2,751,275
Beatriz Milhazes: $2,740,511
Elizabeth Peyton: $2,714,626
Front-Page Femmes
In tragic news, Indian artist Hema Upadhyay was murdered at the age of 42 in Mumbai. Hyperallergic explores the importance of her paintings and mixed media works that exhibited a "deep emotional sensitivity to the realities of poverty and displacement."
The Guardian reviews the 50-year career of artist provocateur Carolee Schneemann.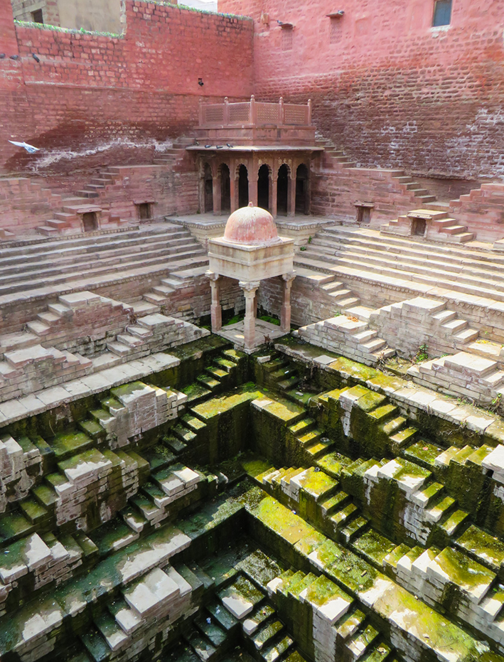 Colossal reviews their top 15 articles in 2015, including a story about Chicago journalist Victoria Lautman's photo documentation of 120 subterranean stepwells in India.
Pia Camil wants people to donate objects of power, aesthetic interest, and of poignancy for her new installation, A Pot For A Latch, at the New Museum.
Tracey Moffatt was chosen to represent Australia at the 2017 Venice Biennale.
Nancy Spector, the former chief curator at the Guggenheim Museum, has been named the new chief curator at the Brooklyn Museum.
The New York Review of Books reflects on the career of Japanese actress Setsuko Hara—frequently called "the Garbo of Japan."
Rozalia Jovanovic has been appointed editor in chief of artnet.
Lady Gaga accepted the 2015 Woman of the Year award at Billboard's annual Women in Music event last Friday.
Feministing lists their favorite 10 feminist music videos of 2015.
Jamaican-born performer Staceyann Chin performs her stage memoir MotherStruck about her fears of pregnancy, her later desire for motherhood, and her difficulty in achieving it.
NPR describes Lucasfilm president Kathleen Kennedy's role producing Star Wars, her career trajectory, and the state of women in the movie business.
The band Pussy Riot plans to open a "women's-only" museum in Montenegro.
Elle interviews artist and journalist Molly Crabapple about her first memoir, titled Drawing Blood.
Shows We Want to See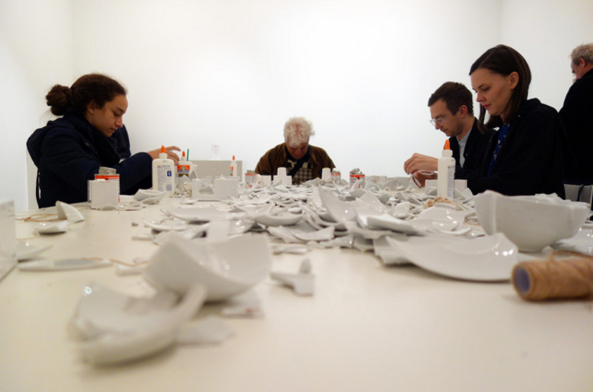 Yoko Ono asks visitors to collaborate in mending shattered ceramics and contemplate river rocks in Yoko Ono: The Riverbed—open at Galerie Lelong and Andrea Rosen Gallery. Hyperallergic explores Ono's instruction pieces.
Marks Made: Prints by American Women Artists from the 1960s to the Present showcases works by pioneering artists including Helen Frankenthaler, Lee Krasner, Joan Mitchell, and Anni Albers.
Mickalene Thomas at Giverny re-imagines iconic works of art from 19th-century Europe through a combination of rhinestones and paint.
Art Fix Friday will be taking a break next week but will return with a new post about women and art making headlines on January 1, 2016. Happy Holidays!