January 24, 2020
1/24/20
The Guardian discusses Dior's recent haute couture show, which featured a set designed by Judy Chicago. Guests were seated within a custom version of Chicago's unrealized sculpture, Inflatable Mother Goddess; embroidered banners posed questions in Chicago's signature cursive script.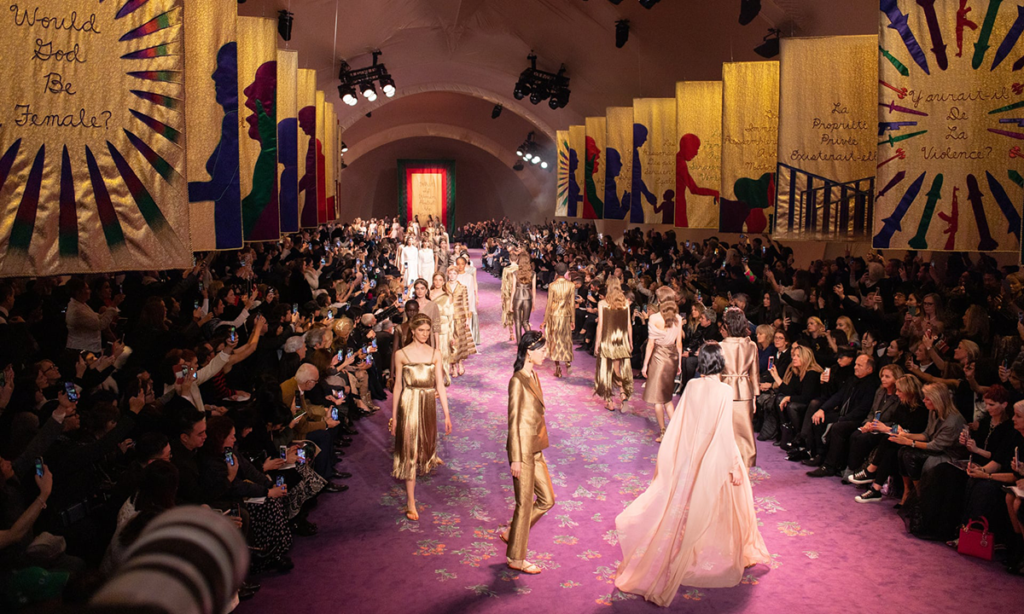 Maria Grazia Chiuri, the first female artistic director of Dior, has looked to women artists for inspiration before. "The reason that Chiuri has felt it important to celebrate women at Dior—is that the art world has been, and continues to be, bedeviled by systemic prejudice, of which sexism is only one component."
Front-Page Femmes
Photojournalist and director Jessica Dimmock campaigns for the Directors Guild of America to change its health benefits to support new parents; Dimmock lost her own insurance after the birth of her first child.

In honor of Martin Luther King Jr. Day, Artnet featured seven artworks that defined the Civil Rights Era; Elizabeth Catlett's wooden sculpture Homage to My Young Black Sisters (1968) is included.

Cecilia Alemani will be artistic director of the 2021 Venice Biennale; she is only the fifth woman to hold this position in the Biennale's 59-year-history.

The New York Times profiles Yola, a best new artist nominee at this year's Grammy Awards—though she's been hard at work for the past two decades.
Artsy lists 20 trailblazing artists with major museum shows in 2020; 15 are women or gender-nonconforming, including Alice Neel, Zanele Muholi, and Deana Lawson.

Juxtapoz interviews Los Angeles-based artist Jillian Evelyn; her new solo exhibition, Skinny Dippers, is open at Outré Gallery in Melbourne.

Frieze reviews Marie Karlberg's film The Dinner, a parody of the social conditions surrounding artistic production.

Fractured Atlas interviews comedian and performance artists Kristina Wong about her "Radical Cram School" web series, which aims to engage young people in, and educate them about, civic participation.
Shows We Want to See
Clarity Haynes's first solo show, Altar-ed bodies, is on view at the Denny Dimin Gallery in New York City through January 25. Haynes's work centers bodies that the art world and society often deem unworthy of respect or admiration. Hyperallergic reviewed the show, noting that Haynes's "portrayals of queer, heavy, and disabled bodies reimagines the white box as a communal space that allows for the possibility of healing."

Gabriela Ruiz: Full of Tears is on view at the Vincent Price Art Museum in Monterey Park, California, through February 15. This is the first solo exhibition for the multidisciplinary artist and designer, who uses 3-D rendering, video mapping, and installation to investigate questions of the self. The Los Angeles Times profiled the artist.

Käthe Kollwitz: Prints, Process, Politics is open at the Getty Center in Los Angeles. A selection of works on paper—including rare preparatory drawings, working proofs, and trial prints—sheds light on Kollwitz's creative process and political engagement. Frieze profiles the artist, looking at her radical legacy as a champion of working class struggles. On view through March 29.