January 29, 2020
1/29/20
At the National Museum of Women in the Arts, we regularly rotate our collection to spark new thematic connections. This is an essential part of our curatorial philosophy. My final post in this six-part series explores the theme "Built to Order." Read about our other themes in the posts "Family Matters," "Rebels with a Cause," "Space Explorers," "The Great Outdoors," and "Roots to Routes."
The artists in "Built to Order" investigate human intervention in the natural world, considering the impact of structures, cities, and societies. Sculptors explore the expressive potential of building materials, forming evocative arrangements of wood, rubber, and metal. Photographers focus on the splendor and scale of public spaces and the psychological tension inherent in secret or abandoned places.
Gallery Highlights:
One of the most influential sculptors of the 20th century, Louise Nevelson (1899–1988) imbued scrap wood with majestic properties. Inspired by Cubist art, she began making assemblages in the 1940s, painting them a single solid color. In White Column (from Dawn's Wedding Feast) (1959), the artist references an architectural design element in a chapel. Although Nevelson often worked with black painted wood, her choice of white for this sculpture signaled a shift in perspective, referencing the color traditionally associated with matrimony and connecting the work more broadly to ethereal space.
The largest sculpture in our collection is Acid Rain (2001) by Chakaia Booker (b. 1953). Repurposing discarded tires, Booker slices, twists, weaves, and rivets them into radical new forms, converting industrial debris into art objects. She says, "Acid Rain symbolizes both the destruction and the creative possibilities of our interaction with the environment."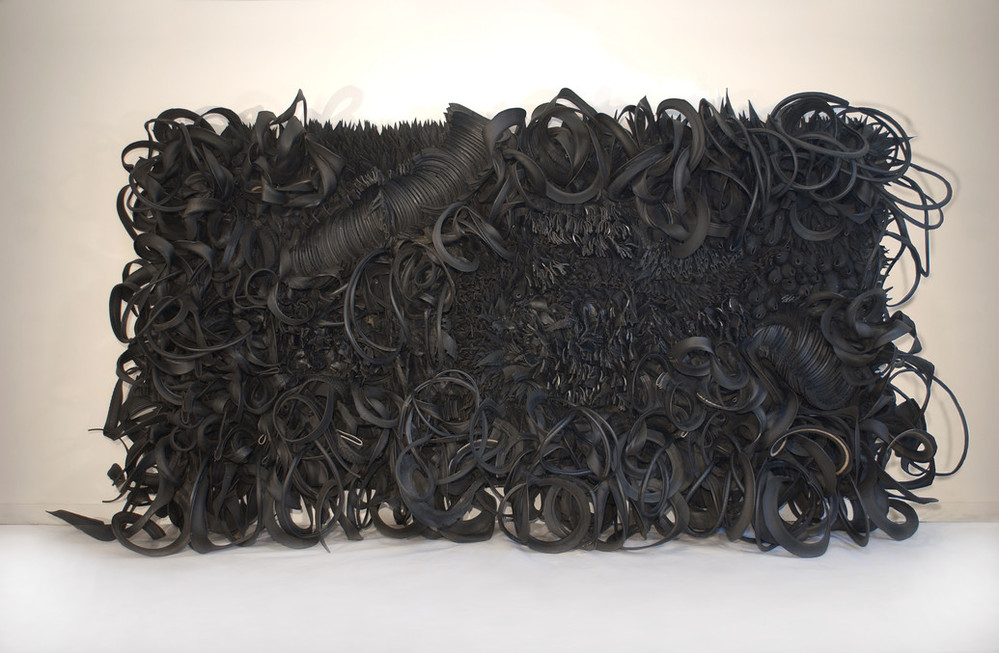 Sculptures by Brazilian artist Frida Baranek (b. 1961) often fool the eye. Untitled (1991) appears from a distance to comprise natural, lightweight materials, but it is actually made from iron and weighs nearly 100 pounds. Despite this weight, Baranek's structure appears surprisingly delicate. Similarly to Booker, she uses recycled metal to create objects that appear to come from the natural world—her work calls attention to issues of environmentalism, urbanization, and industrialization.
Twin sisters Jane and Louise Wilson (b. 1967) are known for haunting video installations and photographs of deserted architectural spaces, particularly those representing institutional power. Silo: Gamma (1999; printed 2007) documents an abandoned military structure at Greenham Common, a former Royal Air Force station in Berkshire, England. Once a site conveying military strength, the scene captured by the artists offers a different perspective—one of decay and abandonment. The photograph's otherworldly glow highlights the empty interior of the space. The Wilsons, and many other artists on view in this section of our galleries, demonstrate that women excel as both makers of complex forms and interpreters of built spaces.