May 30, 2019
5/30/19
At the National Museum of Women in the Arts, we regularly rotate our collection to spark new thematic connections. This is an essential part of our curatorial philosophy. In a six-post series, I will explore the themes featured in our current collection installation. Read about our "Rebels with a Cause" theme and stay tuned for more.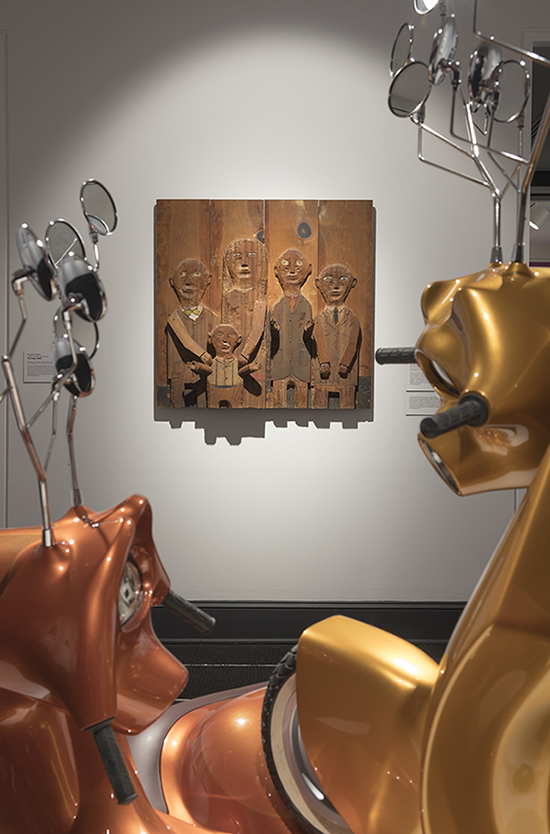 When selecting subjects, artists and their patrons often turn to those closest to them: spouses, partners, children, parents, siblings, friends, and pets. Artists from all periods have created tender, naturalistic renderings of loved ones meant to record important moments or emotions. Their imagery sometimes even focuses on other species to represent all living beings that seek companionship and protection.
Historically, images of families created by women artists have tended to be sober and refined, in keeping with the traditional idea that family portraiture is a space for presenting tranquil relationships. Today's artists examine a broader range of familial experiences, expressively depicting the moments of humor, insecurity, rivalry, and joy that shape family connections.
Gallery Highlights:
Zanele Muholi (b. 1972) is a South African artist and visual activist known for their self-portraits and documentation of LGBTQI lives in South Africa. Their portrait of two women, Katlego Mashiloane and Nosipho Lavuta, Ext. 2, Lakeside, Johannesburg (2007), expresses a sense of enchantment and happiness, defying the discrimination and violence often directed towards homosexuality in South Africa. By capturing their subjects in moments of intimacy and affection, Muholi emphasizes their humanity.
Alice Neel (1900–1984) depicts her boyfriend's brother, Carlos Negrón, in T.B. Harlem (1940). Negrón had just moved to Spanish Harlem in New York from his native Puerto Rico. A bandage on his chest covers a wound from a treatment for tuberculosis, which spreads easily in densely populated neighborhoods. The archaic operation removed ribs to ease the effects of the disease. Radiating emotional intensity, Neel's touching portrait of Negrón alludes to poverty as a social issue without sacrificing her subject's dignity.
In the center of the room, the large-scale sculpture The Stags (2008), by Patricia Piccinini (b. 1965), presents two motor scooters transformed into futuristic creatures. They spar like male deer in the wild, evidently beyond human control. The Stags uses vehicle parts to evoke animal forms and the intimate relationships among these creatures.

Angelica Kauffman (1741–1807), one of the most successful portraitists in the eighteenth century, became a sensation in London, captivating society and shaping European visual culture. The Family of the Earl Gower (1772) depicts the British politician Granville Leveson-Gower, his third wife, Lady Susannah, and their children dressed in lyrical costumes and interacting with marble busts, lyres, and period props. Her Neoclassical style communicated the family's prominence.
Marisol (1930–2016) was one of the most respected and popular artists of the 1960s. Her carved wood sculptures blend Latin American folk art styling with the wit of Dada and Pop Art. The Large Family Group (1957) is one of the artist's earliest works. It depicts a family with members who extend their arms outward in a welcoming gesture—a gesture that I hope also invites visitors to think about their own associations with the word "family."