May 31, 2019
5/31/19
At the Barbican Art Gallery in London, Lee Krasner: Living Colour has opened. The Guardian calls it a "thrilling major retrospective" that includes nearly 100 works—early self-portraits, Krasner's "Little Image" paintings from the 1940s, collages created from torn-up earlier works, and her most impressive large-scale abstract paintings.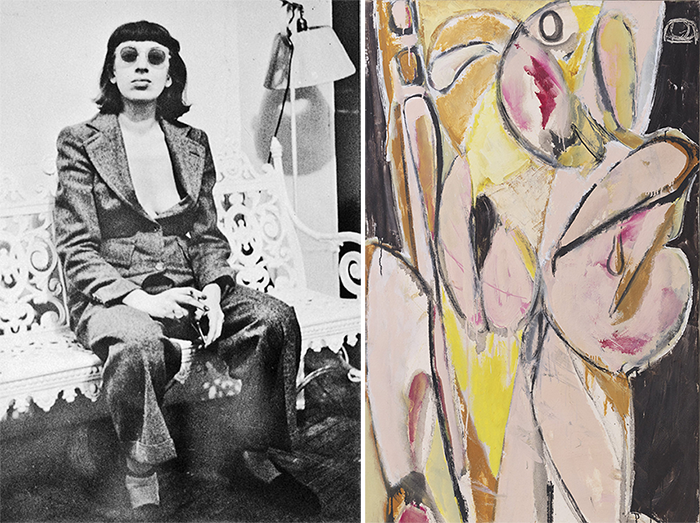 Krasner shines in this exhibition, outside of the shadow of her husband Jackson Pollock and the battles she faced throughout her career. "It was…tough to be a woman artist amid the first generation of abstract expressionists…but Krasner kept going, still finding her way."
Front-Page Femmes
Shirin Neshat will debut a new film on cultural identity at the Broad Museum in October; it will complement her survey at the museum, Shirin Neshat: I Will Greet the Sun Again.
Claire Bessède has been appointed director of Paris's Eugène Delacroix National Museum.
The Brooklyn Museum has acquired Constance P. Beaty's portrait of Supreme Court Justice Ruth Bader Ginsburg.
Hyperallergic profiles the FEMMEBIT Festival in Los Angeles, which features innovative tech art from at least 75 women artists, as well as talks, screenings, and performances.
Lincoln Center Theater and the Metropolitan Opera will develop a new chamber opera based on Lynn Nottage's popular play Intimate Apparel, opening February 2020.
The Art Newspaper reviews Hearts of Our People: Native Women Artists at the Minneapolis Museum of Art, which includes three triptychs from Dakota Sioux artist Mary Sully on display for the first time—possibly ever.
The Getty Research Institute has named Naoko Takahatake as its new curator of prints and drawings.
Frieze profiles Eleanor Antin, whose monographic exhibition at LACMA confronts aging and grief in a re-enactment of her groundbreaking 1972 project CARVING: A Traditional Sculpture.
Architect Liz Diller and architectural photographer Hélène Binet have been awarded the 2019 Jane Drew and Ada Louise Huxtable Prizes, respectively.
Colossal profiles painter Laura Berger, who has grown her presence as a fine artist and fostered creative partnerships for products like greeting cards, calendars, and wallpaper.
Shows We Want to See
Suzanne Lacy: We Are Here is the first major retrospective of the artist's 50-year career and is on view at two San Francisco-based arts institutions simultaneously: the San Francisco Museum of Modern Art (SFMOMA) and the Yerba Buena Center for the Arts. The SFMOMA presentation tells a broad and rich history of her feminist art, while the YBCA showcases her community organizing projects. Lacy has "worked tirelessly to address social issues such as feminism, violence against women, racism and labor rights for nearly five decades."
Judy Chicago: The Birth Project from New Mexico Collections opens at the Harwood Museum of Art on June 2. The exhibition includes large-scale needle works, drawings, and prints that all celebrate the birth process, from the painful to the mythical. "This is a moment when the world is belatedly recognizing Chicago's art and when the debate on women's control over their own bodies is current, again," said art writer and activist Lucy Lippard.