March 6, 2020
3/6/20
Hyperallergic profiles Iraqi-born artist Sama Alshaibi, who addresses migration, war, and gender in her works. Alshaibi has designed an installation, The Cessation, for the Crystal Bridges Museum of American Art's State of the Art 2020 exhibition. It revives elements from the famous tale A Thousand and One Nights to comment on current socio-political realities.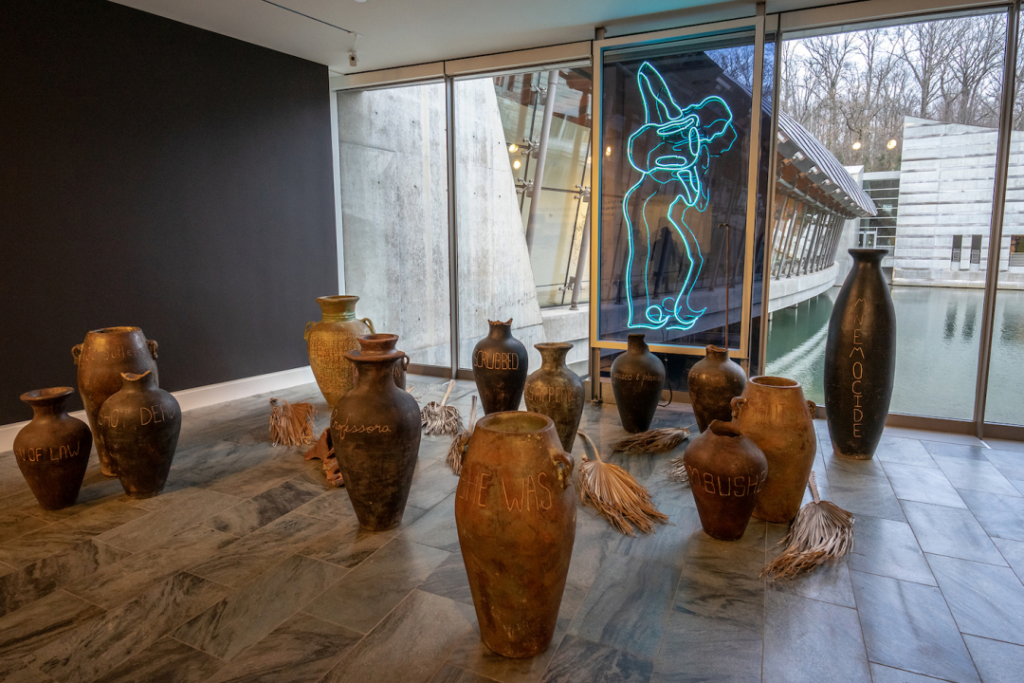 Originally created in a residency program in San Antonio, Texas, where the piece commented on women in public space, the installation takes advantage of its new museum location to respond to the representation of women in art institutions, another manifestation of gender inequality.
Front-Page Femmes
Dublin-based architects Yvonne Farrell and Shelley McNamara of Grafton have won the 2020 Pritzker Prize; they are only the fourth and fifth women to win the prize in its 41-year history.
Artsy asked leading women artists, including Shirin Neshat, Anicka Yi, and Senga Nengudi, to share the emerging and underrepresented talents who inspire them.
Geometric artist Carmen Herrera will design a new mural in New York City's East Harlem neighborhood; students from Publicolor, an arts and education program, and Manhattan East School will execute the design.
Artsy profiles photographer Liz Johnson Artur, whose photographs capture the vibrancy of black youth culture.
The New Yorker interviews actress Pam Grier about country living, blaxploitation, and the needs of Hollywood.
Artsy reports on the record number of female solo presentations at the 2020 Art Dealers Association of America fair.
The Washington Post shares Marissa Roth's ocean photography series "The Crossing."
June Edmonds has won the inaugural $10,000 Aware Prize, presented by Archives of Women Artists, Research and Exhibitions, at the Armory Show.
Juxtapoz interviews Ana Benaroya about pop culture, her interest in bodies and musculature, Celine Dion, and the balance between highbrow and lowbrow.
The New York Times profiles Nadia Boulanger, pioneering composer, conductor, and teacher, who will be first woman whose work is explored by the three-decade-old Bard Music Festival.
Slate interviews Cassie Chambers about Hill Women, her new memoir of family and Appalachian history.
Shows We Want to See
The Unseen, an all-female group show, opens today at Stone Sparrow in New York City. Participating artists including Rose Freymuth-Frazier, Ximena Rendon, Gigi Chen, and Jodi Herrera are from around the globe and work in paint, ceramic, textiles, fine metal, and wearable art jewelry. On view through March 31.
At Auto Italia in London, Hot Moment presents the work of Tessa Boffin, Ingrid Pollard, and Jill Posener—three photographers who explore the complexity of lesbian identity. The exhibition's images emerge from the context of political struggles around reproductive rights, the onset of HIV/AIDS in the U.K., police stop-and-search laws, and uprisings in urban areas. Frieze notes the care, humor, and style with which these artists pushed back against poisonous cultural narratives. On view through March 14.
At New York City's Bard Graduate Center Gallery, Eileen Gray features more than 200 architectural drawings and models, pieces of furniture, and textiles from the pioneer of modern design and architecture. Artnet calls the exhibition "a long-overdue look at one of Modernism's great talents." On view through July 12.