October 28, 2022
10/28/22
An anonymous artist collective staged a protest at the Solomon R. Guggenheim Museum to call attention to ongoing protests in Iran, unfurling a dozen blood-red banners in the museum's rotunda. The 12 banners featured a black stenciled portrait of Mahsa Amini, whose death had triggered the widespread protests, accompanied by the slogan "Women, Life, Freedom" in English and Kurdish.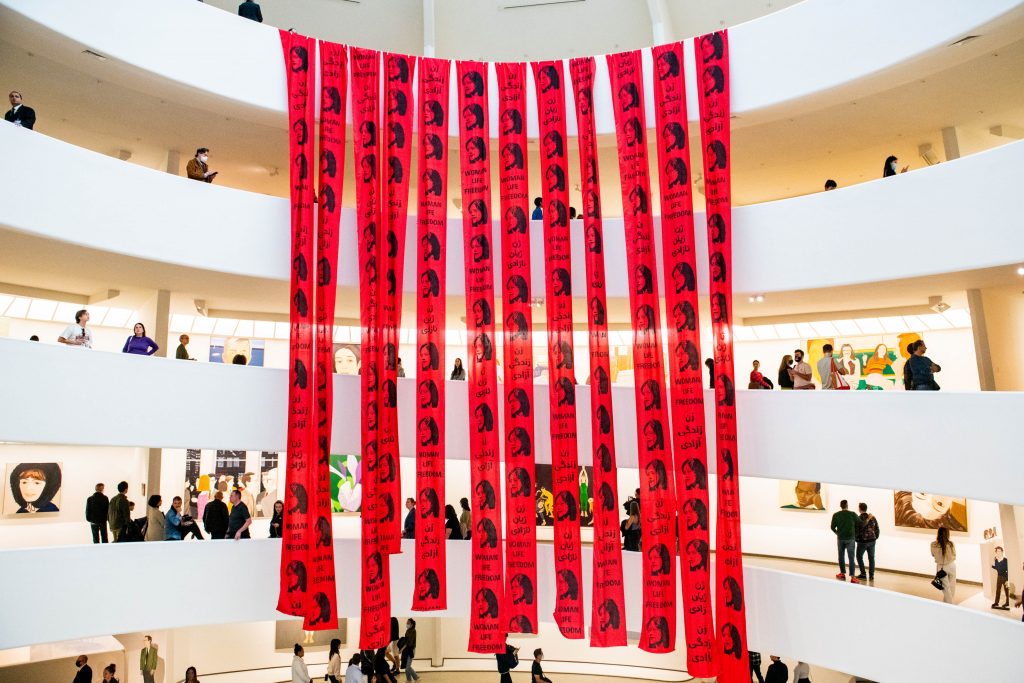 Artists have continually voiced their support for the Iranian women leading the charge, making work to honor Amini and demanding freedom from the Iranian regime. "Dismantling women's rights is a global challenge, an issue we unfortunately face whether here in the West or in the Middle East," the anonymous collective writes.
Front-Page Femmes
NMWA has revealed a new installation by Austrian artist Katharina Cibulka, turning the building facade into a massive feminist billboard.
For the first time in its almost 130-year history, women artists significantly outweigh men at this year's Venice Biennale, resulting in major galleries signing the leading women.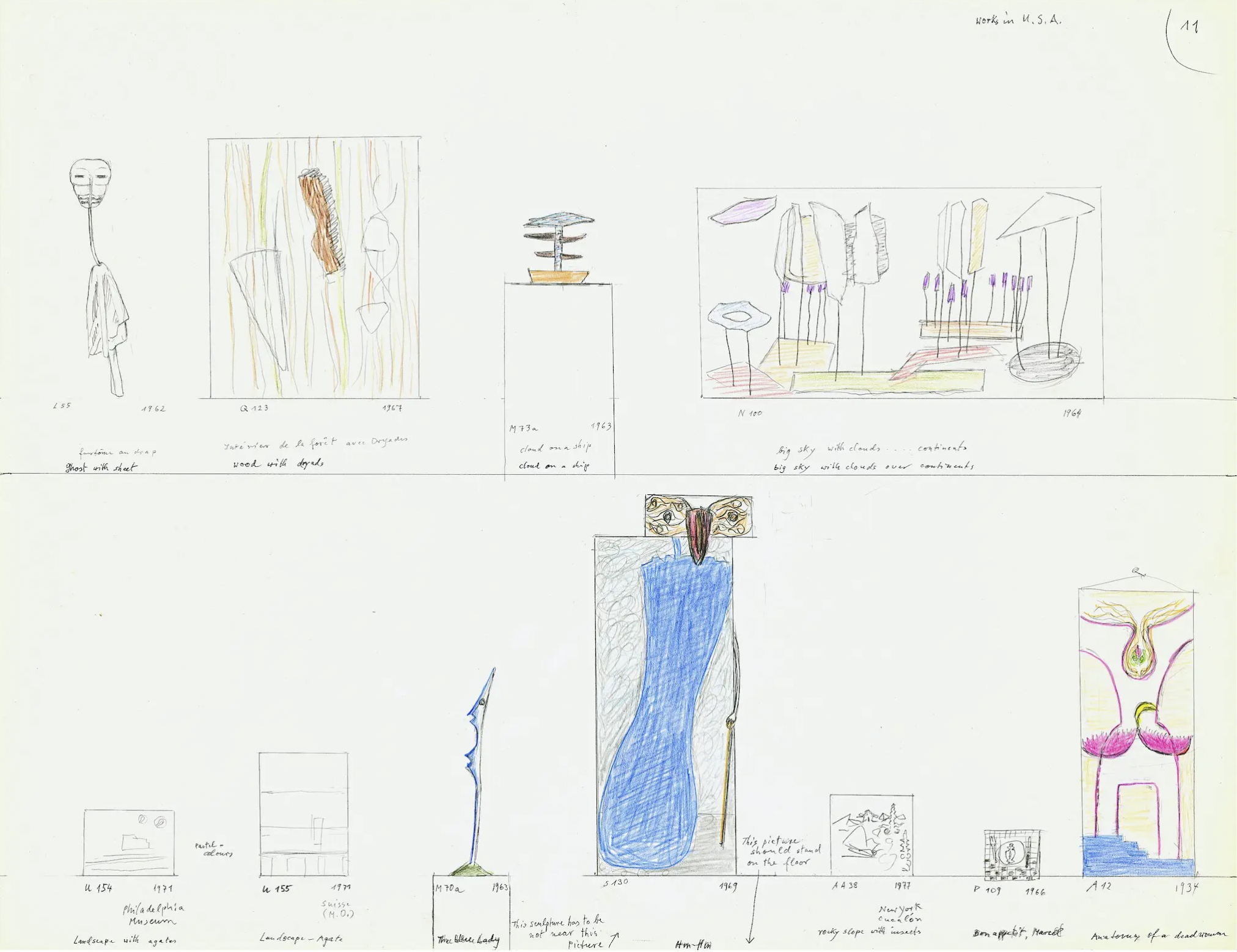 The retrospective Meret Oppenheim planned of her own work before her death is now on view at the Museum of Modern Art in New York through March 4.
Les Militantes at Maison Guerlain in Paris honours women asking provocative questions about the way we live, including Louise Bourgeois, Zanele Muholi, and Niki de Saint Phalle.
Artist Deborah Kass decries antisemitism in the United States.
Brazilian women use clowning, Palhaçaria feminina, as a tool to fight back against president Bolsonaro and his rhetoric against women, artists, and leftists.
Fondation Louis Vuitton presents the works of Joan Mitchell in conversation with those of Claude Monet in Monet – Mitchell, reflecting their affinities with the French landscape.
The Marcel Duchamp Prize, France's leading award for young artists, was given to Paris-based Mimosa Echard, whose work intertwines nature and consumer culture.
David Kordansky Gallery in New York City exhibits the works of groundbreaking ceramic artist Betty Woodman, one of the first ceramists "to be treated seriously."
Artnet interviews Martine Syms, whose art-school satire The African Desperate exposes the myth of the MFA education and touches on themes including Black poetics and art history.
Shows We Want to See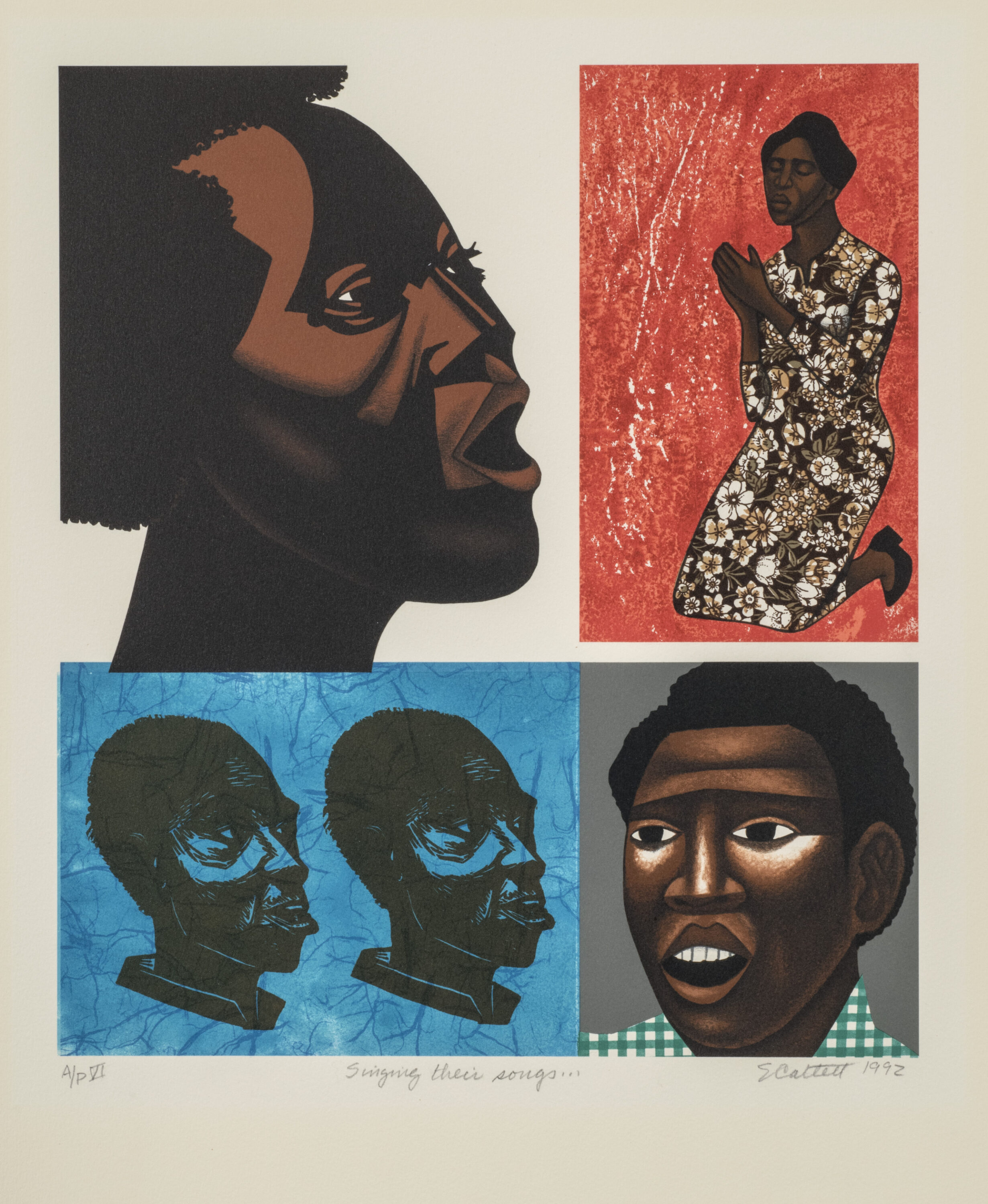 The Columbia Museum of Art presents The Art of Elizabeth Catlett: From the Collection of Samella Lewis, featuring 30 prints and sculptures by Catlett. The works are drawn from the personal collection of late artist and art historian Samella Lewis, and the show also includes art by Lewis, for whom Catlett was a friend and mentor, as well as by Catlett's husband, Francisco Mora. On view through January 22, 2023.
Diane Severin Nguyen: IF REVOLUTION IS A SICKNESS at the Contemporary Arts Museum Houston is the first solo museum exhibition of photographer and time-based media artist Nguyen. Her work reckons with the process of finding shared symbols and naming oneself, while also positioning youth culture as a crucial site of revolutionary power. On view through February 26, 2023.