June 15, 2015
6/15/15
The fourth installment of NMWA's biennial exhibition series, Organic Matters—Women to Watch 2015 is presented by the museum and participating national and international outreach committees. The exhibition's artists redefine the relationship between women, art, and nature. Associate Curator Virginia Treanor spoke with emerging and contemporary women artists featured in Organic Matters.
Organic Matters—Women to Watch 2015
Artist: Goldschmied & Chiari
Nominating committee: Gli Amici del NMWA, Italy / Consulting curator: Iolanda Ratti, Museo del Novecento
1. Organic Matters includes art that refers or responds to the natural world. How do you think your work Nympheas #12 relates to the theme of nature and specifically to environmental concerns?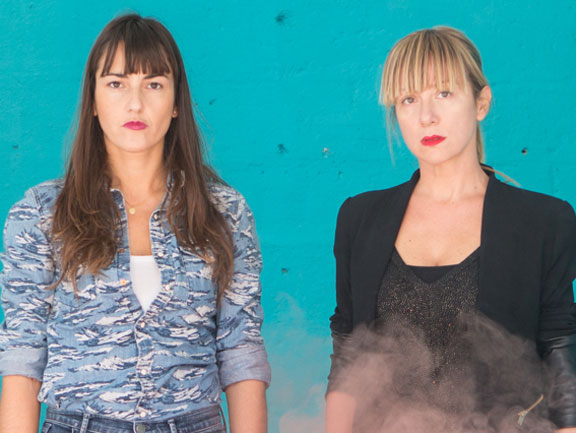 Nympheas #12 is part of a body of work that we started in 2002, mostly pictures of polluted landscapes inspired by Impressionist flânerie. The works in this series include photographs of plastic bags that appear like flowers, floating atop the polluted Tiber River in Rome. At the time we made these works, we were influenced by post-feminist theories and their questioning of what "natural," "cultural," and "artificial" were.
That's why we started representing an artificial nature, using polluted landscapes and the common tool of plastic bags to show our personal view of flowers. We were asking ourselves about the relationship between gender and nature in history, keeping in our minds a mistrust of pureness.
2. Is this work representative of your oeuvre? How does it fit into your larger body of work?
The Nympheas are representative of our oeuvre. This body of work is the first step in our practice that highlights the need to go beyond the limits of nature and history, to inquire about the cultural, social, and visual construction of gender and landscape.



3. As artists, what is your most essential tool? Why?
Our most essential tool is our relationship as an artist duo because it feeds our art practice, for example, so that we see multiple sides of one issue.
4. Who or what are your sources of inspiration and/or influence?
Philosophy, visual, and social studies, and our Italian historical background, which is often a subject of our works.
5. What's the last exhibition you saw that you had a strong reaction to?
Late Turner at the Tate Modern during our recent research.