June 17, 2015
6/17/15
"What is natural?" is the intriguing question surrounding Super Natural. Two of the exhibition's artists, Rachel Ruysch and Sam Taylor-Johnson, answer this query through their respective works of art. Ruysch's painted still life and Taylor-Johnson's video Still Life suggests that decay, death, and the passage of time are the most essential and inevitable processes in our natural environment.
Society has traditionally aligned women with nature because both can be pretty, graceful, and demure. Many of the women artists in Super Natural, including 17th-century artist Rachel Ruysch, challenge these characterizations. Ruysch and later artists chose to infuse their art with the scientific, strange, and abject elements of nature.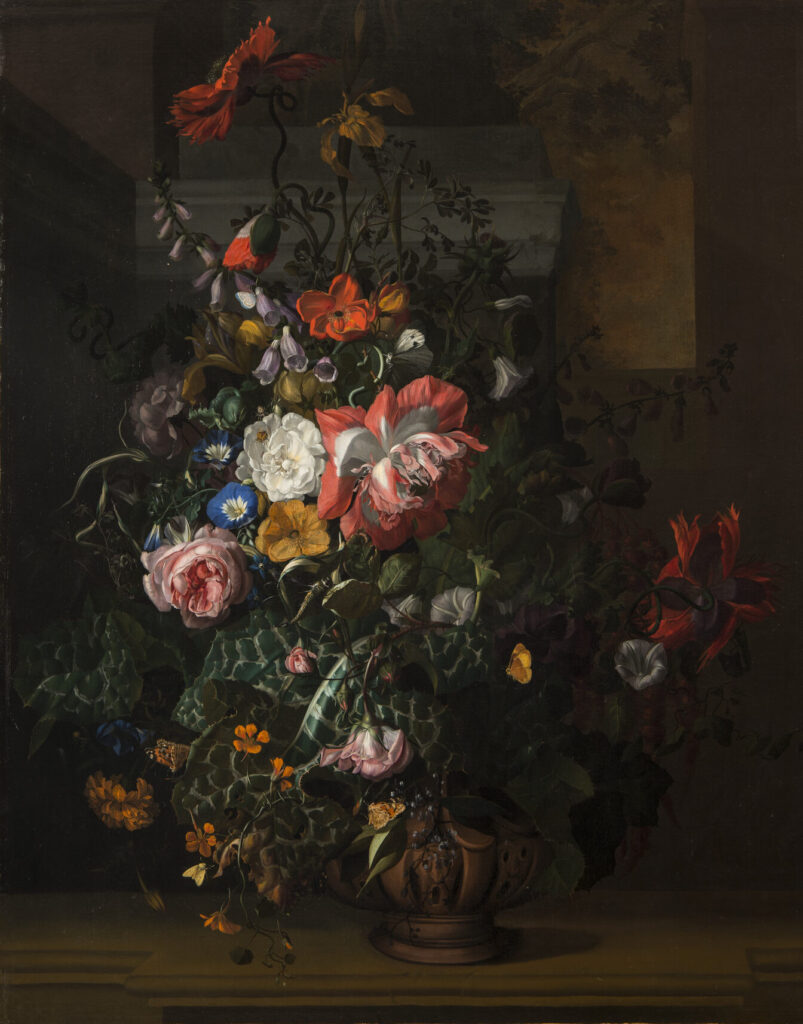 Ruysch's Roses, Convolvulus, Poppies, and Other Flowers in an Urn on a Stone Ledge seems to depict a thriving bouquet of flowers. However, upon closer examination the arrangement contains fatal signs of decay.
The composition's central pink rose wilts, showing the beginning stages of decomposition. Deep purple flowers, half-hidden at the rear of the bouquet, also droop. Their shadowy hue and sagging posture foreshadow the bleak future in store for their upright counterparts. Holes in the bouquet's large green leaves also suggest impending deterioration. These subtle elements of decay allude to the passage of time and the subsequent demise of the plants.
Even the still life's title reminds viewers that these natural organisms will not last forever. The bouquet stands in an urn, which sits upon a stone ledge—neither setting encourages growth or life.
While Ruysch's painting subtly alludes to decomposition, Taylor-Johnson's video shines a spotlight on the process. In her video, a plate of fruit disintegrates over several weeks. The time-lapse video compresses the breakdown to just over three minutes. As the decay progresses, the fruits seem to sigh and exhale their final breaths slowly, collapsing into an unrecognizable pile of rot.
Like Ruysch, Taylor-Johnson does not shy away from the foul qualities of natural decay. Unlike Ruysch, Taylor-Johnson has access to modern resources and technology that allow her to depict decomposition over an extended period of time.
Even without Taylor-Johnson's technology, Ruysch does a masterful job of alluding to the unavoidable fate of her flowers. Both artists imbue their portraits of nature with the most natural life process of all: death. These works, as well as the other Super Natural works by Audrey Niffenegger, Janaina Tschäpe, Maria Sibylla Merian, and Maggie Foskett give "death" as the simple yet poignant answer to "What is natural?"