June 19, 2015
6/19/15
ARTnews reports on painting and feminism during a panel featuring artists Rosy Keyser, Cecily Brown, and Joan Semmel.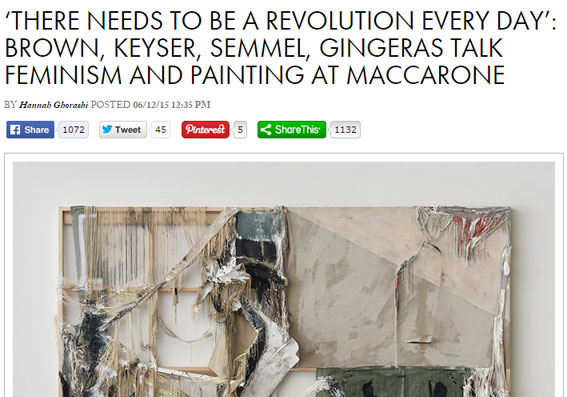 In discussing Linda Nochlin's famous essay, Semmel said, "There are many great women artists. And we shouldn't still be talking about why there are no great women artists. If there aren't great celebrated women artists, that's because we have not been celebrating them, but not because they are not there."
At the beginning of the discussion Semmel stated, "I was told that feminism was over a long time ago, and painting was dead. But here we are."
Keyser added, "There needs to be a revolution every day."
Front-Page Femmes
Arts patron and collector Valeria Napoleone launches new initiatives to increase the visibility of women artists in public collections. A work from a woman artist will be donated to a museum each year. The museum will, in turn, host a solo show for the artist.
Photographer Deborah Willis describes the current environment for black female photographers. "It seems we see a few of their names often, and I wonder if that is not just a function of social media. When you look closely though at collections and museum shows, then these artists tend to disappear."
Harper Lee's letters failed to sell at Christie's auction on Friday.
Working with the Female Artists' Foundation, these four African women artists explore societal challenges and preconceptions in their works.
Following author Kamila Shamsie's call to action in a recent article in The Guardian, the publishing house And Other Stories will only release titles written by women in 2018.
Drawn & Quarterly has a history of championing female cartoonists and its current best-selling cartoonists are women. The New York Times examines Drawn & Quarterly's advance of women in comics for their 25th anniversary.
The College Art Association (CAA) compiles a list of their top-picks for women-centered exhibitions and events. Check out what they are most excited for in June.
Shows We Want to See
A mind-bending retrospective of British artist Bridget Riley is open at the De La Warr Pavilion this summer. One review declares, "Bridget Riley is the most important British painter of the modern age."
The Hammer Museum's latest exhibition features a collaborative initiative of Los Angeles-based women artists and Afghan weavers.
She Came to Stay opens soon. This cross-generational exhibition of five women artists describes obstacles and displays women's stories.