June 8, 2015
6/8/15
The fourth installment of NMWA's biennial exhibition series, Organic Matters—Women to Watch 2015 is presented by the museum and participating national and international outreach committees. The exhibition's artists redefine the relationship between women, art, and nature. Associate Curator Virginia Treanor spoke with emerging and contemporary women artists featured in Organic Matters.
Organic Matters—Women to Watch 2015
Artist: Jennifer Celio
Nominating committee: Southern California Committee / Consulting curator: Corrina Peipon, Hammer Museum
1. Organic Matters includes art that refers or responds to the natural world. How do you think your "NIMBY" series relates to the theme of nature?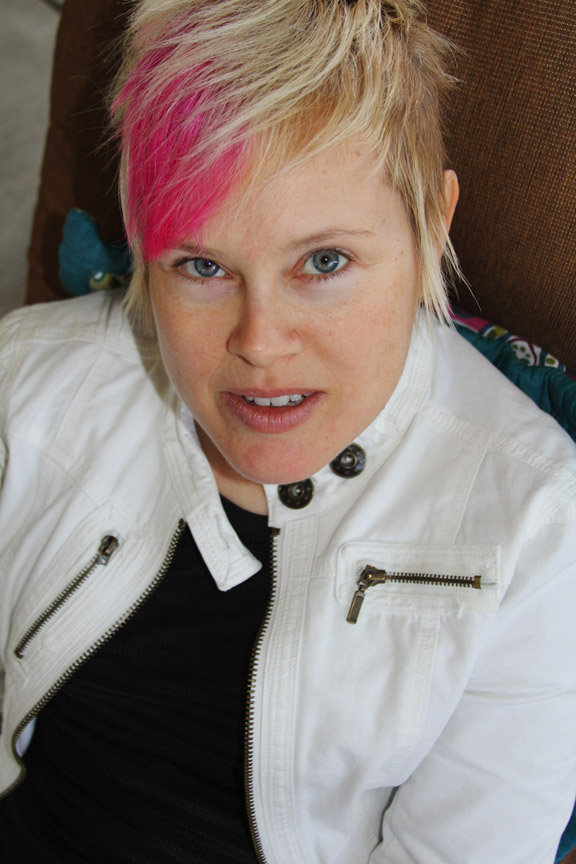 My drawings are equally about the natural world and the human-made environment. I have a deep respect for nature and have always seen the need for us humans to act as responsible stewards of all its ecosystems. My work is more specifically about where human civilization meets the natural world, the places and ways in which flora and fauna collide and interact with people.
I'm most interested in how animals and plants adapt to human intrusion into their habitats, even reclaiming those spaces in new manners. There is also an ongoing, dark fascination with how people remove nature and then replace it with facsimiles, and what effect that has upon the human spirit and the loss of connection to the larger world.
2. Is this work representative of your oeuvre? How does the "NIMBY" series fit into your larger body of work?
The "NIMBY" series evolved to encapsulate everything I had developed in my drawings. I wanted to create drawings that felt large in scale by virtue of depicting these imagined environments that were full of details showing plants, wildlife, mountains, airplanes, cell phone signal tower "trees," and people—often messy and definitely dystopic renderings of our world. Probably the best way to describe my work is that it depicts situations and places that I hope never come to exist.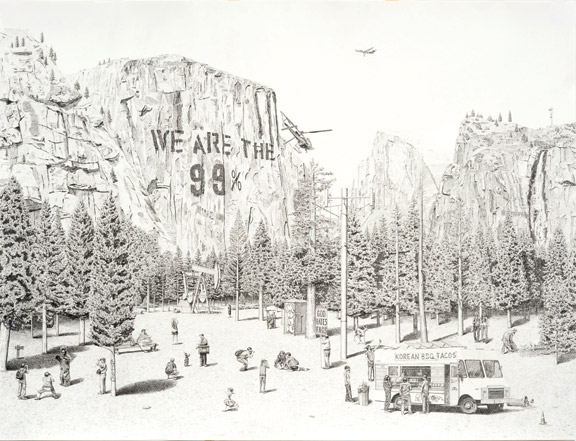 3. As an artist, what is your most essential tool? Why?
At the risk of sounding cliché, I would have to say it is the internal sight, the imagining of what can be, of what can then be created in the actual sense, using pencil or paint on the two-dimensional surface. I can't begin to describe what a rush it is when an idea hits me, and then to see that idea through to fruition.
4. What are your sources of inspiration or influence?
Most of my inspiration is from the city, the urban environment. The act of driving brings out most of my ideas. Often it is some graffiti or a building or noticing a tree that has been chopped down that sparks an idea. Going out into nature, hiking, camping, etc., is essential for my sanity, but those situations don't spark ideas right away. Rather, I take photos and jot down phrases in my notebook, waiting until eventually I can amalgamate the seemingly random bits into a cohesive whole.
I must admit I'm an unabashed admirer of Andrew Wyeth's art. His work has been a huge influence since I was a child. I was enamored by his labor-intensive style, the patience it took to render his scenes, the time spent becoming intimate with those subjects. The precisely rendered textures, white negative spaces, and detailed realism of his work have shown themselves in my own drawings. There is a pursuit of Wyeth's "magic realism" that I hope to capture in my own work.
5. What's the last exhibition you saw that you had a strong reaction to?
I usually have mixed reactions to almost every exhibit I see. Love and hate. I have seen many thought-provoking shows at galleries in Los Angeles recently. It is great to walk out of those exhibits all fired up, whether it's to discuss the work or because it sparks the fire under me to get back into my studio at that very moment.