July 6, 2015
7/6/15
The fourth installment of NMWA's biennial exhibition series, Organic Matters—Women to Watch 2015 is presented by the museum and participating national and international outreach committees. The exhibition's artists redefine the relationship between women, art, and nature. Associate Curator Virginia Treanor spoke with emerging and contemporary women artists featured in Organic Matters.
Organic Matters—Women to Watch 2015
Artist: Mimi Kato
Nominating committee: Ohio Advisory Group / Consulting curators: Reto Thüring, Cleveland Museum of Art; Rose Bouthillier, MOCA Cleveland
1. Organic Matters includes art that refers or responds to the natural world. How do you think your work Landscape Retreat: In the Woods relates to the theme of nature?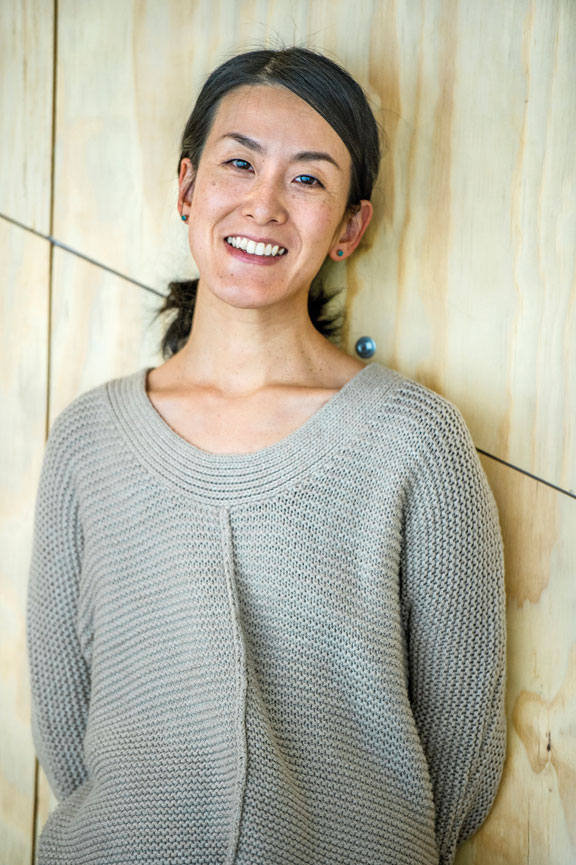 My interest in nature and landscape stems from my longing for the familiar landscape of my home, Japan. Drawing landscape from my memories, photographs, and online street views, I started to think about our daily landscape and how our lives, activities, and actions constantly affect its form.
Exploring urban landscapes, I noticed many green spaces hidden under and between urban structures, such as under highway bridges and empty abandoned lots. These green spaces do not come to mind when we talk about nature even though they function in an ecosystem, supporting the lives of plants and animals. The series "Landscape Retreat" focuses on one such landscape by analyzing human perception and categorization of nature.
2. Is this work representative of your oeuvre? How does it fit into your larger body of work?
Yes. Inspired by theater, especially Japanese traditional mask theater and contemporary Butoh, I started to perform in my work. Every figure presented in my work is me, conveying the narratives of the compositions through poses and acts. My interest, ideas, and narratives have shifted over time; however the performance aspect remains and is also present in the series "Landscape Retreat." The process of my work, performing, sewing costumes, making props, and directing narratives, resembles the process of the theater and I often refer to my work as one-person theater.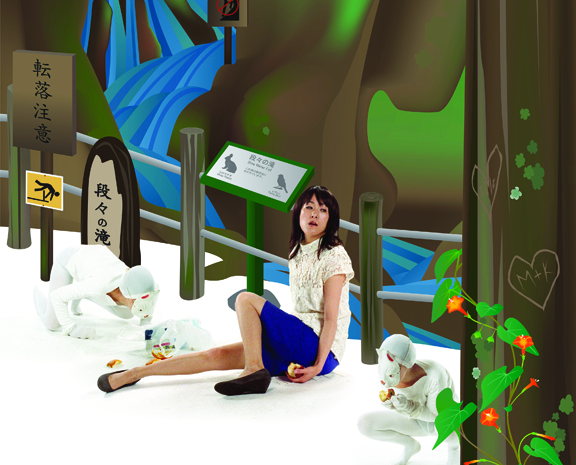 3. As an artist, what is your most essential tool? Why?
The most essential tool for me is curiosity. Asking many "why" questions to even the most mundane things that surround our lives could reveal new findings.
Recently, I collaborated on a project with the invasive plants management crew from the Cleveland Metroparks. This project started with a very simple question about familiar plants from Japan in the American landscape: "Why are they here?" Following this curiosity and finding the answers, the project pushed me out of my routine studio practice, leading to a collaboration and site-specific installation. A simple question opened up a new possibility and challenges in my art practice.
I believe curiosity is an essential tool in any field and can enrich and strengthen one's thinking process and way finding.
4. Who or what are your sources of inspiration and/or influence?
Things that surround me, especially landscapes at this moment. It is fascinating to see how we humans have been marking our existence in the landscape.
5. What's the last exhibition you saw that you had a strong reaction to?
Forty-Part Motet by Janet Cardiff at Cleveland Museum of Art, The Paradise Institute also by Janet Cardiff and George Bures Miller, and The Visitors by Ragnar Kjartansson at Museum of Contemporary Art Cleveland.