May 13, 2017
5/13/17
Inspired by the special exhibition New Ground: The Southwest of Maria Martinez and Laura Gilpin, we are celebrating famous artist friendships. Did you know that Leonora Carrington (1917–2011) and Remedios Varo (1908–1963) met in Paris and became close friends after finding refuge in Mexico City?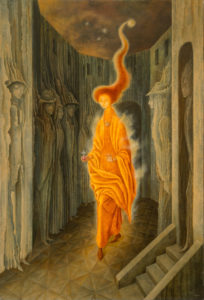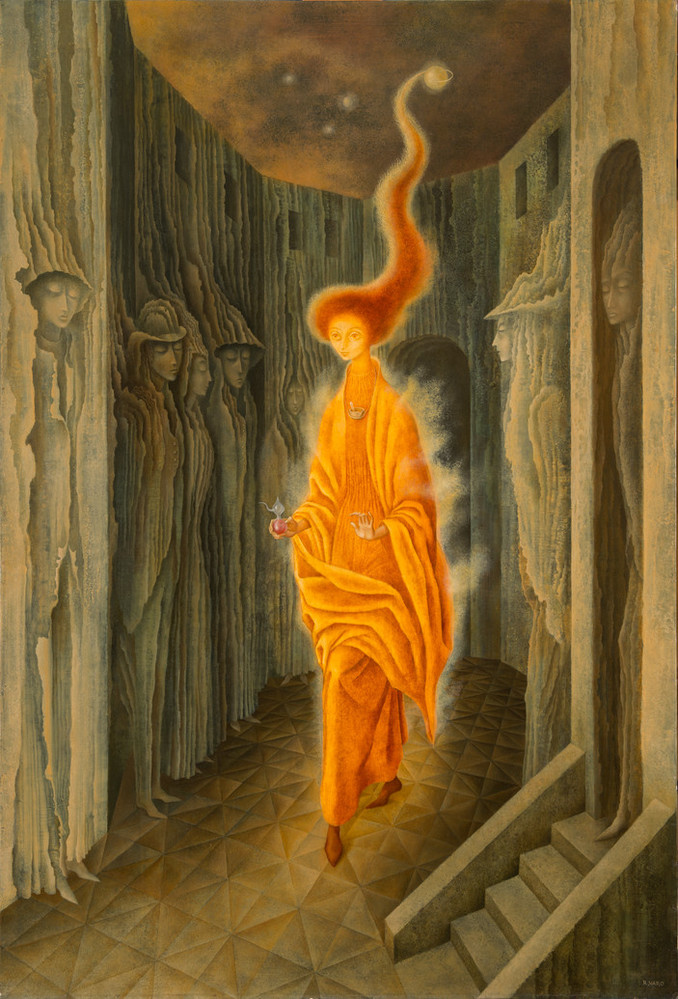 Surreal Sisters
Both Leonora Carrington and Remedios Varo painted primarily in a Surrealist style, infusing their works with mysticism and otherworldly elements. NMWA owns five works by Carrington, including one print, two paintings, and two sculptures. Although Carrington did not begin producing sculptures until 1990, The Ship of Cranes (2010) is exemplary of Carrington's interest in mythology and use of animal symbolism.
One of the three paintings by Varo in the collection, La Llamada (The Call) (1961), is on view on the mezzanine level. La Llamada (The Call) provides viewers with signature traits of Varo's work, including an ethereal being dressed in gold against a darker, castle-like background.
A Match Made in Mexico
Carrington and Varo met in Paris during the Surrealist movement and were seen as the "femmes-enfants" to the famous and much older male artists in their lives. Varo had left Spain with poet Benjamin Péret and Carrington was in a relationship with Max Ernst. Their friendship then moved overseas to Mexico City as the outbreak of World War II in Europe caused them to move. In their new home, the two saw each other almost daily, of which Carrington said, "Remedios's presence in Mexico changed my life."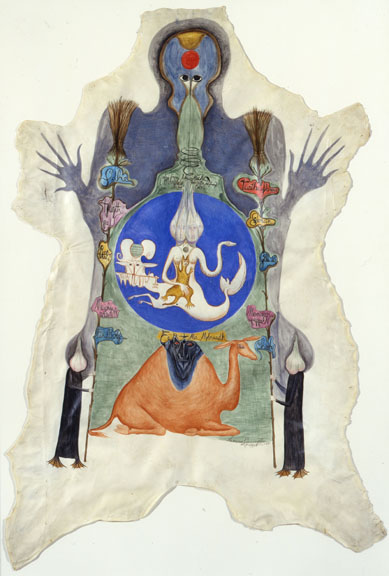 Though they painted separately, they did spend time together cooking, writing spells, and looking for ways to prank guests. Their mutual interest in alchemy is evident in their works. Both artists often depicted magical, alternate realities that are characteristic of Surrealism.
While Carrington and Varo shared subject matter based on the universe, the supernatural, alchemy, and astrology, they interpret these topics differently in their works. In the book Surreal Friends: Leonora Carrington, Remedios Varo, and Kati Horna, Stefan van Raay writes, "Carrington's work is about tone and color and Varo's is about line and form."
In Carrington's book The Hearing Trumpet, she modeled the two main characters after much older versions of herself and Varo, revealing how important she felt the friendship was to her and her wish that it would last well into their old age. Varo also included their friendship in stories she wrote, creating characters just as outlandish as Carrington's.
Learn about the friendship between potter Maria Martinez (ca. 1887–1980) and photographer Laura Gilpin (1891–1979), whose works are on view in New Ground through May 14, 2017.