December 30, 2017
12/30/17
Magnetic Fields: Expanding American Abstraction, 1960s to Today places abstract works by multiple generations of black women artists in context with one another—and within the larger history of abstract art—for the first time, revealing the artists' role as under-recognized leaders in abstraction.
Orion (1973)
By: Alma Woodsey Thomas (b. 1891, Columbus, Georgia; d. 1978, Washington, D.C.)
NASA's burgeoning space program during the late 1960s and '70s inspired Alma Woodsey Thomas's painting Orion. Though the title references the constellation Orion, the painting speaks more to the mystery of outer space as a whole. Orion's rhythmic red tile-shaped brushstrokes evoke the velocity required for a spacecraft to break through Earth's atmosphere.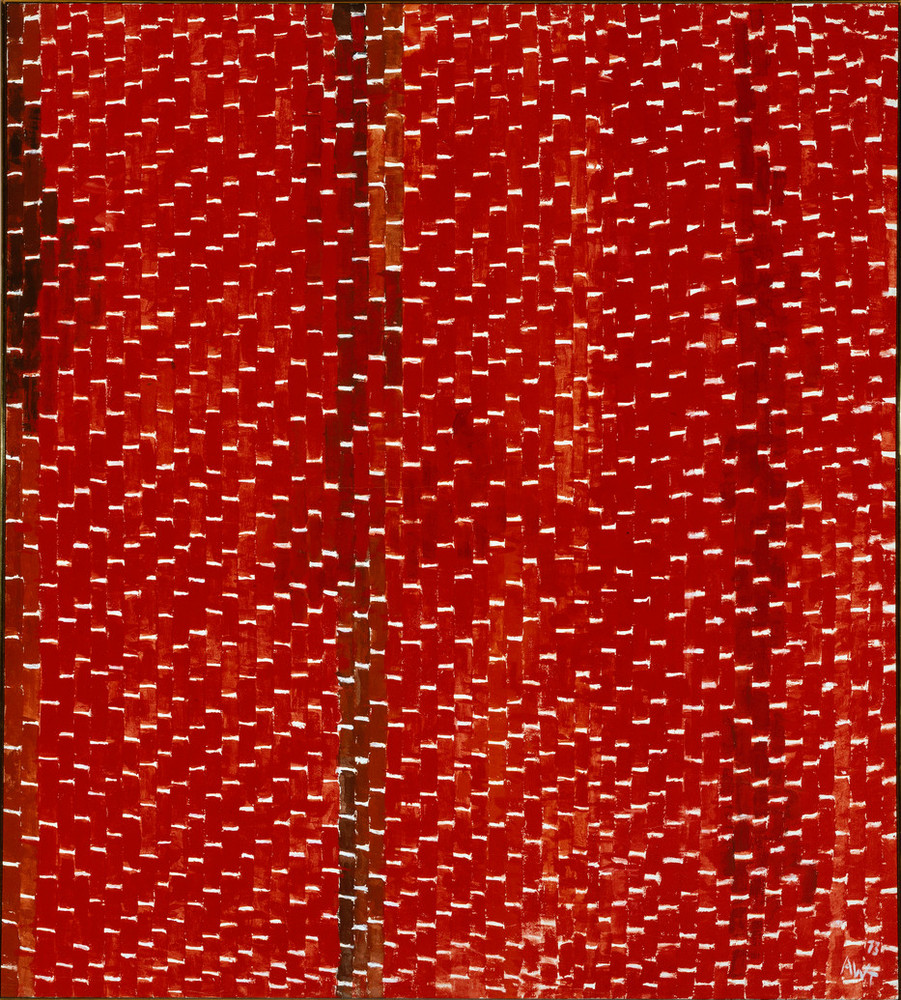 Thomas became Howard University's first fine arts graduate in 1924, after which she taught art classes in Washington, D.C., public schools for nearly four decades. Thomas retired in 1960 and, due to her developing arthritis, considered giving up painting. However, Howard University offered to host a retrospective of her work in 1966. Thomas, determined to create new works for her upcoming exhibition, delayed her retirement. It was during this time that she developed the abstract, colorful, mosaic-like painting style for which she became best known. It wasn't until 1975, at the age of 84, that she became the first black woman to have a solo exhibition at the Whitney Museum of American Art.
One of the older artists featured in Magnetic Fields, Alma Woodsey Thomas was a pioneer in abstraction for black women artists. In another claim to posthumous fame, an untitled 1968 painting by Thomas hung in the White House dining room during the Obama administration. Both of these works involve her characteristic use of short, punctuated brush strokes, arranged in lines and circles that conjure images of rain, flowerbeds, and sunlight. Another painting by Thomas in NMWA's collection, Iris, Tulips, Jonquils, and Crocuses (1969), is currently on view on the museum's third floor.
Thomas's primary source of inspiration was nature, which she communicated through her use of vibrant, optimistic color. In the case of Orion, one of her later paintings, she turned her fixation on the natural world skyward to observe stars in the night sky.
"The use of color in my paintings is of paramount importance to me," said Thomas. "Through color I have sought to concentrate on beauty and happiness, rather than on man's inhumanity to man."
Visit the museum and explore Magnetic Fields, on view through January 21, 2018. Learn more through the Magnetic Fields Mobile Guide.