December 31, 2017
12/31/17
Magnetic Fields: Expanding American Abstraction, 1960s to Today places abstract works by multiple generations of black women artists in context with one another—and within the larger history of abstract art—for the first time, revealing the artists' role as under-recognized leaders in abstraction.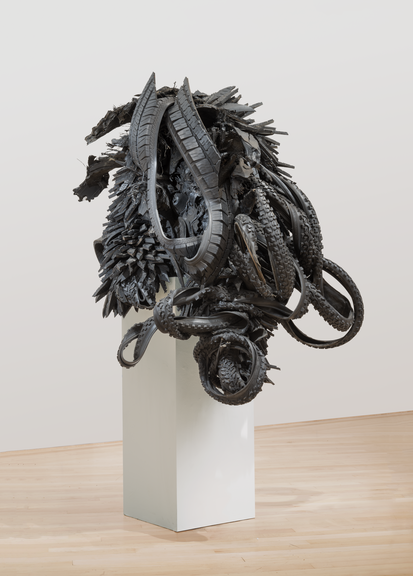 El Gato (2001)
By: Chakaia Booker (b. 1953, Newark, New Jersey)
"There is no separation between who I am and what I do," says sculptor Chakaia Booker about her artistic process. Booker bends, coils, and cuts rubber tires into innovative sculptures and means of social commentary.
Booker's work is rooted in her interest in fashion and style. As a child she was taught to sew by the women in her family. Building on this skill, she developed her artistic style by making her own clothing as a teenager. After receiving a BA in sociology from Rutgers University in 1976, Booker moved to Manhattan, where she participated in internships related to ceramics and basket-weaving. She continued to create her own wearable sculptures incorporating found materials. Continuing her artistic pursuits, Booker earned her MFA from the City College of New York in 1993.
In the early 1990s, Booker became interested in old, discarded tires and burnt rubber from car fires in the urban landscape of Manhattan's East Village. Initially drawn to the tires for their accessibility, she soon realized their artistic possibilities and expressive power. For Booker, the worn nature of discarded tires evokes the lifecycle of humanity and the aging process. The tonal variations of rubber calls to mind the diversity of human identity, while the tire treads reference textile designs and markings from the African Diaspora. Booker also welcomes the perspectives individuals bring to her work. Booker explains, "As an artist, I put the ideas expressed in the sculpture out to the public with my own experience and the audience responds to the work on the basis of their own experience."
El Gato, "the cat," possesses a feline quality in its slinking stature. The sculpture's extensions appear paused, perched, and also relaxed. Booker combined wood with a myriad of bicycle and automobile tires to create an intricate arrangement. The sculpture's human-like form and scale call to mind the artist's interest in African motifs and ceremonial headdresses. Such physical characteristics lend a self-referential quality to the work, as they remind viewers of Booker's process of transforming herself with her wearable art.
Visit the museum and explore Magnetic Fields, on view through January 21, 2018. Learn more through the Magnetic Fields Mobile Guide.