February 9, 2011
2/9/11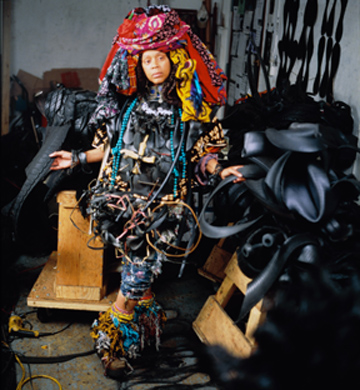 In 2002, independent curator and art critic Lily Wei wrote that everything Chakaia Booker does is "filtered through being black, a woman, and an artist."
Although relatively quiet and private in nature, Booker is an artist from head to toe, creating vibrant, elaborate headdresses that are different everyday, "In the mornings when I get up, I sculpt myself first. I myself am sculpture and that continues on a daily basis. At the studio, the process continues." Starting out her career by making wearable art, Booker now works almost exclusively with recycled tires in her sculptures and has been since the early 1990s.
Her monumental wall-relief, Acid Rain, 2001, is larger-than life (9 x 16 feet) yet incredibly intricate. Incorporating recycled bicycle, automobile, and truck tires, Booker slices, strips, weaves, rivets, and twists the tires to create rich, undulating textures that overflow off the wall. The installation—now on view in NMWA's collection galleries on the third floor—consists of twelve-section and weighs more than 2,000 pounds.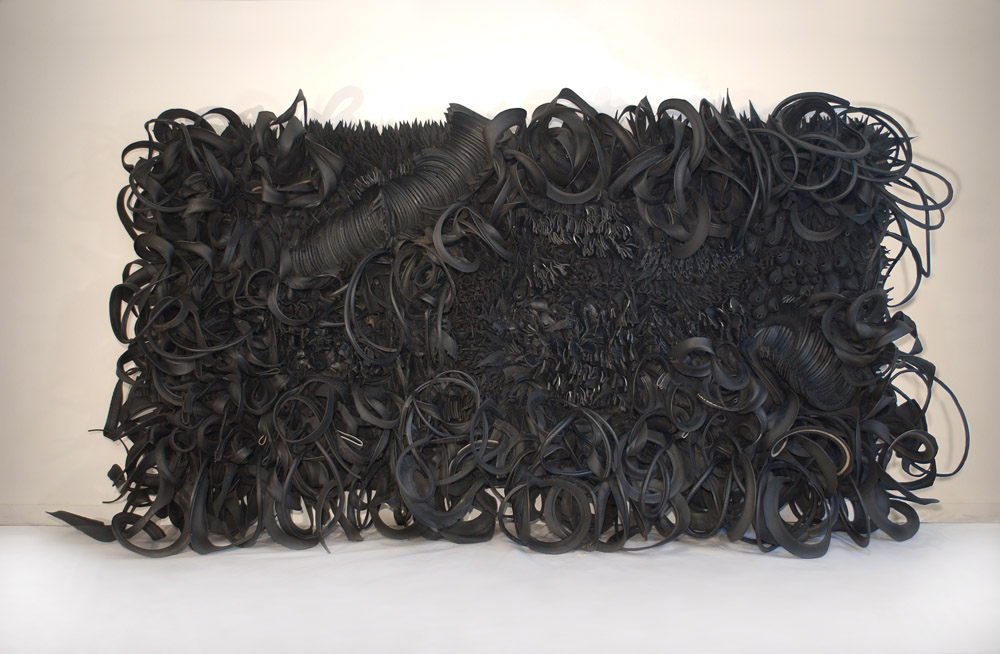 Acid Rain encompasses several key themes in Booker's artwork. The subtle variations of black hues and tonalities relate to African American identity issues and the role of the color black in modern art, as seen in the artwork of Kasimir Malevich and Frank Stella. While the tire treads, textures, and patterns are reminiscent of African textiles, Booker's manipulation of the tires evoke African scarification practices as well as remnants of whippings from slavery. Booker also intertwines the masculine domination in society and industry with feminine weaving and handiwork. As the title denotes, the piece reflects a larger environmental dilemma. On one hand, Booker references the environmental decay but also counters this degradation with her own process of transforming recycled urban "trash" into highly polished artwork now presented in a museum.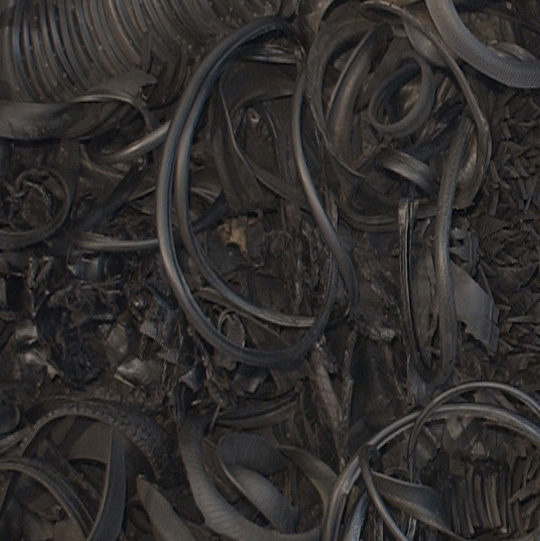 In 2006, NMWA presented Booker's work in the FOREFRONT exhibition series which features an emerging to mid-career artist who has begun to develop an international reputation. Booker's installation consisted of five large-scale works ranging in size from 6 to 20 feet. Describing her art, Booker said, "It's about getting the energy and feeling for something. I consider the things that I make as art that have information in it. We need a foundation of rules, discipline, and structure, but the rules are made to be elaborated and expanded upon by exerting energy to create something new."
Born in 1953 and raised in New Jersey, Booker received her BA in Sociology at Rutgers University, Brunswick, New Jersey (1976), and her MFA from The City College of New York, New York (1993). She has recently held solo exhibitions at deCordova Sculpture Park and Museum in Lincoln, Massachusetts, and Kemper Museum of Contemporary Art in Kansas City, Missouri. Her artwork appears in such collections as the Bronx Museum of Art, The Metropolitan Museum of Art, and The Newark Museum and is shown both nationally and internationally. She currently resides and works in New York.
Works Cited
Castro, Jan Garden. "The Language of Life: A Conversation with Chakaia Booker." Sculpture Magazine Jan.–Feb. 2003: 1-6. International Sculpture Center. Web. 8 Feb. 2011.
Chakaia Booker. New York: Marlborough Gallery, Inc., 2008. Print.
"Chakaia Booker: Thirty Monumental and Small-Scale Works." absolutearts.com. World Wide Arts Resources Corporation, 12 May 2004. Web. 12 May 2004.
<http://www.absolutearts.com/artnews/2004/05/12/32039.html >.