January 20, 2011
1/20/11
Daniela Rossell was born in Mexico in 1973. She studied at the National School of Visual Arts in Mexico City, initially as a painter but eventually turned to photography. She is most well known for her notorious "Ricas y Famosas" (Rich and Famous) series, created between 1998 and 2002, featuring mostly female models posed in fantastic assemblages of art and kitsch—African sculptures, taxidermy animals, gilded furniture and chandeliers, antique Indian gowns, and marble floors fill opulent rooms. Rather than documenting the indigenous people and urban poor that characterizes most of the country, she has chosen to take strangely phlegmatic portraits of Mexico's newly-rich and not-really-famous, the tiniest minority in Mexico. The women and girls—many of which are Rossell's friends and relatives—are gowned, coiffed, and posed. From Monterrey, to Mexico City, to Acapulco, Rossell shoots the private lives of Mexican millionaires in their ultra-extravagant homes—her images blur the lines of social documentation and social commentary and become a study of consumption and greed.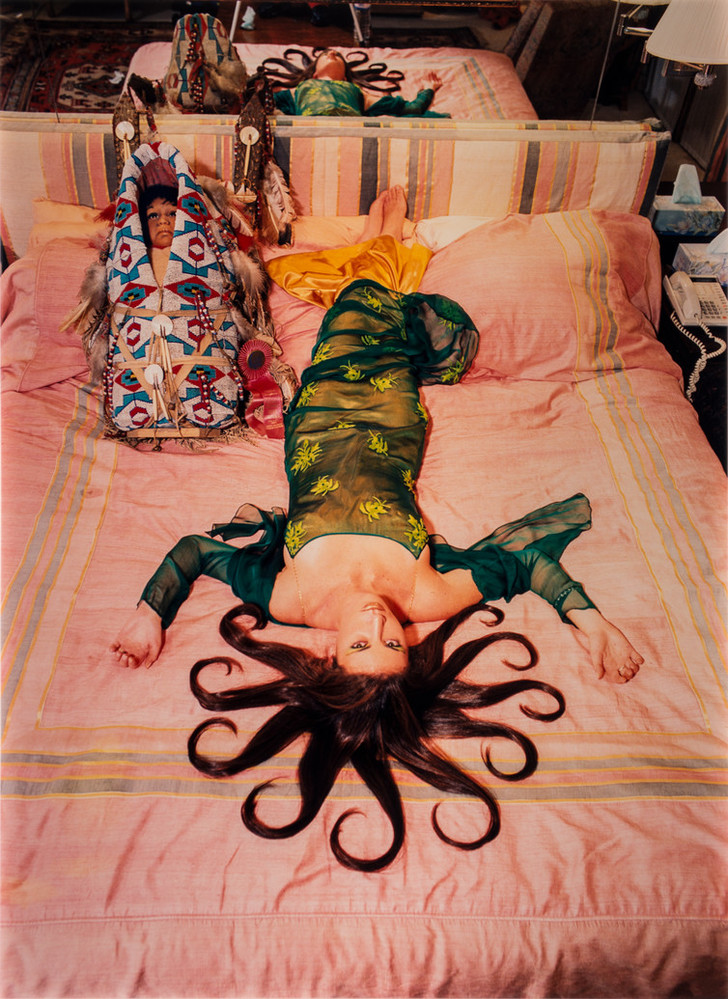 Rossell's own affluent and powerful family provided her with access to this ostentatious world where she sets up her camera with both an ethnographer and cinematographer's eye. Although Rossell has never named the people in her photographs, many of them are members of the Institutional Revolutionary Party, which ruled and exploited Mexico from 1929 to 2000. Her allusion to corrupt political governance has garnered her threats against her person as well as legal action. She says, however, "The images depict actual settings. The photographic subjects are representing themselves. Any resemblance [to] real world events is not coincidental."
Her careful compositions are replete with extreme angles and mirrored reflections—every last detail serves to promulgate vulgar excess and indulgence. The women, strikingly seductive and provocative in their revealing clothing, are free to choose how they wished to be represented. Their limited expressions and clichéd poses only reiterate their entrapment in Hollywood and consumerism: "The women figure out from magazines and television what they think a photographer should snap, and they start performing….They really want to look American…and they go to a lot of work to accomplish that. It's a kind of hell. There's so much unhappiness among the people who supposedly have everything."
Rossell lives and works in Mexico City. Inge and Her Daughter in the Living Room (from the "Ricas y Famosas" series) is on view in the P(art)ners: Gifts from Heather and Tony Podesta exhibition on view through March 6.