February 2, 2011
2/2/11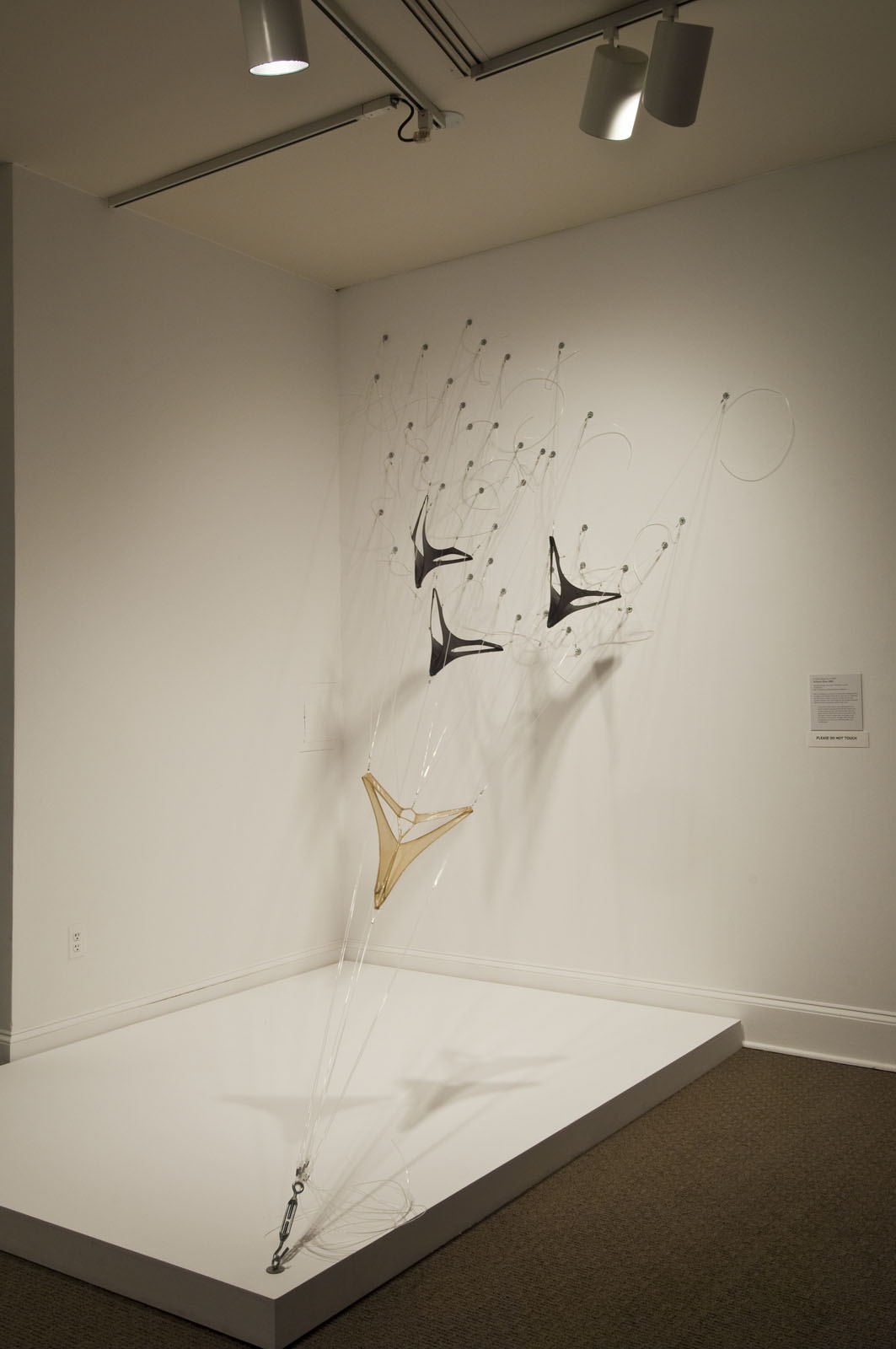 "I thought, let's let these poor ensnared thongs fly and resemble their own sense of power. It doesn't take much to turn them into a slingshot. I took this trend of display seriously. It marked a new freedom of expression."–E. V. Day
Often working with readymade objects such as Barbie dolls, fishnet stockings, opera costumes, and wedding dresses, sculptor and installation artist E. V. Day delves into the cultural fetishism by manipulating women's fashion and undergarments. Through her "exploding couture" style, she plays with fantasy, feminism, and popular culture with humorous titles, visually dramatic installations, and a sense of force. Her artwork, G-Force Dive, 2001, is now on view in the P(art)ners: Gifts from Heather and Tony Podesta exhibition through March 6.
G-Force Dive, part of the "G-Force" series, is an installation of one nude-colored thong and three black thongs suspended by monofilament fishing line and mounted with turnbuckles. The stretched thongs maintain their shape with resin and are all pointed downward in the same direction. The dynamic push-and-pull effect creates a forceful tension that is reminiscent of military aircraft and masculine high technology.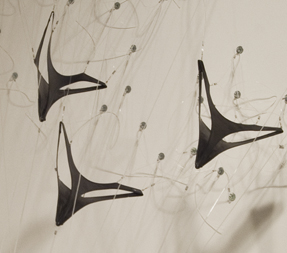 Day describes her fascination with thongs and inspiration for the "G-Force" series: "The G-Force Dive pieces came directly out of a trend in fashion popularized by Britney Spears: the hi-rise thong exposed over the hip with low-rise jeans. One hot New York summer, it looked to me like every woman's underwear was flying out of her pants on the street… G-Force plays on the connotations of extreme speed implied by the flying thoughts in the installation. But it also alludes to the G-spot, which perhaps fuels the flight of the thong activated by a stimulating pressure applied by the G-string." Her work G-Force, installed at the Whitney Museum at Altria in 2001 incorporated hundreds of suspended thongs.
Born in New York City in 1967, Day received her BA at Hampshire College, Amherst, Massachusetts, in 1991. In 1995, she graduated from Yale University with an MFA in sculpture and was the recipient for the Susan Whedon Award for Outstanding Student in Sculpture. She has had solo exhibitions at museums such as the Herbert F. Johnson Museum of Art, Cornell University, Ithaca, New York (2004); Henry Urbach Architecture, New York, New York (2003); and Whitney Museum at Philip Morris, New York, New York (2001). She lives and works in New York City, but is currently Artist in Residence at Artpace in San Antonio, Texas, where her work will be on view in March.
Works Cited
Dannatt, Adrian. "New York: Is it a bird? A plane? No, just a G-String. E.V. Day on thongs, Stealth Bombers and why her latest work stretches elasiticity to its limits." The Art Newspaper [London] 1 Dec. 2003, Issue 142 ed.: n. pag. The Art Newspaper. Web. 1 Feb. 2011.
Koestenbaum, Wayne, and Andrea Inselmann. E. V. Day. Ithaca, NY: Cornell University, 2004. Print.