January 18, 2018
1/18/18
Magnetic Fields: Expanding American Abstraction, 1960s to Today places abstract works by multiple generations of Black women artists in context with one another—and within the larger history of abstract art—for the first time, revealing the artists' role as under-recognized leaders in abstraction.
Autobiography: Japan (Shisen-dō, Kyoto) (1982) by Howardena Pindell (b. 1943, Philadelphia, Pennsylvania)
As a young girl, Howardena Pindell visited a root beer stand in Northern Kentucky with her father. On the bottom of their soda mugs, Pindell found thick red dots indicating the glasses were meant only to be used by people of color. "I see the reason I have been obsessed with the circle, using it in a way that would be positive instead of negative," states the artist.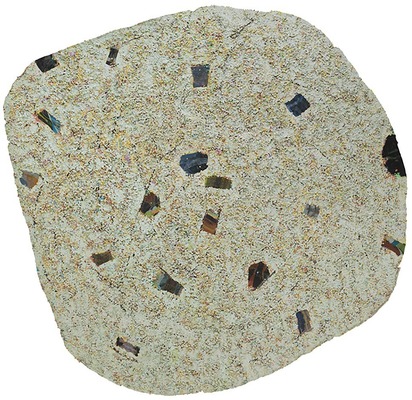 The dot, a concentration of light and color, became foundational for Pindell's work. In her early years, Pindell employed a method reminiscent of Pointillism, creating non-figurative works (like her untitled work found in Magnetic Fields) with small, round points of paint that cover her canvases. Later, Pindell switched materials to something much more utilitarian: the hole punch. This allowed her to continue her examination of the circle, but without the restrictions of conventional methods and materials. Producing thousands of round, confetti-like dots from painted paper, Pindell carefully distributes her labor onto the wet paint of her canvases. The effect is an atmosphere of sheer energy.
Autobiography: Japan (Shisen-dō, Kyoto) is a kaleidoscopic explosion. Mint green paint encrusts multi-colored, hole-punched dots, forming a large, rounded composition. Pindell, a Yale MFA graduate and former associate curator of Prints and Illustrated Books at MoMA, cut unstretched canvas into irregular strips, and then sewed them back together with thick carpet thread to create a rough circle. In doing so, she intentionally breaks the confines of the traditional rectangular painting.
Visit the museum and explore Magnetic Fields, on view through January 21, 2018. Learn more through the Magnetic Fields Audio Guide.