January 18, 2018
1/18/18
Magnetic Fields: Expanding American Abstraction, 1960s to Today places abstract works by multiple generations of black women artists in context with one another—and within the larger history of abstract art—for the first time, revealing the artists' role as under-recognized leaders in abstraction.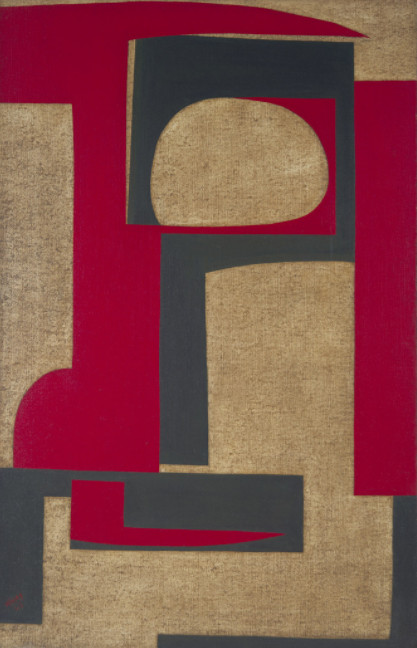 Solitude (1963)
By: Mavis Pusey (b. 1928, Kingston, Jamaica)
Mavis Pusey is a painter, printmaker, and educator whose geometric abstractions interpret the vibrant art scenes of New York, London, and Paris. One of Pusey's earlier works, Solitude (1963), exemplifies her mastery of color and line.
Pusey moved to New York at the age of 18 to pursue a degree in fashion design at the Traphagen School of Fashion. However, after two years of financial difficulties, she left the school, worked in a bridal boutique, and enrolled in fine arts classes at the Art Students League—an institution that accommodated her work schedule. She took courses under the instruction of renowned artists Harry Sternberg and Will Barnet. Barnet convinced Pusey to continue working in painting and introduced her to the works of modern masters. The "energy, rhythm, and movement" in Vasily Kandinsky's work, in particular, inspired Pusey.
Her interest in design led to her sophisticated use of geometric line and works like Solitude. Before focusing on architectural abstractions of New York's urban landscape, as seen in Dejygea (1970), also on view in the exhibition, many of Pusey's works from the 1960s imitated the shape and gestures of the body. In Solitude, stacked gold shapes are connected by black lines in a way that is reminiscent of a seated figure. The artist's  use of color evokes energy while her use of shape and line ground her composition. Pusey says color sets the "tempo" of her work while the design forms the "backbone."
Visit the museum and explore Magnetic Fields, on view through January 21, 2018. Learn more through the Magnetic Fields Mobile Guide.