February 25, 2011
2/25/11
"I use art to awaken consciences."

Ingrid Mwangi
Throughout her career, performance and video artist Ingrid Mwangi has focused her artwork on the issues of a "hyphenated" identity. The daughter of a Kenyan father and a German mother and having lived in both continents, Mwangi (born in 1975) is fascinated by the Western culture's desire to assign people a specific race or nationality.
"As an artist-performer, I react, interpret and question the clichés and stereotypes with which I am faced." Mwangi continues, "In order to do so I have created an artistic strategy that consists in adopting the role of the other. I am a wounded being, a caged beast, the exotic creature, the naked queen."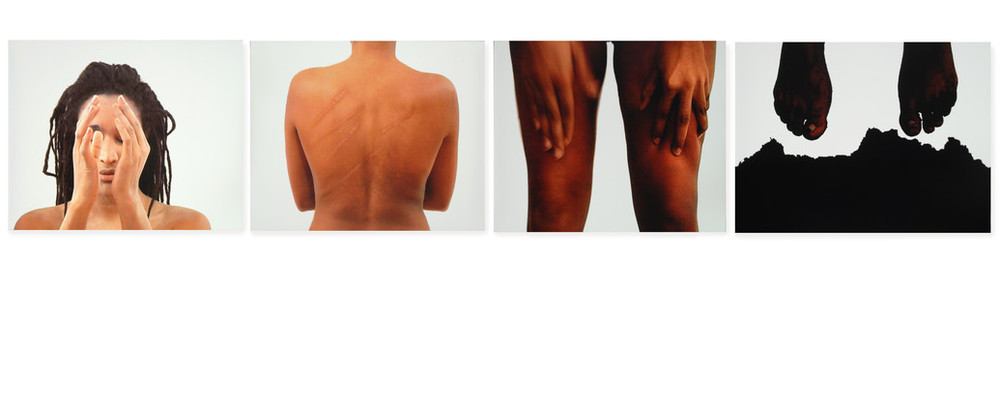 Mwangi will often alter her body or images of her body to dispel these clichés and stereotypes, as well as offering hints in her artwork of Colonialism and the African Diaspora. The four-part video-still series in the NMWA collection, Shades of Skin, 2001, exemplifies what it means to be a global citizen.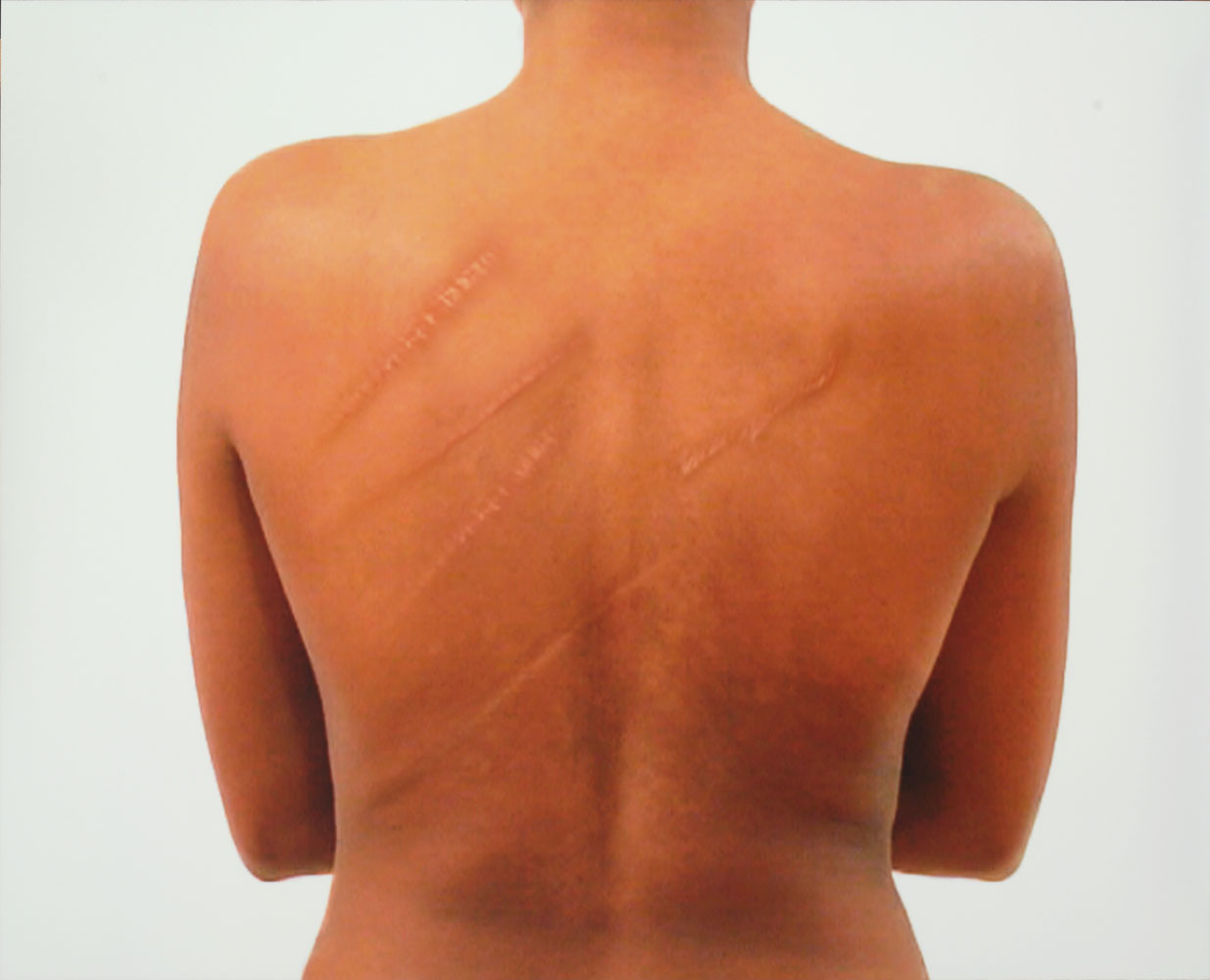 Each still is a close-up section of Mwangi's body: her head, back, thighs, and dangling feet. As the series progresses, the skin tone darkens against the unchanging, clinical-feeling, neutral background. The subtle details in each still lead to a collective tension—the hands in prayer, scars on the back, one hand grabbing a thigh, and feet hovering over what seems to be a rough coastline (actually a cloth). The scars in particular reference not only the strained relationship between European countries and their former colonies but also African scarification rituals.
In 2005, after working together for several years, Mwangi and husband Robert Hutter have conjoined to become one artistic identity known as IngridMwangiRobertHutter, a double-bodied single artist. Merging their names and biographies together, they consider all new and old artwork as part of their collective. Currently, the Spelman College Museum of Fine Art in Atlanta, Georgia, the only museum in the country that emphasizes the works by and about women of the Africa Diaspora, is exhibiting thirteen of their works in IngridMwangiRobertHutter: Constant Triumph until May 14, 2011.
"'Constant Triumph' and Other Works by the Kenyan-German Artists Collaborative IngridMwangiRobertHutter on View at Spelman College Beginning Feb. 4." Spelman College: Museum of Fine Art. Spelman College, 2004. Web. 23 Feb. 2011.