January 17, 2018
1/17/18
Magnetic Fields: Expanding American Abstraction, 1960s to Today places abstract works by multiple generations of black women artists in context with one another—and within the larger history of abstract art—for the first time, revealing the artists' role as under-recognized leaders in abstraction.
Winged Autumn (2007)
By: Lilian Thomas Burwell (b. 1927, Washington, D.C.)
Lilian Thomas Burwell's Winged Autumn (2007) is an amalgamation of Plexiglas, oil on canvas, and carved wood. To construct this work, Burwell cut shapes from clear Plexiglas, heated them until they become malleable, and affixed them to the rest of the composition. Winged Autumn represents a shift away from the heavier materials that characterized Burwell's earlier large-scale works. Mounted to the gallery wall, Winged Autumn appears airy and weightless. The individual components fused together seem to form the shape of a bird mid-flight, reaching toward what Burwell refers to as "the something in me that shares the something in you."
When pursuing a project, Burwell rarely, if ever, has a concrete outcome in mind. Instead, she sees art as a "channeling of spirit," and her finished works reflect her improvisational approach. Burwell's companion piece in Magnetic Fields, Menageri (2006)—completed a year before Winged Autumn—contains a similarly spirited quality.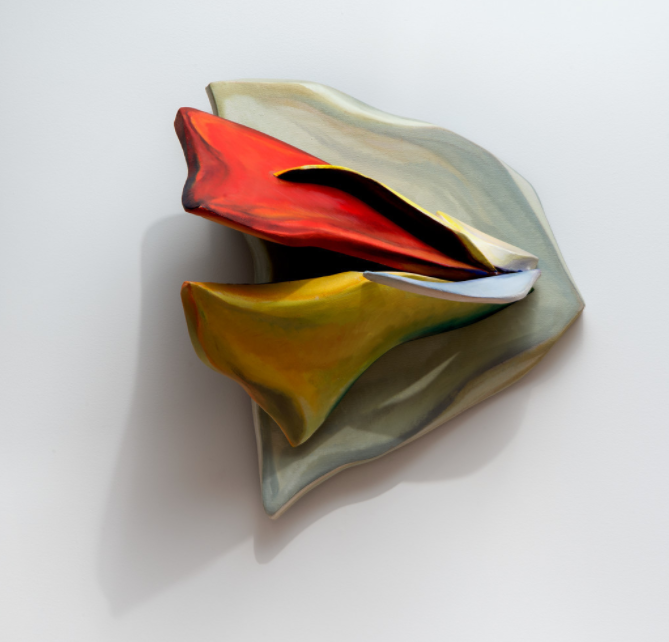 A D.C. native, Burwell was the founding director of the Alma Thomas Memorial Gallery in Shaw for the D.C. Department of Education, the head of the visual arts department at Duke Ellington School of the Arts, and a publications and exhibits specialist for the U.S. Department of Commerce. Burwell's career in sculpting, painting, lecturing, and writing spans 75 years, and at age 90, she is "still working at what [she] loves."
According to Burwell, Winged Autumn reflects her personal "sense of soaring into infinity." Burwell says, "I myself, well into the autumn of my years, am still learning to fly high and higher—my present mantra: living for possibility."
Visit the museum and explore Magnetic Fields, on view through January 21, 2018. Learn more through the Magnetic Fields Audio Guide.