November 9, 2017
11/9/17
Magnetic Fields: Expanding American Abstraction, 1960s to Today places abstract works by multiple generations of black women artists in context with one another—and within the larger history of abstract art—for the first time, revealing the artists' role as under-recognized leaders in abstraction.
Wrenching News (2008) 
Maren Hassinger (b. 1947 in Los Angeles, California)
"I want my work to offer an experience to look and to see, to contemplate," says sculptor and performance artist Maren Hassinger. With a career that has spanned over four decades, Hassinger continues to create works that invite viewers to contemplate issues of nature, culture, and identity. Hassinger's abstract sculpture Wrenching News, on view in Magnetic Fields, explores such themes.
Hassinger began her artistic career at Bennington College in Vermont in 1965, where she planned to pursue a degree in dance but ultimately decided to focus on the visual arts. After receiving her degree in sculpture, Hassinger received her MFA at UCLA. The course of her career changed after she took a class in weaving, and she began to experiment with the malleability and texture of fiber when creating sculptures. Hassinger's fascination with the transformative qualities of unconventional materials continued to grow.

Her six-square-diameter floor sculpture Wrenching News is an embodiment of these interests. Hassinger twisted and coiled together hundreds of strips of newspaper into a veil. Inspired by the events and aftermath of Hurricane Katrina, the artist used pages from The New York Times. Hassinger employs newspaper as a medium because of the relevant stories it contains. She explains, "The New York Times, in particular, has incredible international coverage and so that use of the newspaper is like saying this is about the world."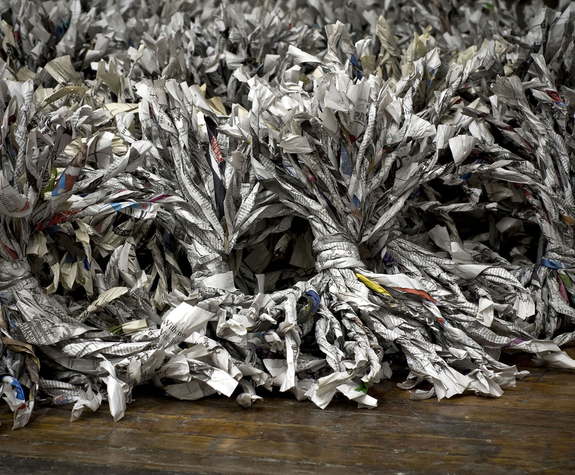 The twisting of the material comes from the artist's background in weaving and working with textiles. The busy, complex appearance of her work calls to mind the sociopolitical challenges that can arise from the devastation caused by a natural disaster. At the same time, the work sparks conversation about how tragedy and suffering are part of the human experience.
The work's positioning on the floor encourages viewers to remember that sometimes devastating global events can spur society to grow, endure, and become more resilient. As the director of the Rinehart School of Sculpture at the Maryland Institute College of Art, Hassinger emphasizes the importance of "empowering people through art so they can be empowered to change things."
Visit the museum and explore Magnetic Fields, on view through January 21, 2018. Learn more through the Magnetic Fields Mobile Guide.