August 12, 2014
8/12/14
In 2005 Margaret Salmon (b. 1975, NY) received the inaugural Max Mara Art Prize for Women, which awarded her the opportunity to complete a six-month residency in Italy to further develop her filmic video practice. Between attending intensive Italian courses at the American Academy in Rome and living like a local in the small town of Biella, she shot Ninna Nanna (2007), a triptych video installation featuring three new mothers with their young children, now on view in Total Art: Contemporary Video.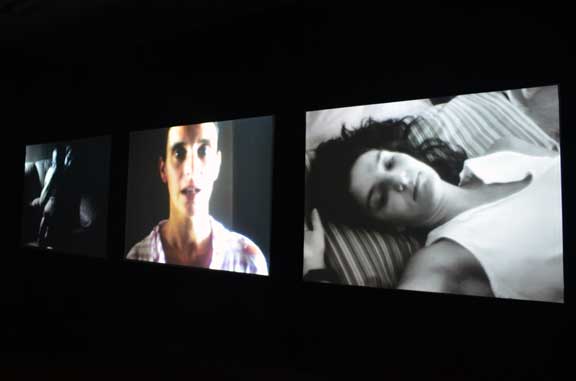 In NMWA's galleries, three side-by-side projector screens hold shared moments between three mother-child pairs in their homes or going about errands. Captured by Salmon on her 16-mm handheld camera, the mothers provide musical accompaniment by singing the popular Florentine lullaby "Coscine di Pollo," which translates affectionately to "Little Chicken Thighs." Sometimes in sync, sometimes as solo performances, the ninna nanna—the Italian word for lullaby—is sung as a tired, absentminded mantra for the sustained quietude of both mother and child.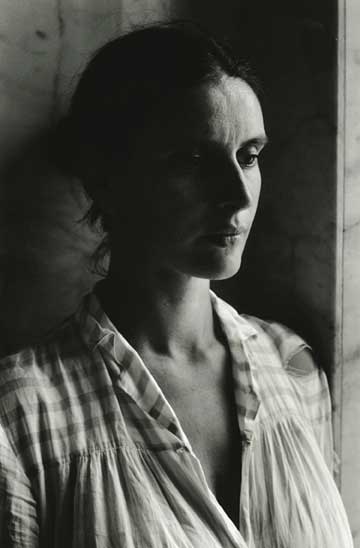 As a new mother herself during her residency in Italy, Salmon began observing and documenting the physical bonds and social reciprocities of the mother-child relationship. After Salmon met one of the featured mothers while they were both at the playground with their children, she visited several local women in their homes to record their daily routines without any direction or desired outcome. Salmon's manner of filming was inspired by Italian neorealist cinema as well as cinéma vérité, film movements that prioritized accessible stories of everyday people over grand cinematic productions featuring theatrically trained actors.
Salmon was influenced by the inventive style of Federico Fellini's semi-autobiographical 8 1/2 (1963), as well as Chantal Akerman's Jeanne Dielman 23 quai du Commerce, 1080 Bruxelles (1975), a film chronicling the monotonous routines of a Belgian mother and housewife. Akerman's film highlights the screen-worthy drama in domestic settings, regularly overlooked by filmmakers up to that point.
Alternating between black-and-white and color video, and regular and accelerated motion, Ninna Nanna is considered a poetic rendering of the daily minutiae of everyday life. While many of Salmon's videos use this documentary style to reflect on the repetitious, quotidian details of our lives, this work remains focused on universal rituals and intimacies specific to motherhood.
The intense physicality of the work of mothering—feeding, bathing, rocking, toting—combined with the emotional work of soothing, cuddling, and playing, begets a sweet yet tedious intimacy between mother and child. The sense of intimacy is furthered by Salmon's decision to film her subjects and edit the content on her own, without the help of a crew. This experience of mother-child closeness is echoed between the artist and subjects; it is extended to the viewer as Salmon's camera lingers on detailed textures of faces, fabrics, furniture, and lighting within these family homes.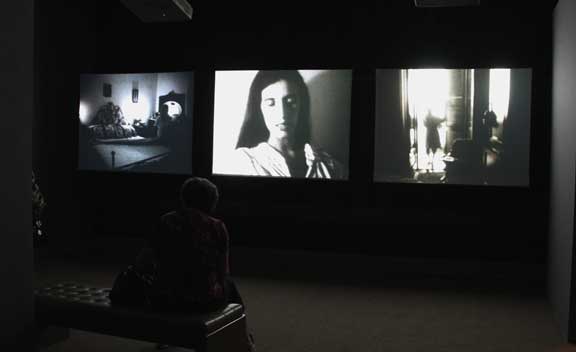 Reminiscent of watching dear relatives' home movies, Ninna Nanna allows the viewer to identify with the women's contentment, isolation, and exhaustion. Salmon celebrates this rollercoaster experience in a video that is dedicated to the new, intensely interdependent relationship between mother and child, ultimately acknowledging the bond as an archetypal relationship that is experienced in some form by all humans.
To learn more about the artist and Ninna Nanna, visit the museum for a short conversation piece with NMWA Digital Media Specialist Laura Hoffman on Wednesday, August 13, at noon!