November 19, 2010
11/19/10
"When I paint a landscape or a seascape, I'm not very sure it's a landscape or a seascape. It's a thought form rather than a realistic form." Thus did Maria Helena Vieira da Silva explains her approach to her art, which is almost always completely abstract.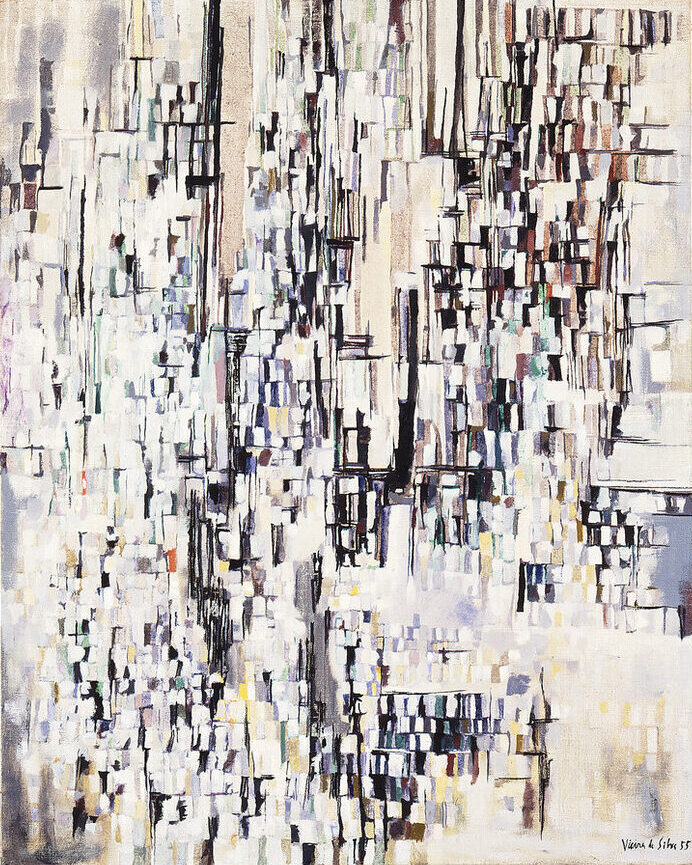 Although she was generally regarded as Portugal's greatest contemporary artists, Vieira da Silva spent six decades of her life in France, where she became a naturalized citizen in 1956. Born in Lisbon in 1908, Vieira da Silva began seriously studying drawing and painting at that city's Academia de Belas-Artes when she was only eleven. At sixteen, she expanded her artistic interests to include the study of sculpture. Three years later she moved to Paris. There Vieira da Silve studied painting with Fernand Léger, sculpture with Antoine Bourdelle, and engraving with Stanley William Hayter, all acknowledged masters in their fields. She also created textile designs.
In 1930 Vieira da Silva was exhibiting her painting in the French capital; that same year she married the Hungarian painter Arpad Szenes. Aside from a brief sojourn back to Lisbon and a period spend in Brazil during World War II, Vieira da Silva continued to reside in Paris for the rest of her life. By the late 1950s, Vieira da Silva had become internationally known for her dense and complex compositions, influenced by the art of Pail Cézanne and the fragmented forms, spatial ambiguities, and restricted palette of cubism. She exhibited her work widely, winning a prize for painting at the Biennial in São Paulo in 1961. Vieira da Silva was the first woman to receive the French government's Grand Prix National des Arts in 1966; she also won man other awards and honors, including being named a Chevalier of the Legion of Honor in 1979.
Virtually the entire surface of Vieira da Silva's canvas The Town is covered with tiny, repeated squared and cubes or vertical lines. While these forms clearly suggest the rectilinear and vertically oriented architecture of the modern city, they also create a dynamic and richly textured, abstract surface that is visually exciting in its own right.
The cool colors (muted brown, gray, blue, beige, yellow, and white) are set off by a few touches of brilliant orange. Meanwhile, the overall design is anchored in place by a grid of black lines. On of the most interesting aspects of Vieira da Silva's painting is the way in which its constituent parts, especially the colored squares and cubes, seem to shift back and form within the implied pictorial space. They sometimes seem to shimmer, calling to mind the blinking lights and fast-moving traffic of an urban environment.
Vieira da Silva started each work without any image in mind. Rather, she simply began laying down a few lines, which in turn suggested what she should do next. Although she worked intensely, almost obsessively, Vieira da Silva seldom completed more than ten paintings per year, presumably because of the slow, careful way in which she wove together myriad, carefully balanced colors and forms.