November 24, 2010
11/24/10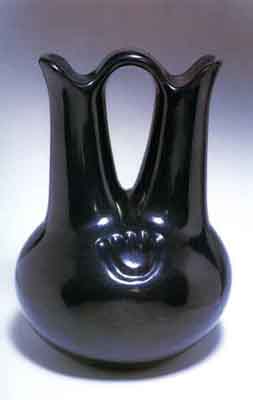 One of the most enduring traditions in American Indian life is pottery, which plays a central role in tribal rituals and ceremonies. Made primarily by women. these objects reflect both their personal innovations and a solid grounding in a 2,000-year-old tradition which influences the composition, form, and decoration of the pots to this day.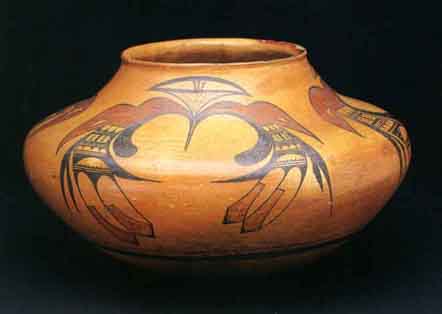 This blog post will touch on the six Native American matriarchs who have been universally recognized for their important contribution to the field of pottery. For decades American and international arts communities have known their names: Old Nampeyo of Hano (Hopi), Maria Martinez (San Ildefonso), Lucy Martin Lewis (Acoma), Margaret Tafoya (Santa Clara), Helen Cordero (Cochiti), and Blue Corn (San Ildefonso). Their work is the foundation of the Indian pottery tradition as we know it today.
Born between 1860 and 1920, these potters lived and worked during a time when their communities faced great change due to increasing Euro-American influences. The matriarchs fought to maintain the strength of their communities through their devotion to native traditions and to their art. Their pottery reveals uncommon talent, vitality, and vision; their life stories reveal persistence in the face of adulation.
Hopi potter Nampeyo of Hano was the first of these American Indian artists to be known by name. By reviving ancient Sikyatki designs, a 12th-century-style polychrome indigenous to her vicinity, she revolutionized her pueblo's pottery. Her work became so well recognized that she was asked by one of the West's most well-established merchants of Indian pottery, the Fred Harvey Trading Company, to sell her wares in the Hopi House at the Grand Canyon in 1905.
Twenty years later, Maria Martinez and her husband, Julian of San Ildefonso Pueblo, became known for developing an innovative black-on-black style based on ancient pot shards from the nearby archaeological site of Puye. As art dealers became aware of the beauty of these pots and encouraged the interest of collectors, Martinez's success grew, and she became the best known of the American Indian potters. With a career spanning eighty-five years, her widespread popularity drew attention to many other American Indian artists.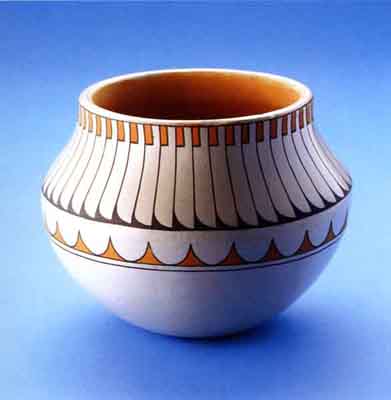 Like Nampeyo and Martinez, the other matriarchs—Lucy Martin Lewis, Margaret Tafoya, Helen Cordero, and Blue Corn—all developed individual styles, which have since been handed down from generation to generation. The achievements of the matriarchs sparked a new artistic and economic life for American Indians and gave their descendants a lasting cultural legacy.