July 23, 2016
7/23/16
Mickalene Thomas continues to dominate art news headlines. In recent years, she exhibited in numerous solo exhibitions around the globe, became the subject of her first monograph, Muse: Mickalene Thomas Photographs, and created Michelle O (an individual portrait of Michelle Obama that has been shown at the National Portrait Gallery). FOX's hit television drama Empire even features some of her iconic works.
Born in Camden, New Jersey, Thomas now lives and works in Brooklyn, New York. Thomas's works often reference art history, as evidenced in her Andy Warhol-inspired compositions and coloration to her subjects' classical poses. Thomas acknowledges Henri Matisse, Romare Bearden, and Édouard Manet as sources of inspiration.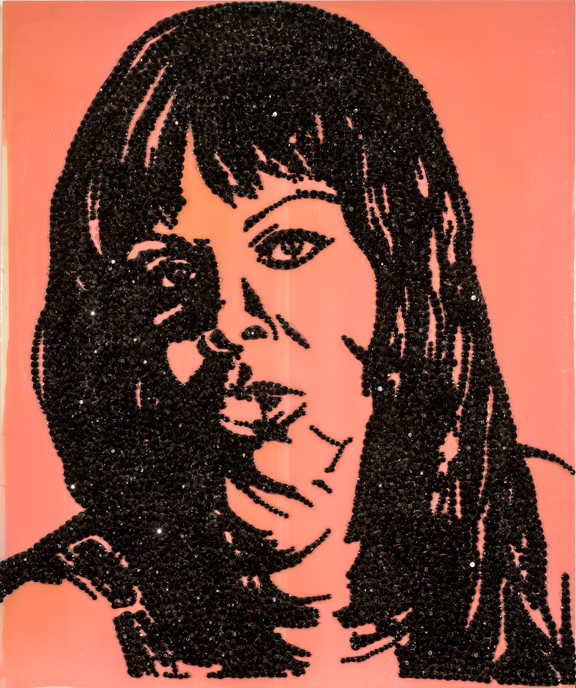 Thomas's works featuring black women explore themes of race, sexuality, femininity, gender, and popular culture. The artist embellishes her acrylic-and-enamel-painted panels with rhinestones, referring to ideas of female beauty. According to Thomas, her signature rhinestones are "like that really glossy lipstick that women wear. It's another level of masking, of dressing up." Thomas questions societal ideals and pressures, particularly those concerning black American women. She says, "We respond to beauty, its seduction and attraction, yet what that has done culturally to people that are subject to universal codes of beauty has been devastating."
Thomas's painting in NMWA's collection, A-E-I-O-U and Sometimes Y (2009), is an example of the artist's exploration of art history, blackness, and womanhood. At a glance, the portrait appears to be silkscreened like Warhol's famous prints, but a closer look reveals individually placed black rhinestones that constitute the subject's hair and facial features. Upon inspection, brushstrokes are visible against the work's vibrant pink background, and viewers can detect subtle differences in hue. Incorporating popular culture, Thomas often titles her works after songs. The title A-E-I-O-U and Sometimes Y references a 1983 dance-club hit single by Ebn-Ozn.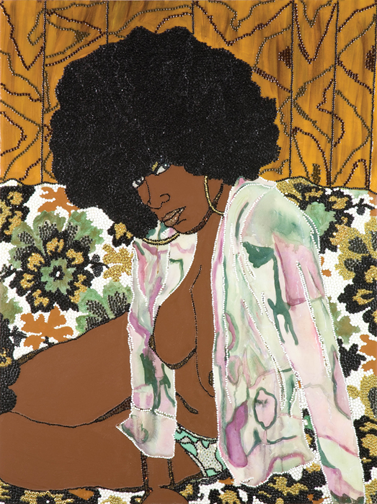 Unlike many female subjects in the history of painting, Thomas's model, Fran, unapologetically meets the gaze of the viewer. Thomas challenges longstanding stereotypes and depictions of women and renders her subjects as beautiful, powerful, nuanced, and important. She explains, "By portraying real women with their own unique history, beauty, and background, I'm working to diversify the representations of black women in art."
Visit NMWA to see Thomas's A-E-I-O-U and Sometimes Y in the third-floor collection galleries. Another painting by Thomas, Whatever You Want, will be featured in the fall exhibition NO MAN'S LAND: Women Artists from the Rubell Family Collection, on view beginning September 30, 2016.