November 16, 2017
11/16/17
Magnetic Fields: Expanding American Abstraction, 1960s to Today places abstract works by multiple generations of black women artists in context with one another—and within the larger history of abstract art—for the first time, revealing the artists' role as under-recognized leaders in abstraction.
Illumination #1 (1984)
Nanette Carter (b. 1954, Columbus, Ohio)
A self-titled "scapeologist," Nanette Carter specializes in crafting fictional landscapes of outer space and the ocean, sky, and earth. Through visual world-building, Carter finds a way to simultaneously critique the drama of humankind and pay homage to the persistence of the natural world. For Carter, the imagined realm serves as a framework in which "the necessity of war and the horrors of injustice" can be fused to "the mysteries of nature and human nature."

Illumination #1 is the first in a series of 49 works, all created between 1984 and 1986. The series was inspired by Carter's first trip to Rio de Janeiro, Brazil, where she became fascinated with the blend of European Catholic and African Yoruba faiths. Carter's sharp, rhythmic mark-making references the music of Rio, the pulse of the city that Carter became enamored with. Shapes fit together with distinct sense of motion in Illumination #1, recalling celebration and festivity.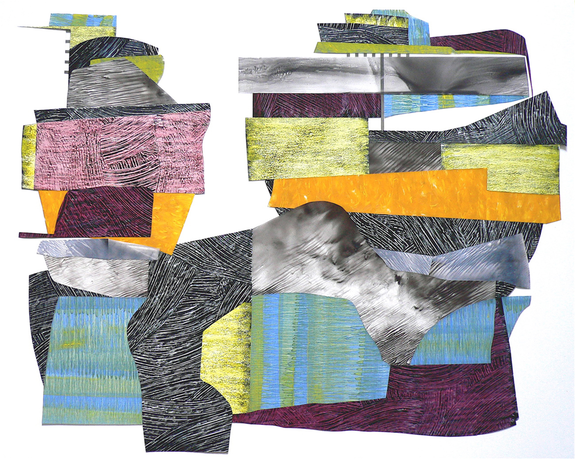 From 1997 onward, Carter has worked exclusively on frosted Mylar, a type of plastic sheet developed by DuPont during the 1950s. By using Mylar, Carter achieves a unique "luminosity, density, and transparency" in her artwork—particularly true in Cantilevered #14 (2014), Carter's second work on view in Magnetic Fields. Part of a series of 37, "cantilever" is an architectural term referring to a rigid support beam anchored only on one end. In Cantilevered #14, nebulous blocks of color and texture are invisibly suspended in a pool of transparent Mylar. The almost precarious stack of shapes calls to mind the delicate balance of family, friends, work, health, news, and social media in the 21st century, as well as the support nets necessary to maintain it.
Visit the museum and explore Magnetic Fields, on view through January 21, 2018. Learn more through the Magnetic Fields Mobile Guide.