July 8, 2014
7/8/14
In 2005, spouses Ingrid Mwangi (b. 1975, Nairobi, Kenya) and Robert Hutter (b. 1964, Ludwigshafen, Germany) began working as a collaborative artistic force. Today, they exhibit their joint works under the combined name of Mwangi Hutter and aim to show their "shared vision . . . [to] overcome gender and ethnic boundaries."¹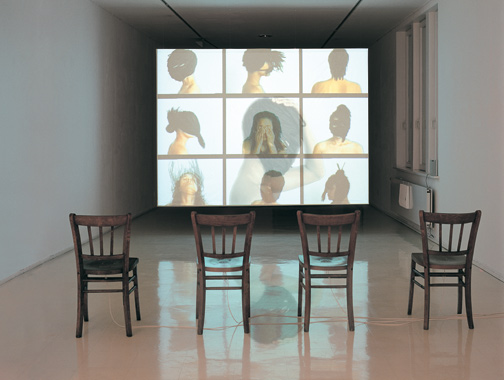 Mwangi Hutter's Neger Don't Call Me (2000) is one of the 10 video pieces in NMWA's Total Art: Contemporary Video exhibition. To introduce the work and mark the opening of the show, Ingrid Mwangi visited the museum on June 6, 2014. She spoke with visitors about the production of Neger Don't Call Me, and offered a preview of three of Mwangi Hutter's most recent video collaborations.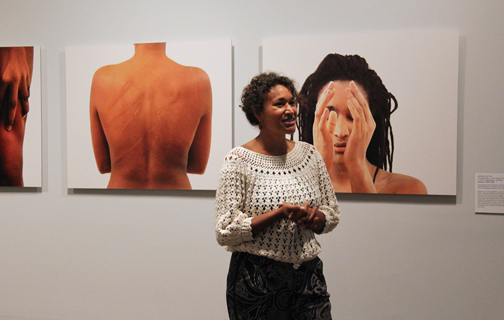 Ingrid Mwangi is the daughter of a German mother and a Kenyan father. Growing up between Germany and Kenya, Mwangi felt the constraints of finding her identity. During her lecture at NMWA, she explained that her dreadlocked hair in Neger Don't Call Me acts signifies one aspect of her identity. The camera shows her face as it is covered and uncovered with sculptural masks made of her own dreadlocks, while the dialogue (in Mwangi's own voice) recalls memories from her childhood related to the use of the German word neger, or negro, as it translates in English. "Many people can't say the word because they are so wounded by it," Mwangi shared, ". . . but for me, the more I used it, the history behind the word dissolved."
In addition to the projected video, Neger Don't Call Me includes four wooden chairs with speakers attached under their seats. The fragmented sentences offer insight into Mwangi's experiences with stereotypes and discrimination after leaving Kenya for Germany. Her voice reverberates between the speakers mounted on the gallery walls and the chairs as they jump from source to source, suggesting a collective experience.
In a 2003 exhibition catalogue, Mwangi discussed the sound, dialogue, and language in Neger Don't Call Me:
Using the example of the German word 'Neger' . . . a word in which the history of racist ideology still echoes, I explain the feeling of wrongness I sensed when faced with the use of discriminating words or ignorant action. With this piece I wish to show the constant dialogue which occurs between self and society, in this case especially dealing with the continuing problem of being judged and categorized due to skin-colour.²
At noon on Wednesday, July 9, Assistant Educator Ashley W. Harris will discuss Mwangi Hutter's Neger Don't Call Me during a 30-minute viewing and "Conversation Piece." Join us during your lunch break to learn more about this emotionally-charged video.
Notes:
1. Ingrid Mwangi as quoted at NMWA, June 6, 2014.
2. Ingrid Mwangi, "Neger Don't Call Me/Coloured/Down by the River/To Be in the World/Your Own Soul/Wild at Heart/Static Drift: Selected Works and Texts by Ingrid Mwangi" in Ingrid Mwangi: Your Own Soul (Saarbrücken: Stadtgalerie Saarbrücken, 2003), 9.