September 4, 2013
9/4/13
At first glance, the two exhibitions on view this summer at NMWA, Awake in the Dream World: The Art of Audrey Niffenegger and American People, Black Light: Faith Ringgold's Paintings of the 1960s (both on view through November 10) could not feature the work of two more stylistically dichotomous artists.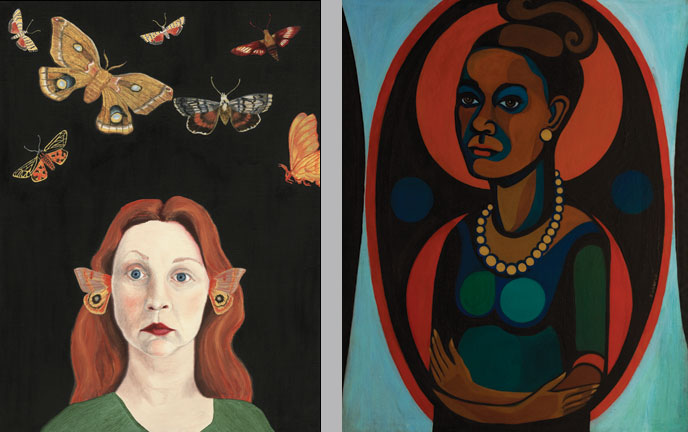 At one extreme, Audrey Niffenegger conjures up surreal, minimalist depictions of the bizarre, absurd, and nightmarish that speak to her introspective, whimsical approach to art—images that boast figures minutely rendered with delicately drawn lines, muted color palettes, and which allow insight into the artist's deeply personal fantasies. At the other end of the spectrum is Faith Ringgold, whose bold, colorful, passionate paintings from her American People and Black Light series of the 1960s function on both a personal and political level. Ringgold's work bravely probed racial tensions from the perspective of a black woman artist during an era when art often did not directly reference the racial turmoil rocking America, and it simultaneously served as a public rallying cry to end racial and gender-based discrimination.
While NMWA's galleries this summer may at first seem a curious combination of darkness and color, morbidity and vivacity, fantasy and immediacy, there are, in fact, interesting artistic techniques shared by Niffenegger and Ringgold that facilitate the expressions of these two outstanding artists. One is the juxtaposition of text and images; the other is the use of shock value to capture and captivate an audience.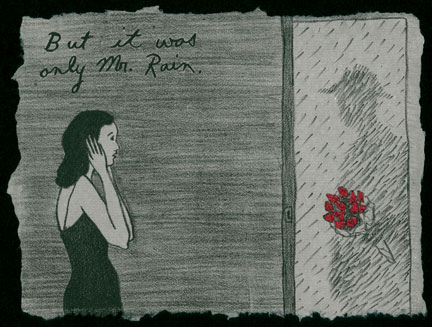 Ironically for Niffenegger, who in addition to being an accomplished book artist and printmaker is known as the best-selling author of the sci-fi/romance novel The Time Traveler's Wife, text is never the primary vehicle for storytelling in her artist's books, or "visual novels" as she refers to them. Always brief and supplemental, words serve as aids to facilitate the story's progression, always secondary to the entrancing figures that power her fantastical, stream-of-consciousness tales. Although their role is a supporting one, the text in Niffenegger's visual novels is nevertheless crucial, serving as a guide to navigate observers through the confusion of surreal worlds. They simultaneously serve as artistic elements in themselves, beautifully hand-drawn or produced by hand-set letterpress type, capable in their appearance of setting diverse moods from the whimsical to the morbid. Spring (1993), one of several visual novels on view in Awake in the Dream World, features hand-colored lithographs that tell the story of a love-weary young author who writes to the backdrop of falling spring rain and eventually meets Mr. Rain, a character from one of her stories. Throughout the book, melancholy, romanticized images of the protagonist are accented with rounded, cursive writing reminiscent of love letters or diary entries, which augments the images in creating a mood of heartbreak, wistfulness, and unfulfilled romance. 
Text makes its way into the work of Faith Ringgold in her Black Light series, a collection of paintings created between 1967 and 1969 that often incorporates mask-like figures inspired by African art from Nigeria and Ghana, as well as in her highly politicized poster art. Ringgold's posters—political works meant to be mass-distributed at low cost to the populace, promoting a sense of unity and egalitarianism—often feature powerful phrases and rally words intended to empower the black community in the 1960s during rallies or protests.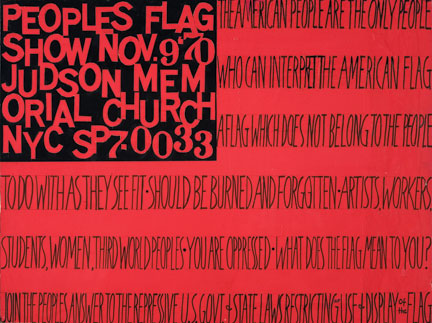 Unlike Niffenegger's use of text—which although artistic, is still secondary to the art—Ringgold's words are the art itself. In The People's Flag Show, text protesting restrictive laws forms her flag's stripes. She created the poster for an exhibition demonstrating solidarity with a gallerist who had been arrested for showing antiwar art made from the American flag, and the exhibition of The People's Flag Show led to Ringgold's arrest as well. In Black Light Series #6: Love Black Life, 1969, as well as other works such as Freedom Woman Now, 1971, and Woman Free Yourself, 1971, Ringgold utilizes a Kuba design, inspired by art from the Congo, in which a square canvas is divided into four squares, which are then bisected into triangles (reminiscent of a quilt pattern). Her selected words, such as "love," "black," and "life," fill and dominate each triangle, working either in synergy as an invitation to "love black life," or individually as terms to be cherished and internalized. Either way, the three repeated words, arranged in an enticing illusion, are in themselves the art, the message, and the call to action so passionately envisioned by Ringgold.
Click here to read more: Shock Value