September 28, 2010
9/28/10
In 2008, Washington D.C.-based collectors Heather and Tony Podesta donated a group of contemporary sculptures and photographs to NMWA. The works focus on gender and identity issues and challenge assumptions about the range of materials and techniques traditionally associated with women artists.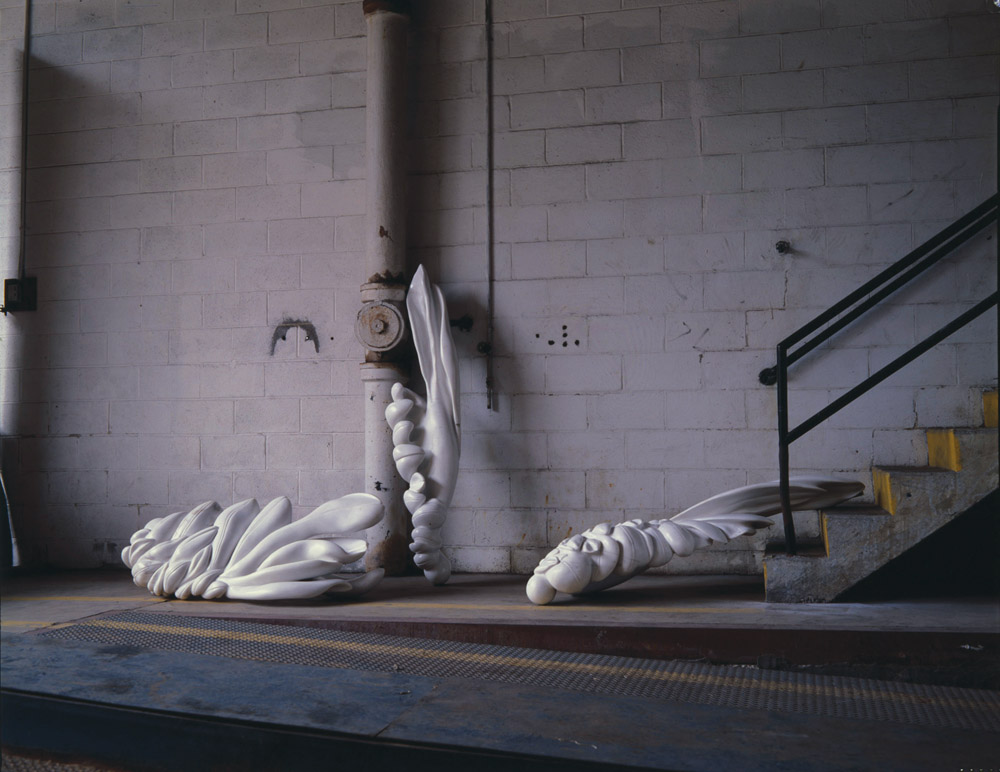 A highlight from among the Podesta gifts is Wing 5, 1998, a sculpture installation by Southern California artist Elizabeth Turk (b. 1961). Turk employed an array of winches, drills, files, and sanders to produce this work which features three large marble wings with softly detailed feathers carved into their surfaces. Through Wing 5, Turk sought to express the sense of "forgotten beauty, expectations, or hopes" that she perceived in Western culture at the close of the twentieth century.
Turk's sculptures are a study in contrast—solid material appears weightless, even buoyant. Throughout her career, Turk has carved many improbable shapes from marble, including billowing ribbons and exquisitely detailed collars. She explains: "The rigor of the work, the exhaustion of the sound, the challenge intellectually and physically, makes it real…. A dialogue with stone tests you."
Turk was delighted to learn of the addition of Wing 5 to NMWA's collection, particularly because the sculpture already had a connection to Washington, D.C. The marble that she used to create Wing 5 had been quarried in Colorado and brought to the Capital in the early twentieth century to be used in the construction of the Lincoln Memorial. Turk procured leftover marble blocks that had been in storage since the completion of the memorial in 1922.
Turk was named one of twenty-three 2010 MacArthur Fellows, announced today. Visit the MacArthur Foundation Web site for more information. Congratulations, Elizabeth Turk!