October 6, 2010
10/6/10
Loïs Mailou Jones: A Life in Vibrant Color, a dynamic exhibition of more than 70 paintings, drawings, and textile designs, spans the artist's career from the late Harlem Renaissance to her contemporary synthesis of African, Caribbean, American, and African American iconography. Despite formidable racial and gender prejudices, Loïs Mailou Jones (1905–1998) achieved success as a designer and painter, and her influence as a teacher extended beyond her native country, impacting several generations of artists.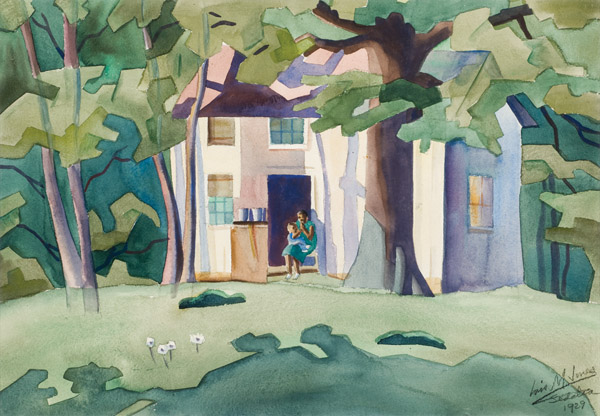 Jones was born in Boston, Massachusetts, and the Jones family spent their summers on Martha's Vineyard. After graduating from the School of the Museum of Fine Arts, Boston, Jones began her career as a textile designer. She successfully created imaginative and marketable designs; however, Jones soon shifted her career focus to the fine arts, where her achievements would be less anonymous.
During a brief teaching stint at Palmer Memorial Institute in Sedalia, North Carolina, Jones created several paintings that marked her transition to fine art. Sedalia, North Carolina, 1930, and Brother Brown, 1931, demonstrate the Regionalist character of her early paintings. She was invited to join the faculty of Howard University in Washington, D.C., by art historian James V. Herring to help build its burgeoning art department. It has been said that Jones was just as involved in the development of her students' careers as her own. Among her illustrious students are David Driskell, Elizabeth Catlett, and Robert Freeman. Jones taught at Howard from 1930 until her retirement in 1977.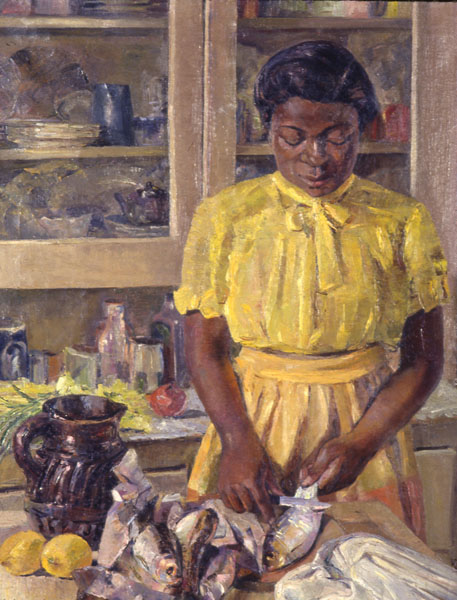 Jones's influences were extensive throughout the remainder of her career. She received a fellowship in 1937 to study in Paris at the Académie Julian. While in Paris, Jones observed the importance of African tribal arts, which were extremely popular in that city at the time. Her lush oil paintings of the French countryside and traditional fruit and flower still lifes highlight her skillful observation of nature. Upon returning to Washington, New Negro Arts Movement theorist Alain Locke encouraged Jones to draw inspiration from African art. She conveyed the social struggles of African Americans through powerful psychological portraits such as Mob Victim, 1945, and Jennie, 1943.
Her marriage in 1953 to noted Haitian graphic artist Louis Vergniaud Pierre-Noël instigated a change in the subject matter and palette of her paintings. Her frequent trips to Haiti re-energized her strong design sense and inspired vivid acrylic and watercolor paintings that display her fascination with Caribbean culture. Seizing the moment of heightened black consciousness, Jones designed an extensive research project to document contemporary African Diaspora art of Haiti, Africa, and the United States, traveling extensively throughout Africa in 1970 and 1972. Her work became characterized by brilliant color, rich patterns, and a variety of Haitian and African motifs.
In 1973 Jones became the first African American woman to have a solo exhibition at the Museum of Fine Arts in Boston. President Jimmy Carter honored Jones for her outstanding achievements in the arts in 1980, and in the last ten years of her life both President Bill Clinton and French President Jacques Chirac met the artist and collected her work. During a six-year solo exhibition tour, the Corcoran Gallery of Art in Washington, D.C., held an 89th birthday party for Jones and apologized for previous prejudicial policies. Loïs Mailou Jones continued to create her vibrant paintings until her death in 1998.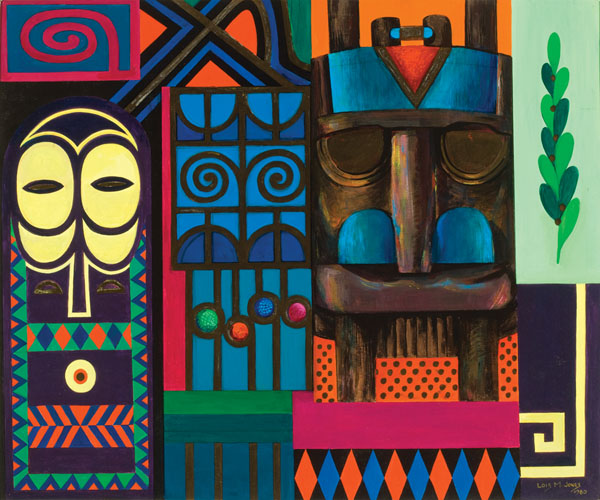 A 144-page exhibition catalogue published by the Mint Museum of Art includes essays by Dr. Edmund Barry Gaither, director of the National Center of Afro-American Artists, Boston; Dr. Lowery Stokes Sims, curator of the Museum of Art and Design, NYC; Dr. Cheryl Finley, associate professor of Art History, Cornell University, and an interview with student of Loïs Mailou Jones, Dr. Tritobia Hayes Benjamin.

Loïs Mailou Jones: A Life in Vibrant Color is organized by the Mint Museum of Art, Charlotte, NC, in collaboration with the Loïs Mailou Jones Pierre-Noël Trust, and toured by International Arts & Artists, Washington, DC. Lead support in D.C. provided by Walmart with additional support from Lois Lehrman Grass, National Endowment for the Arts, Verizon Communications, and ESSENCE.