June 23, 2011
6/23/11
Inspired by popular culture and, to a lesser extent, feminism, Polly Apfelbaum compels viewers to think about the pleasure of the aesthetic experience. A contemporary printmaker and mixed-media artist, Apfelbaum is known for her palette of vivid colors and hues. In the past twenty years, she has made her mark with what she calls "fallen paintings," works that cluster together on the floor as if slipping off the wall, which force viewers to pay closer attention. Improvisational and virtuosic, her installations—for example,
Blossom
(2000), a massive eighteen-by-eighteen-foot work—are large-scale arrangements of hundreds of dyed and cut fabrics that respond to the spaces they inhabit. As she explains, "These are hybrid objects, poised between painting and sculpture. I am interested not so much in attempting to invent new categories but in operating promiscuously and improperly—poaching—within fields seemingly already well defined."(1) Although originally inspired by artists including Helen Frankenthaler, Morris Louis, and Jackson Pollock, Apfelbaum has assertively developed the trademark stye that sets her apart.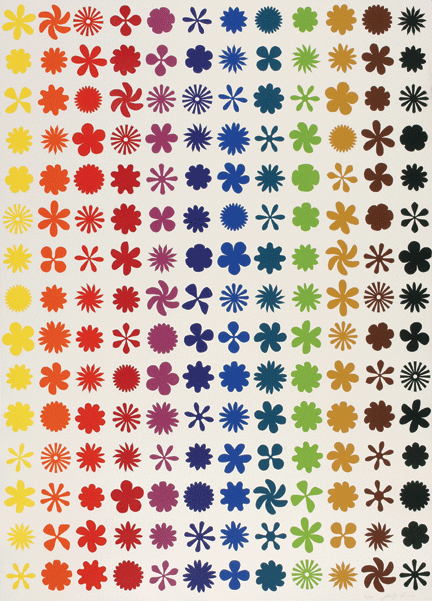 Polly Apfelbaum was born in 1955 in Abington, Pennsylvania. After graduating in 1978 from the Tyler School of Art inPennsylvania, Apfelbaum moved toNew York, where she supported herself with a variety of jobs, including working as a researcher for a cable-television show and as a clerk in a museum bookstore. In 1984, she moved to Madridwith her husband, Stan Allen, an architect and Columbia Universityprofessor. During this time, Apfelbaum began creating artwork that emphasized simple shapes and a sense of formal clarity. Upon returning to New York a year later, Apfelbaum's work debuted at a small gallery in theEastVillage. Today she and husband live inLower Manhattan, on the third floor of an old seaport warehouse.
NMWA's current exhibition, Pressing Ideas: Fifty Years of Women's Lithographs from Tamarind, will feature one of Polly Apfelbaum's most recent works, Rainbow Love Mountain Ranch, New Mexico (2007). Building on the theme of flowers, which she regularly incorporates into her work, Apfelbaum draws much her inspiration from The Powerpuff Girls, the 1998–2005 Cartoon Network series about crime-fighting kindergartners. The characters' bold colors and distinct personalities embody what Apfelbaum considers a positive representation of femininity: simultaneously girly, tough, beautiful, and cunning, descriptors that can also be applied to Apfelbaum's work.(2) While feminism does influence her work to a certain degree, Apfelbaum ultimately wants viewers to appreciate its formal qualities, including her complex use of color and its effect on light and space. Polly Apfelbaum's Rainbow Love Mountain Ranch, New Mexico will be on view at NMWA June 17, 2011–October 2, 2011.


Artist spotlight audio! Click here to listen to Marjorie Devon, director of the Tamarind Institute, desribe Polly Apfelbaum's work and her experiences at Tamarind creating Rainbow Love Mountain Ranch, New Mexico, click here: Marjorie Devon discusses Polly Apfelbaum
1. Deidre Stein Greben, "Stain Power: with pieces of dyed velvet, Polly Apfelbaum transforms painting into sculpture and beauty into strength," ARTnews (June 2001), 102 -105.
2. Meghan Dailey, "Polly Apfelbaum, 'Powerpuff'," Time Out New York 270 (November 20-23, 2000)