March 4, 2010
3/4/10
NMWA's collection includes more than 4,000 works, but due to limited gallery space and preservation guidelines, less than two hundred works are on view. This month, Broad Strokes will be presenting a new "From the Vault" blog series to highlight works which, although currently not on display, are an integral part of NMWA's collection. Talented painters, printmakers, sculptors, and multimedia artists will be featured and remembered for their contributions to the arts.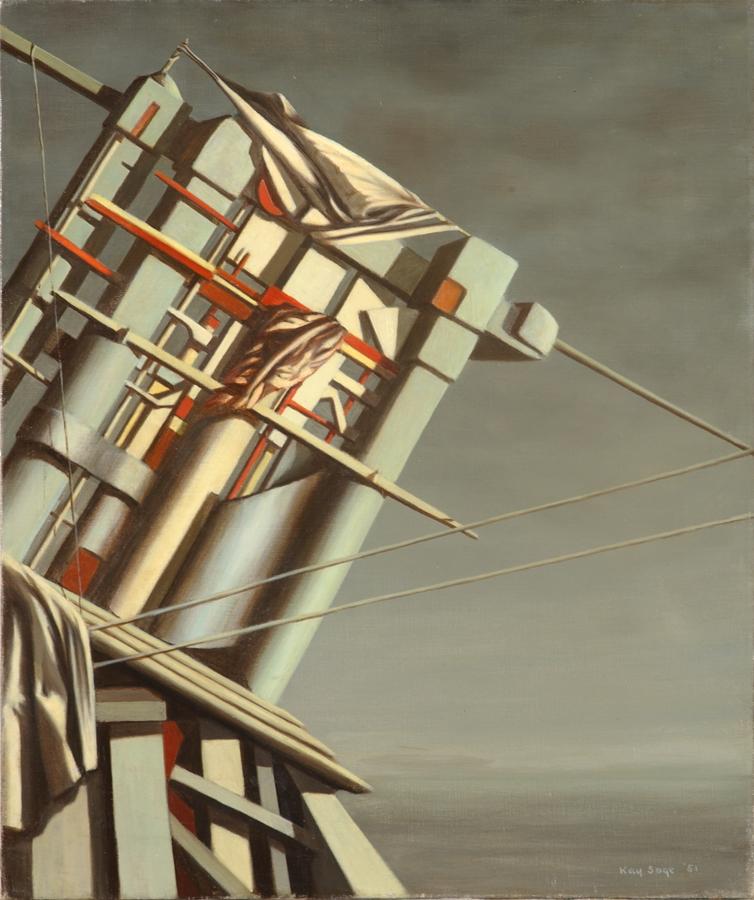 Kay Sage is one of the most prominent women associated with the Surrealist movement. A painter, collagist, and poet, she was well known for her abstract, architectural motifs. Her landscape paintings, with sharp edges and invisible brushwork, give the viewer a sense of isolation and abandonment. Sage was born in 1898 in Albany, New York, to a wealthy senator father and aristocratic mother. Her parents divorced early on and Sage traveled throughout Europe as a child with her mother. From 1914 to 1918, she attended the Corcoran School of Art in D.C., then studied painting and drawing in Rome at the British Academy and the Scuola Libera delle Belle Arti in 1920.
In 1925, Sage married Prince Ranieri di San Faustino and lived with him in Rome. During this time, she rarely painted and grew tired of her aristocratic prison, eventually separating from her husband in 1935. In 1936, Sage had her first solo exhibition in Milan at the Galleria del Milione. Drawn to Surrealism, Sage gravitated to Paris in search of her heroes Yves Tanguy and Giorgio de Chirico. Although at first she was shunned by the Surrealist circle, by 1938 she had become an active member. At the onset of World War II, Sage fled Europe with Tanguy, with whom she had begun a love affair. The couple settled in New York City where Sage began organizing exhibitions of Surrealist work from France. In 1940, Tanguy and Sage married and moved to Woodbury, Connecticut, setting up individual studios and continuing to exhibit in New York.
In 1955, Tanguy died, causing Sage to go into a severe depression. She became reclusive, started to lose her vision, and stopped painting, although she continued to make small collages. Between 1957 and 1962, Sage also published four books of poetry. In 1963, Sage committed suicide in her Connecticut home. Her legacy to art history and Surrealism will never be forgotten and her work continues to mystify.