February 19, 2010
2/19/10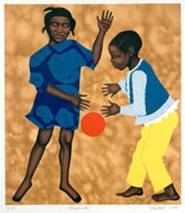 For more than sixty years, Elizabeth Catlett's prints and sculptures have characterized the struggle, political turmoil, and bravery of African Americans in the twentieth century. Early in her career, she rejected abstraction that dominated the art world at the time, and instead used social realism and dark expressionistic lines to make her artwork recognizable to her audience. Her major artistic influence was Grant Wood, who urged his students to create work from subjects they knew best. Catlett painted and sculpted African American people, specifically women and poor and working people.
Born in 1915 in Washington, D.C, Catlett was primarily raised by her mother and her grandparents who were former slaves. At the age of 18, she was refused admittance to the Carnegie Institute of Technology because of her race and later enrolled in the design and printmaking program at Howard University where she met fellow student and artist Lois Mailou Jones. In 1940, Catlett became the first African American student to receive an MFA in sculpture from the University of Iowa. In 1946, Catlett received a Rosenwald Foundation Fellowship in 1946 and traveled to Mexico. As a member of the influential printmaking group Taller de Gráfrica Popular, she met her husband, painter Francisco Mora. In 1958, she became the first female professor of sculpture at the National Autonomous University of Mexico in Mexico City. Mexico became Catlett's adopted homeland, and at age 94, she continues to create artwork and divides her time between New York and Cuernavaca.
NMWA holds eight pieces by Elizabeth Catlett. Singing Their Songs and Playmates reflect Catlett's signature bold, stylized figures and are part of a series the artist created to illustrate a poem by African American author Margaret Walker. Each of the figures in the prints offers a different view of the heroic quality and physical beauty of African Americans.