July 20, 2014
7/20/14
Today is a very special day for the legendary Judy Chicago—her 75th birthday!
Over her 75 years, Judy Chicago has made a prominent name for herself as an artist, author, educator, and source of inspiration for men and women all over the globe. After producing installation pieces such as Womanhouse (1972) and The Dinner Party (1975), Chicago achieved international stardom as a pioneer of the feminist art movement in the 1970s.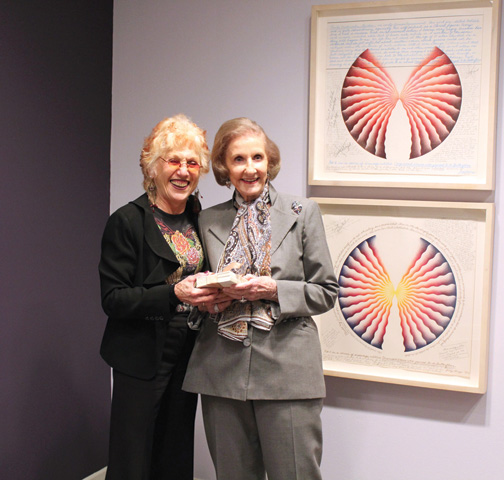 In order to commemorate this dynamic period of Chicago's career and the coinciding feminist movement, NMWA held an exhibition of her work earlier this year, Judy Chicago: Circa '75. In March, Chicago visited the museum for an opportunity to speak to NMWA's members and guests about the exhibition as well as her newest book, Institutional Time: A Critique of Studio Art Education.
During the conversation, Chicago applauded NMWA, saying, "as long as MoMA is a museum of men, we need a museum for women in the arts." She described her regular past visits to the museum, noting how "every time I walk into [NMWA] I see my predecessors and what they had to go through to get here."
At the end of the discussion, NMWA Director Susan Fisher Sterling presented Chicago with personalized cards to celebrate her birthday and pay homage to her incredible artistic achievements. Chicago was touched by the heartfelt gesture by the members, noting that she wanted to read their notes right then and there.

In Institutional Time, Chicago discusses her legacy, stating "I became determined to use my time on earth to create art—as much of it as possible . . . and to make a place for myself in art history." Now, on her 75th birthday, Chicago has irrefutably, permanently left her mark on modern discourses of art history. Happy birthday to this visionary artist!