November 29, 2016
11/29/16
Contemporary large-scale paintings and sculptural hybrids are on view in NO MAN'S LAND: Women Artists from the Rubell Family Collection. The exhibition imagines a visual conversation between 37 women artists from 15 countries exploring images of the female body and the physical process of making. Artists Natasja Kensmil, Cecily Brown, and Suzanne McClelland test the expressive boundaries of painting.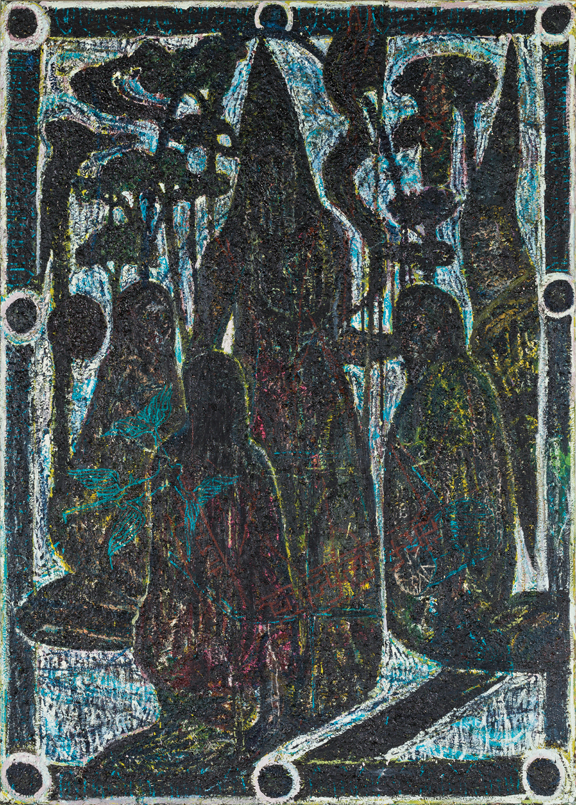 What's On View?
Natasja Kensmil's Desperate Land, 2004
Ominous themes of the human condition and the power of history are on view in painting by Natasja Kensmil (b. 1973, Amsterdam). Her somber colors and craggy brushwork reflect the dark nature of connections between religion, mythology, and power.
Kensmil created a series of work based on the Romanov family. In Desperate Land, she portrays the Russian mystic Rasputin in the center wearing a pointed hood, surrounded by followers. She obscured Rasputin's features, allowing the scene to stand as an emblem for zealous fraternal organizations. Kensmil's multilayered painting style evokes shadows and discord.
Cecily Brown, Service de Luxe, 1999
Although paintings by Cecily Brown (b. 1969, London) appear to combine elements of abstract and figurative painting, she says, "I often avoid using the terms figuration and abstraction because I've always tried to have it both ways. I want the experience of looking at one of my paintings to be similar to the process of making the painting—you go from the big picture to something very intense and detailed, and then back again."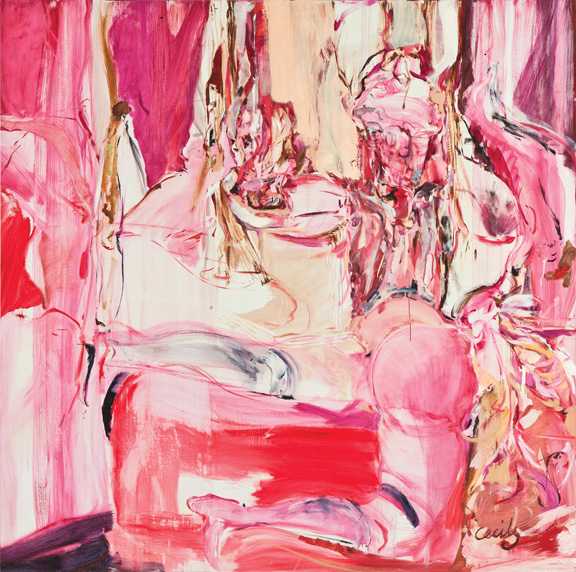 In Service de Luxe, Brown depicts a reclining female nude. Through her loose brushwork—which she uses to call attention to the sensuous nature of oil paint itself—forms become imprecise but alluring. She says, "I think it's almost impossible to not allude to something."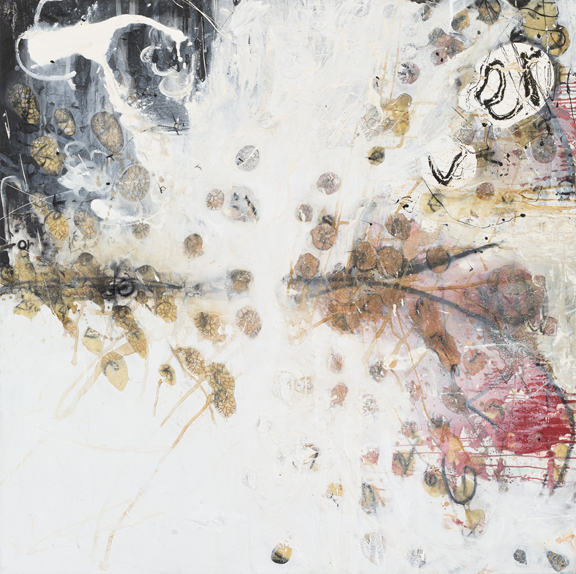 Suzanne McClelland's Forever, 1991
"Being trained in both, I have always loved and been attracted to abstraction in music and art," says Suzanne McClelland (b. 1959, Jacksonville, Florida).
McClelland explores the links between audible language and its written image—in her work, letters curl around to mimic their acoustic form and reflect meaning. Beginning in the 1980s, she says, "I wanted the thoughts or the words that I had in my head, and the sounds that I heard in the city, to be subjects for my painting."
On depictions of the female body, McClelland says, "It's been painted and drawn and described and photographed so many times that I don't feel the need to join in on reclaiming the female body when there's the voice."
Visit the museum and explore NO MAN'S LAND, on view through January 8, 2017. Reserve your spot to meet artist Suzanne McClelland at NMWA on December 13, 2016 for a special in-gallery conversation.