December 20, 2016
12/20/16
Contemporary large-scale paintings and sculptural hybrids are on view in NO MAN'S LAND: Women Artists from the Rubell Family Collection. The exhibition imagines a visual conversation between 37 women artists from 15 countries exploring images of the female body and the physical process of making. Li Shurui, Karin Davie, and Kerstin Brätsch employ unconventional techniques to create optical illusions.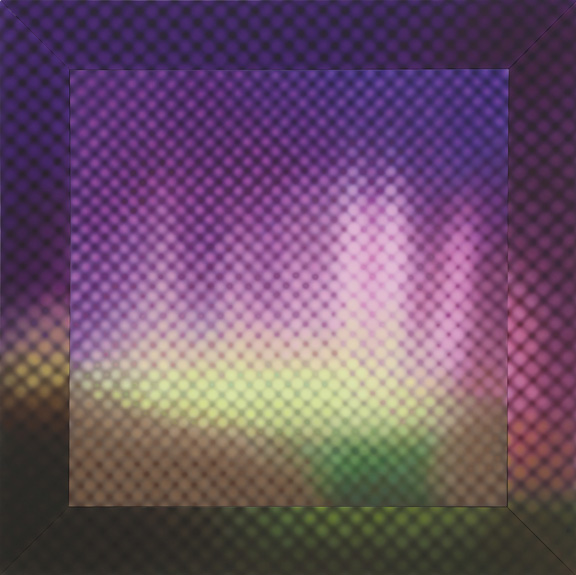 What's On View?
Li Shurui's I am not ready…, 2013
Li Shurui (b. 1981, Chongqing, China) uses an airbrush to add vibrant color to canvas to approximate the appearance of LED lighting popular in nightclubs and city settings. She says, "I try to use light and space to capture an atmosphere and state of mind in a way that leave people with a strong emotive impression rather than a concept or idea that must be dealt with logically."
Working at a large scale, Li creates immersive works that induce hypnotic sensations in the viewer and capture the imagination. In I am not ready…, Li depicts an experience of morphing light that people typically experience only momentarily, when looking closely at the pixels of a digital image.
Karin Davie's Oh Baby #1 and #2, from the series "Sidewalk," 1992
"Someone once said to me, 'Oh, you are that painter who makes the wavy stripe paintings of contorted eyes, lips, cheeks and butts'—they couldn't have put it better," says Karin Davie (b. 1965, Toronto). Inspired by postmodern dance, Davie redefines the modernist motif of the painted stripe by inserting references to the body. She says, "Conceptually I wanted to take this modernist ideal of purity, perfection, and dominance and turn it into an image of something more vulnerable, imperfect, and playful."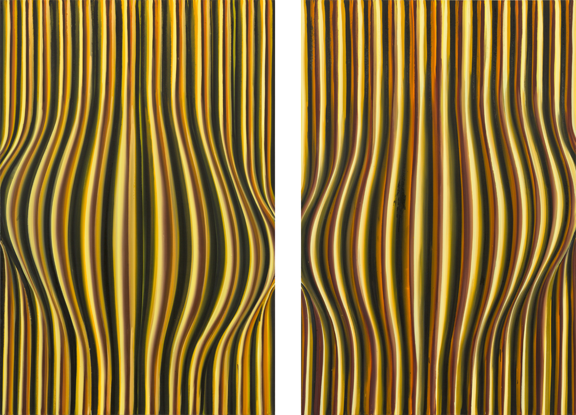 Elements of Op art and Pop art can be seen in Davie's diptych Oh Baby #1 and #2. Seemingly unbroken, two-dimensional lines create a curvilinear illusion, conjuring images of bellies, bottoms, breasts, or lobes. Distinct from the purely retinal or optical experience offered by Op art, Davie's abstractions allow the viewer to both "see and feel" her painting process.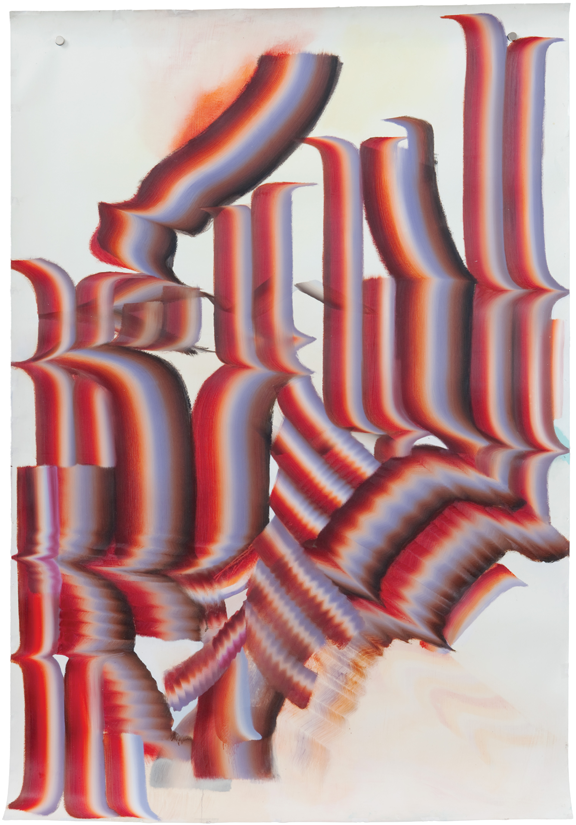 Kerstin Brätsch's I Want to be Wrong, from the series "Broadwaybratsch/Corporate Abstraction," 2010
Kerstin Brätsch (b. 1979, Hamburg, Germany) analyzes how paint strokes are simultaneously reflexive and allusive through her abstract paintings. In describing her approach, Brätsch says, "I'm trying to deal with abstract anxiety and to visualize something that is not visual, like radiation or heat."
I Want to be Wrong contains arcing swaths of color that echo the sweeping motion of the artist's hand. "The brushstroke becomes a stand-in for its physical process," she says.
Unconventionally displayed, Brätsch's paintings are created on pieces of paper that are attached by magnets. To "question the wall itself," Brätsch leans her frames against the wall to give her art an ephemeral feel.
Visit the museum and explore NO MAN'S LAND, on view through January 8, 2017.